The 2022 All-Bowl Team
Offense
Quarterback: Stetson Bennett, Georgia, Senior, National Championship Game.
Stetson Bennett gets a standing ovation leaving the field 👏#NationalChampionship pic.twitter.com/dsUVnmHmIH

— ESPN (@espn) January 10, 2023
Bennett was 18 of 25 for 304 yards passing with three carries for 39 yards and two touchdowns rushing. He's always saved his best games for the playoffs and national title games. That's why he's a two-time national champion.
Running Back: Tyjae Spears, Tulane, Junior, Cotton Bowl.
.@GreenWaveFB's Tyjae Spears is having A GAME 😤 pic.twitter.com/AmoRyQ33Xi

— ESPN College Football (@ESPNCFB) January 2, 2023
Spears had 17 carries for 205 yards and four touchdowns in Tulane's 46-45 upset of USC in the Cotton Bowl. Spears had 251 touches for 1,837 total yards and 21 touchdowns in Tulane's historic 12-2 season.
Running Back: Frank Gore Jr., Southern Miss, Sophomore, Mobile Alabama Bowl (Lending Tree Bowl).
Frank Gore Jr. is a monster.

What a performance for @SouthernMissFB.

329 rushing yards
• FBS bowl game record
• Most in FBS this season
• Southern Miss record pic.twitter.com/mjSC4YzZcc

— Mike Monaco (@MikeMonaco_) December 18, 2022
He tossed an 18-yard touchdown pass had a 64-yard touchdown run and a 55-yard touchdown run. He finished 329 yards on 21 carries averaging 15.7 per carry! For his season Gore had 262 touches for 1,792 yards and 13 total touchdowns. Frank Gore Jr., had the best bowl game of the year and one of the best all-time.
Wide Receiver: Marvin Harrison Jr., Ohio State, Sophomore, Peach Bowl.
🙌 Touchdown makers

4️⃣1️⃣ @CJ7STROUD 2022 TD throws
8️⃣5️⃣ career TDs
••
1️⃣4️⃣ @MarvHarrisonJr scores in 2022
1️⃣7️⃣ in his last 14 games#GoBucks pic.twitter.com/eAg2P901c4

— Ohio State Buckeyes 🌰 (@OhioStAthletics) January 1, 2023
Before being knocked out by an illegal hit that the refs chose to overlook, Marvin Harrison Jr. had destroyed Georgia through three quarters with five catches for 106 yards and two touchdowns. If Harrison stays in this game, Ohio State beats Georgia. That's a fact and a hill I'm willing to die on. The two-time national champions had no answer for him.
Wide Receiver: Squirrel White, Tennessee, Freshman, Orange Bowl.
𝐓𝐡𝐞 𝟐𝟎𝟐𝟐 𝐒𝐞𝐚𝐬𝐨𝐧 𝐅𝐢𝐧𝐚𝐥𝐞: 𝐎𝐫𝐚𝐧𝐠𝐞 𝐁𝐨𝐰𝐥 𝐂𝐡𝐚𝐦𝐩𝐢𝐨𝐧𝐬#GBO 🍊 pic.twitter.com/KvansUp4Qm

— Tennessee Football (@Vol_Football) January 4, 2023
Squirrel White had had only 30 catches for 481 yards and two touchdowns this year. Nine of those catches, 108 of those yards, and one of those touchdowns came in the Orange Bowl. Where he and Joe Milton did very accurate impressions of Jalin Hyatt and Hendon Hooker.
Wide Receiver: Johnny Wilson, Florida State,
Are you kidding me? @jjohnnywilson soaring over the top of the Sooner defense in Orlando!#NoleFamily | #KeepCLIMBing pic.twitter.com/Y2E8cH9qWf

— FSU Football (@FSUFootball) December 30, 2022
Since there were no big kick returns in the bowl seasons I went with a third wide receiver, and that had to go to Johnny Wilson of Florida State who had eight catches for 202 yards against the Sooners, including a one-handed grab at the end of the game that set up the game-winning field goal.
Tight End: Brock Bowers, Georgia, Sophomore, National Championship.
Brock Bowers is a mismatch for any defender 😤#NationalChampionship pic.twitter.com/vqRqpXJjcI

— SportsCenter (@SportsCenter) January 10, 2023
Bowers had seven catches for 152 yards and a touchdown in the Bulldogs' 65-7 rout of TCU, proving once again he was the best option for Stetson Bennett and the Georgia passing game. He's on his way to being like Travis Kelce.
Offensive Lineman: Paris Johnson Jr, Ohio State, Junior, Peach Bowl.
buckeyes. pic.twitter.com/wmnUEohOiF

— Paris Johnson Jr. (@ParisJohnsonJr) January 10, 2023
The Buckeye offensive line, led by their All-Americans Paris Johnson and Dawand Jones kept C.J. Stroud clean enough to throw for 348 yards, four touchdowns, 24 first downs, and no turnovers. They got Ohio State to within a score of upsetting the now two-time champions.
Offensive Lineman: Steve Avila, TCU, Senior, Fiesta Bowl.
Horned Frog Forever 💜 pic.twitter.com/Sw3LHWCF5D

— Steve Avila (@Stevelavila) January 10, 2023
Avila and the TCU offensive line paved the way for 263 yards rushing and three touchdowns against Michigan in the Fiesta Bowl and get TCU to a top two finish.
Center: Sincere Haynesworth, Tulane, Senior, Cotton Bowl.
.@GreenWaveFB center Sincere Haynesworth has a 78.5 @PFF_College pass blocking grade, has allowed 0 sacks in 2022, and has only given up 5 total QB pressures. #rimingtonwatchlist pic.twitter.com/9XSoLn4qa6

— Rimington Trophy (@rimingtontrophy) November 28, 2022
Haynesworth and the Green Wave offensive line paved the way for 304 rushing yards for Tulane. They blocked a USC front with some star power and put up 539 total yards and 46 points on the Trojans.
Offensive Lineman: Warren McClendon, Georgia, Junior, National Championship.
Georgia's Tackle duo of Jamaree Salyer and Warren McClendon combined to allow 1 sack in 2021 😤 pic.twitter.com/KgpXNWoXKs

— PFF College (@PFF_College) April 23, 2022
McClendon and the Bulldogs' offensive line didn't allow a sack on Stetson Bennett and blocked TCU to the tune of 589 total yards and 65 points. McClendon may be the most underrated and secretly great part of Georgia's back-to-back championships.
Offensive Lineman: Joe Alt, Notre Dame, Sophomore, Gator Bowl.
Joe Alt this season:

💪 91.8 grade (🥇 among P5 tackles)
💪 90.8 run-blocking grade (T-🥇 among FBS tackles)
💪 99.3 pass-block efficiency (T-🥈 among FBS tackles) pic.twitter.com/Clztb2BA6C

— PFF College (@PFF_College) November 30, 2022
Alt and the Fighting Irish offensive line led the way for the offense to rack up 556 total yards and 45 points in Notre Dame's Gator Bowl win over South Carolina. Joe Alt will be the nation's best offensive lineman in 2023.
Defense
Defensive Lineman: Dylan Horton, TCU, Senior, Fiesta Bowl.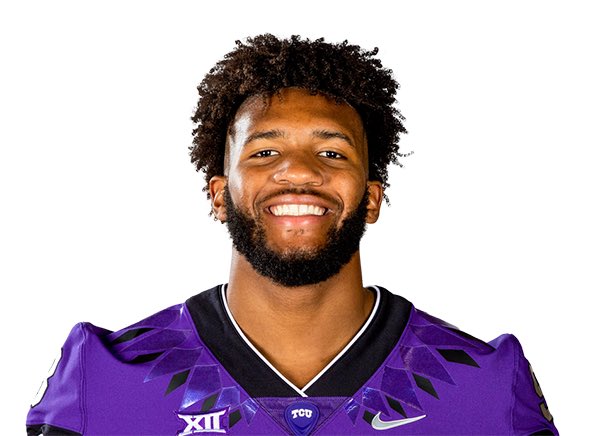 Horton had a huge Fiesta Bowl with six tackles, four sacks, and four tackles for a loss, absolutely dominating one of the best offensive lines in the nation. He had 10 sacks on the season for TCU and led them to a 13-2 finish.
Defensive Lineman: Byron Young, Tennessee, Senior, Orange Bowl.
Byron Young's @byron_97 journey to Knoxville is 1 of 1

Assistant Manager at Dollar General -> Georgia Military College -> #1 Ranked Tennessee pic.twitter.com/WogjYXkoFR

— Paul Finebaum (@finebaum) November 2, 2022
Young had three tackles and three sacks in the Vols' win over Clemson and wrapped up a storybook ending to a great career for any Tennessee Vol, and as you can see above has a unique story and helped Tennessee return to prominence on Rocky Top.
Defensive Lineman: Devo Bridges, Fresno State, Junior, L.A. Bowl.
Dominant 'Dogs.

Offensive MVP Jordan Mims and Defensive MVP Devo Bridges lead the way for @FresnoStateFB on Saturday 🐶🏆💯#JimmyKimmelLABowl | #GoDogs | #ForTheV pic.twitter.com/libX7bBa5z

— Jimmy Kimmel LA Bowl (@LABowlGame) December 19, 2022
Bridges had 8 tackles, two sacks, and two tackles for a loss as Fresno State completed their 10-4 season, winning nine games in a row and the Mountain West Championship after starting the season 1-4.
Linebacker: Daylen Gill, Southern Miss, Senior, Mobile Alabama Bowl (Lending Tree Bowl)
Gill had 11 tackles, three sacks, and three tackles for a loss in Southern Mississippi's 38-24 win over Rice. As he and Frank Gore Jr. put on a show for Southern Mississippi in their seventh win of the season.
Linebacker: Aaron Beasley, Tennessee, Senior, Orange Bowl.
Aaron Beasley appreciation post. pic.twitter.com/HHeNJklSDq

— Tennessee Football (@Vol_Football) December 31, 2022
Beasley had a huge game for the Vols with 12 tackles, two sacks, four tackles for a loss, and a pass broken up as Tennessee beat Clemson in the orangest Orange Bowl 31-14. This was the best season with the most wins the Vols' have had since 2001. Thanks to players like Beasley and Josh Heupel, Tennessee is back.
Linebacker: Ben Bywater, BYU, Sophomore, New Mexico Bowl.
𝗕𝗜𝗚 𝗣𝗟𝗔𝗬 𝗕𝗘𝗡 😎 pic.twitter.com/wwvXxHciw4

— BYU FOOTBALL (@BYUfootball) December 28, 2022
Bywater was crucial for BYU with his 11 tackles and his interception returned for 76 for a touchdown that stopped a promising SMU drive and turned it into BYU points. Those points proved to be the margin of victory for the Cougars. BYU finished the season with four straight wins after suffering a four game losing streak that had many worrying in Provo. Thanks to Ben Bywater, they are entering the Big 12 with some momentum.
Linebacker: Carlton Martial, Troy, Senior, Cure Bowl.
We have become a Carlton Martial content account.

You're welcome, everybody.#RiseToBuild | #OneTROY ⚔️🏈 pic.twitter.com/4sR3mM86Oa

— Troy Trojans Football 7x⚔️ (@TroyTrojansFB) November 13, 2022
The NCAA's all-time leading tackler did what he does in his final game, totaling 14 tackles in Troy's win over UTSA. He was a key part of the Trojans' 12-2 campaign. I get the feeling his impressive record will stand for a long time.
Defensive Back: Coleman Bryson, Minnesota, Freshman, Pinstripe Bowl.
Coleman Bryson pick six!!! #Gophers extend their lead. #pinstripebowl pic.twitter.com/uIanMksV7F

— GridironHeroics (@GridironHeroics) December 29, 2022
The freshman had seven tackles in his first big game at Minnesota and a crucial interception that he returned 70 yards for a touchdown in the Gophers' 28-20 win over Syracuse in the Pinstripe Bowl. His score proved to be the winning margin for the Gophers.
Defensive Back: Sylvonta Oliver, Memphis, Senior, First Responder Bowl (Dallas Classic)
Much GRATITUDE Memphis 🫡💙 pic.twitter.com/45taARiqtz

— Sylvonta Oliver (@TooEasy_7) December 29, 2022
Oliver had six tackles and two interceptions in the Tigers' win over Utah State, as Memphis moved to 7-6 on the year. He's going to use his standout performance and career as a springboard to the NFL.
Defensive Back: Ji'ayir Brown, Penn State, Senior, Rose Bowl.
It's been One hell of a journey Penn State🌹🌹🌹Thank you🏆 pic.twitter.com/KAnlGUdqon

— Ji'Ayir Brown (@_Tiig2) January 4, 2023
Brown had eight tackles, 1.5 sacks, and 1.5 tackles for a loss in a huge win for Penn State. The Nittany Lions were in need of a big time win. They had too much talent on this team for anything less than 11-2 to be considered a successful season. A big part of that season and Rose Bowl Championship was Ji'ayir Brown.
Defensive Back: Xavier Nwankpa, Iowa, Freshman, Music City Bowl.
Xavier Nwankpa. That's the tweet. pic.twitter.com/Xc0tmV5i6i

— Iowa City NIL Club 🐤 (@IowaCityNILClub) December 31, 2022
The true freshman had eight tackles, a pass defended, and a 52-yard interception returned for a touchdown in Iowa's 21-0 win over Kentucky. He had sparsely played all year but came through big in his first full game debut to help the Hawkeyes win the Music City Bowl.
Kicker: Ben Sauls, Pitt, Sophomore, Sun Bowl.
Pitt called Sauls 🙌

Happy New Year 🎆 #H2P » #WeNotMe pic.twitter.com/DCjY5hYmWP

— Pitt Football (@Pitt_FB) January 1, 2023
Sauls was five of five on his field goal attempts, including the game-winner in Pitt's 37-35 win over UCLA. Being a perfect two of two on extra points gave Sauls a total of 17 points in Pitt's Sun Bowl victory.
Punter: Ryan Rehkow, BYU, Sophomore, New Mexico Bowl.
Preview of the @SpecOpsST 2022 Pro-Style Punter of the Year, BYU's Ryan Rehkow

Complete breakdown: https://t.co/ep3OCqp0gr

Soon to follow is my breakdown on my other top NFL prospect, Austin McNamara from Texas Tech@r_rehkow24 @aust_31 pic.twitter.com/D8jjobA3lJ

— Matt Moran (@Matt_Moran_) December 14, 2022
Rehkow was important for BYU as they were going to play conservative, field position football with a true freshman quarterback starting the New Mexico Bowl. Rehkow came through with four great punts, for 235 yards, averaging 58.8 yards per punt in BYU's win.
Honorable Mention
C.J. Stroud, Ohio State, Quarterback, Junior, Peach Bowl.
Thank you for everything, No. 7. @OhioStateFB x @CJ7STROUD pic.twitter.com/8R8Kxb2U0t

— Big Ten Network (@BigTenNetwork) January 1, 2023
OHIO STATE STRIKES FIRST 🎯

C.J. Stroud ➡️ Marvin Harrison Jr. for 6❗️ pic.twitter.com/MsWHE3DM1V

— ESPN (@espn) January 1, 2023
Stroud was 23 of 34 for 348 yards and four touchdowns while putting up 41 points on Georgia. Only Bryce Young has done as well against Georgia in their two straight seasons as national champions.
Bryce Young, Alabama, Quarterback, Junior, Sugar Bowl.
5 PASSING TOUCHDOWN 👀👀@_bryce_young ▶️ @showtime1kp

📺 @espn pic.twitter.com/Xh5WrCNDpm

— Alabama Football (@AlabamaFTBL) December 31, 2022
Young had a fantastic going away party for Alabama. He was 15 of 21 for 321 yards and five touchdown passes. He finished his Bama career with over 8,100 yards passing and 81 touchdown passes, an SEC Championship and a Heisman Trophy.
Brad Roberts, Air Force, Fullback, Senior, Armed Forces Bowl.
One of the 𝐠𝐫𝐞𝐚𝐭𝐞𝐬𝐭 to ever do it‼️

What a season for @Brad27_27 pic.twitter.com/OxPMCLLnod

— Air Force Football (@AF_Football) December 24, 2022
Roberts had 37 carries for 116 yards and a touchdown as he got Air Force to 10 wins and was the leading rusher in college football in 2022. His 1,722 yards on 345 carries was first in the nation. He also tallied 17 touchdowns on the ground. He's an All-American on the field and as service member off the field.
Jalon Daniels, Kansas, Quarterback, Junior, Liberty Bowl.
Kansas back from 20+ down to tie the game in the last minute!! #LibertyBowl2022 pic.twitter.com/UyC0spXJoI

— GridironHeroics (@GridironHeroics) December 29, 2022
Daniels had an epic game. He was 37 of 55 for 544 yards and six total touchdowns in the shootout loss to Arkansas. His herculean effort brought Kansas back and forced overtime and even in a loss must be applauded.
K.J. Jefferson, Arkansas, Quarterback, Junior, Liberty Bowl.
KJ JEFFERSON 59 YARD BOMB!! #LibertyBowl #WPS pic.twitter.com/TEw1UJiDPP

— GridironHeroics (@GridironHeroics) December 28, 2022
Jefferson had just as good a game as Daniels in the Razorbacks victory. He was 19 of 29 for 287 yards and two touchdowns passing with 14 carries for 130 yards and two touchdowns rushing for Arkansas in their Liberty Bowl win.
See how my All-Bowl squad compares to the AP's here!
For More Great Football Content
Follow us on Twitter at @GridironHeroics for more great content. We appreciate you taking time to read our articles. To interact more with our community and keep up to date on the latest in Football news, JOIN OUR FREE FACEBOOK GROUP by CLICKING HERE
Checkout our latest podcast!
[powerpress_playlist limit=1]