The start of the 2022 season brought a rough four weeks to Houston. After blowing fourth quarter leads in their first two games and a fourth quarter tie in Chicago, the Texans mustered a valiant effort against the Chargers late in last week's game. Although they came within 3 points of the Chargers with less than 10 minutes to go, still they could not follow through with a win. Week 5 brings us to the first Texans v Jaguars game of the year.
Texans v Jaguars On Paper, No Chance
Offense
The Jaguars are leading the Texans in key areas across both offense and defense. Trevor Lawrence of the Jaguars has completed 65.7% of his passes for 946 yards, 8 TDs, and 2 INTs. Meanwhile, Davis Mills has completed 62% of his passes for 908 yards, 5 TDs, and 4 INTs. Lawrence has been sacked six times for 41 yards in the first four weeks, while Mills has been taken down eleven times for 80 yards.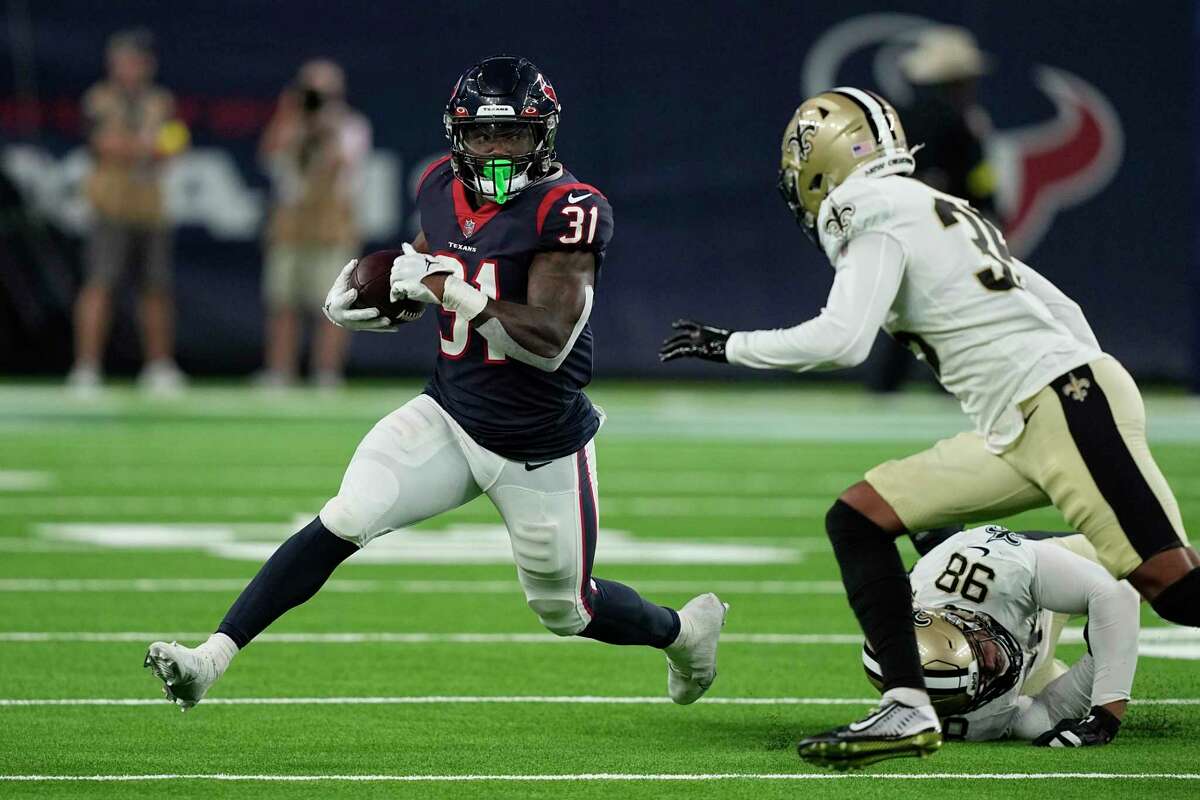 Dameon Pierce had a breakout game last week, but before that he was only getting 4.1 yards per carry compared to Jacksonville's James Robinson (4.4 ypc) and Travis Etienne Jr. (4.2 ypc). If he can keep running even close to as well as he did last week, the Texans might have a chance. But Jacksonville's run defense will surely have something to say about that.
Defense
Both teams have been playing surprisingly well against the pass – allowing less than 60% completion against them. The Texans have given up a few more yards; and the Jaguars have allowed one more touchdown. Some differences between them are minor like that. However while the Texans have secured four interceptions, the Jaguars have already gotten seven.
Jacksonville has also played viciously against running backs, giving up only 375 yards across 103 attempts so far. They're at no. 8 in the league against the run, compared to the Texans at no. 31. Houston has given up 688 yards across 136 runs, making them better only than the Chicago Bears right now.
If the Texans lose this weekend, and we shouldn't kid ourselves about the odds, this will be why. It's rare for an NFL team now to have two reliable running backs, but both James Robinson and Travis Etienne Jr. have at least 30 attempts on the ground with over 100 yards apiece. And while Trevor Lawrence hasn't been putting up huge yards, he still already has eight touchdowns and only two interceptions. The Texans defense really needs to be at their best to get their first win of the season.
Texans v Jaguars: The Twists
Injuries
Although DE Mario Addison and LB Christian Harris were released from the Texans' injury report Wednesday, there are still some key players on it which should concern fans. Starting LB Blake Cashman got a concussion in last week's game, and starting DE Jonathan Greenard injured his ankle. Neither participated on Wednesday. On the offensive side, WR Chris Moore and TE Brevin Jordan also did not participate.
The one bright note on the Texans' IR is that Kenyon Green and Tytus Howard, both starters on the offensive line, fully participated and should be ready for Sunday. With a healthier line, hopefully Davis Mills can have more time to make clean passes and Dameon Pierce can get some more gaps to run through. But with the shape their defense is in, they may not be able to outscore a team already doing far better than they are in the air.
Perspective
The reasons for why the Jaguars are so heavily favored to beat the Texans seem pretty clear. But there's one thing that these head-to-head comparisons don't show. Each of the Texans' three losses and one tie have been the result of hard fought and shockingly close games. Every week so far, all the analysts have heavily favored Houston's opponents. And yet, every game has been much closer than the numbers would lead you to predict.
The one person who might make all the difference this week is Dameon Pierce. He's shown flashes of speed and talent throughout the season so far, but last week was the first time he really broke out. If he can prove that that wasn't a fluke, the Texans might just be able to keep up with the Jaguars' scoring.