NFL fans reacted to a significant report on the New York Giants' plans with running back Saquon Barkley ahead of the upcoming trade deadline on Oct. 31. Barkley has been rumored as a potential player the Giants could trade before the deadline.
The 1-5 Giants appear to be sellers at the deadline. The Giants, who didn't sign Barkley to a long-term contract this offseason, could trade the star running back to help in other more critical parts of an offense that will be held back for a few years from Daniel Jones' contract extension.
It looks like it'll be another fun offseason for the Giants accountants.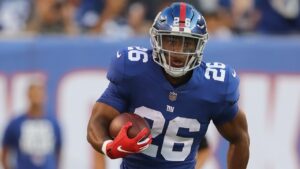 According to Dianna Russini with The Athletic, the Giants are looking to keep Barkley:
"New York Giants running back Saquon Barkley told reporters at his locker Friday, "Sitting here, everyone knows how I feel. Everyone knows I don't want to get traded. I don't think anyone in their right mind would want to get traded anywhere. It's not an easy thing to do.

You have to move. I have a family. I would love to be here. But like I said, it's not in my control. My focus is to be the leader I can be for this team and get this thing on the right track."

He'll probably get what he wants. I was told the Giants aren't planning on moving him."
The New York Giants make controversial decision on Saquon Barkley
NFL fans reacted to Russini's report on social media. The decision on what to do with Barkley is controversial among Giants fans.
Some fans think the Giants are wise to keep Barkley through the offseason. Others think giving in to a running back coming off an injury is dumb,
Here are the best takes of the Giant's decision on Barkley.
They better not

— Ethan – uɐɥʇƎ🧀 (@ethannnnnnnn23) October 21, 2023
If he wants to stay in New York and potentially win some big games he could go to the Buffalo bills.

— Jackson Johnson (@Jackson09960335) October 21, 2023
He's not what he used to be

— Troy🦍 (@Troy_OG_APE) October 21, 2023
Please trade him Please @newyorkgiants https://t.co/fdqnQMsPxG

— ty (@leaneazy21) October 21, 2023
He is their whole offense

— Dzuni (@dzunigadol) October 21, 2023
Should. They won't get much for letting him walk.

— Prazdny (@prazdnyTFDP) October 21, 2023
So they rather let him walk and get nun' back? smh

— Macolm (@_kingmally__) October 21, 2023
For More Great Football News:
Follow me on Twitter at @JordanSig. You can also reach out to Jordan Sigler via email at jordanmsigler@gmail.com. To read more of our articles and keep up to date on the latest in college and NFL news, click here!