The San Francisco 49ers defeated the Seattle Seahawks, 21-13, in Seattle on Thursday Night football. The 49ers have won the NFC West division and officially clinched a playoff spot in the NFC.  The 49ers have faced a lot of adversity due to injuries this year and have done the unthinkable of winning their division with a third-string rookie quarterback. There are still a lot of questions regarding the 49ers, but one question looms large: do the San Francisco 49ers have a quarterback controversy? 
San Francisco 49ers Clinch NFC West 
The San Francisco 49ers clinched the NFC West division in rookie quarterback Brock Purdy's second career start in the NFL. Purdy was simply fantastic in his first road start in the NFL. He completed 17 of 26 passes with 217 passing yards with two touchdown passes and no interceptions. Purdy performed like a ten-year veteran quarterback in his second career start.
He made impressive plays with his arm and legs, looked relaxed and comfortable in the pocket under pressure, and didn't make any rookie mistakes. The most impressive aspect of Purdy's second career start was he was dealing with an oblique injury and he made off-scheduled plays with his legs to keep drives going. Purdy gives the 49ers' offense an element of a mobile quarterback that Jimmy Garoppolo could not provide earlier in the season.
49ers' Offense Humming with Purdy 
In eleven quarters of football, Brock Purdy has been phenomenal. He has completed 58 passes out of 83 passing attempts, a 70 percent completion percentage, above a 100 quarterback rating, six passing touchdowns, one rushing touchdown, and only one interception. Although eleven-quarters of football is still a small sample size, Purdy is not making the big mistake that a seventh-round rookie draft pick making his second start would usually make in big moments.
After the game, 49ers head coach Kyle Shanahan had high praise for his seventh-round rookie quarterback. Shanahan stated in his postgame press conference that Purdy is the most poised rookie quarterback he has ever been around in his NFL coaching career.
The San Francisco 49ers offense under Brock Purdy seem like they have not missed a beat when their first two quarterbacks, Trey Lance and Jimmy Garoppolo, went down with lower leg injuries. Teams that usually lose their first two quarterbacks on the depth chart cannot compete in the NFL. Still, Purdy and the 49ers continue to defy expectations and history. 
San Francisco 49ers Quarterback Controversy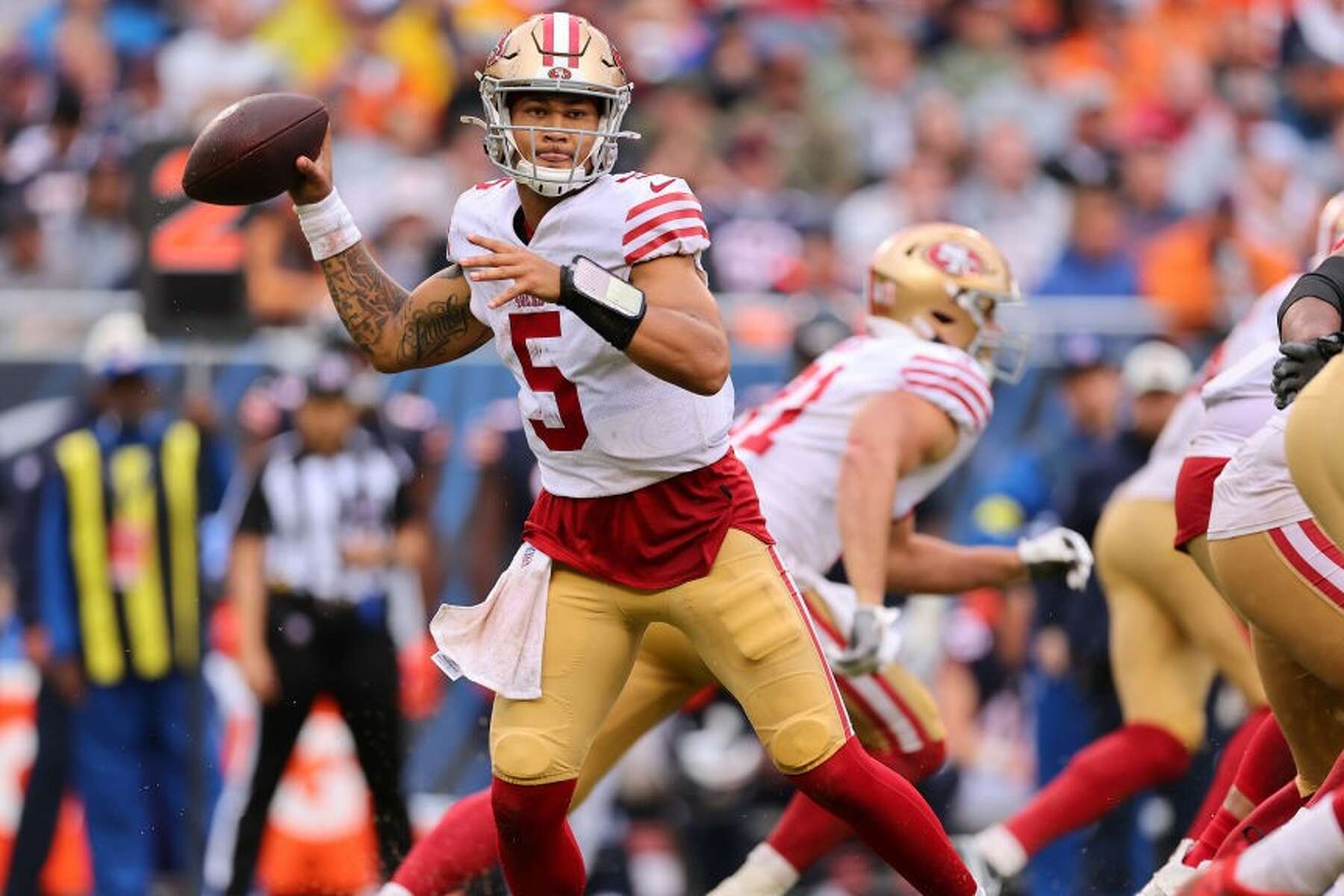 Depending on how this season ends, the San Francisco 49ers will have a quarterback controversy on their hands in the future. Suppose the 49ers clinch the second seed and go deep into the playoffs with Brock Purdy as their starting quarterback. In that case, they will undoubtedly have a quarterback controversy and competition next season between Lance and Purdy.
At the beginning of the season, head coach Shanahan believed they had two NFL starting-caliber quarterbacks, Lance and Garoppolo. However, after clinching the NFC West crown, it's safe to say they now have three NFL starting-caliber quarterbacks on the roster Lance, Garoppolo, and Brock Purdy. 
With the way that Purdy has performed these last three games at a high and efficient level, the 49ers may have started the wrong quarterback at the start of the season. Currently, Brock Purdy gives the San Francisco 49ers a better chance to win a Super Bowl than Trey Lance or Jimmy Garoppolo. 
The San Francisco 49ers invested a lot of draft capital in Lance, and they do believe he will be the quarterback of the future, but what they didn't account for is Brock Purdy being the able to run offense and perform at a high level. The San Francisco 49ers will only go as far as Brock Purdy, the many offensive weapons, and their elite defense will allow them to go this season.
The 49ers are showing that no matter who is starting at quarterback, they have a blueprint and a game plan that can be successful in the NFL. With an electric running game, many offensive weapons, and an elite defense, the 49ers can win games in any environment and against any team in the regular season and post-season.  The 49ers seem destined to be the second seed in the NFC playoffs and are on a crash course to face the Philadelphia Eagles in the NFC Championship game in Philadelphia. 
Depending on how this season finishes for the 49ers and how Brock Purdy performs to finish the regular season and postseason, the San Francisco 49ers need to have an open competition between Lance and Purdy to compete for the starting quarterback position next season.
For More 49ers & NFL Content
Follow me on Twitter at @b_eglesia
For More Great Football Content
Follow us on Twitter at @GridironHeroics for more great content. We appreciate you taking time to read our articles. To interact more with our community and keep up to date on the latest in Football news, JOIN OUR FREE FACEBOOK GROUP by CLICKING HERE
Checkout our latest podcast!
[powerpress_playlist limit=1]