Buccaneers' Russell Gage sustained a terrifying injury that scared fans Monday night.
Post Damar Hamlin's injury, all football players and fans are a little more anxious every time a player gets seriously injured, and immediate medical attention is required. Fans were holding their hands to their face in shock and horror, as we all did at home. It couldn't be happening again, could it?
It's completely normal to be faced with a traumatic situation before and react strongly to a similar circumstance.
Were our fears founded?
Absolutely, 100%. Football is a dangerous game, and Russell Gage sustained a serious injury.
We know he can move his fingers and feel his extremities at this time. We also know he was brought to the hospital with a concussion and potential neck injury.
Donovon Wilson, Dallas Cowboy Safety, collided  with Russell Gage at an awkward angle when attempting to block the ball. The hit was detrimental but it was a regular tackle that went wrong.
There is a concern for a potential spinal cord injury. Backboards are always used when there are any possible spinal cord injuries. This is because Russell could not get up, despite attempting to do so.  Gage's prior back injury from week 18 could have left him vulnerable to further injury.
It is good news that Wilson can move his fingers and feel his limbs. This is a positive when considering a potential spinal injury, but in no way guarantees that an injury is not present or indicates the seriousness of a potential one.
Takeaway
Any type of injury is serious when it involves the head and neck. Football is a dangerous game, and as fans, we need to acknowledge and respect the risk our players take every time they play their hearts out for us on the gridiron.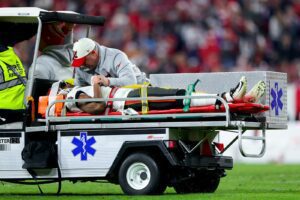 It's impossible to speak to Russell Gage's prognosis at this time. He received prompt and competent medical care both on the field and in the hospital, which will benefit him in the future. Our hearts need to be with Russell Gage, his family, and his teammates in this challenging time and hope for positive news soon.
Some of my other injury takes can be found here and here.
For More Great Football Content
Follow us on Twitter at @GridironHeroics for more great content. We appreciate you taking time to read our articles. To interact more with our community and keep up to date on the latest in Football news, JOIN OUR FREE FACEBOOK GROUP by CLICKING HERE
Checkout our latest podcast!
[powerpress_playlist limit=1]