Rihanna's Super Bowl fees
Rihanna's Super Bowl Halftime Show will be one of the most-watched musical events of the year. For many musical performers, the 15-minute spot is considered one of the greatest honors of their career. But the performance comes at a cost. And evidently, not one to the NFL.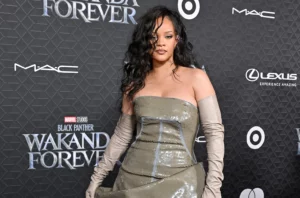 According to a Twitter thread by Joe Pompliano, who writes about sports and business, the NFL receives about $50 million a year from Apple for the halftime show. None of that will go to Rihanna for Sunday's concert.
Apple is paying the NFL $250 million over 5 years to sponsor the Super Bowl halftime show.

But here's the craziest part:

Rihanna won't be paid a dime for this year's show, and performers often spend millions of dollars of their own money on production costs.

Here's why 👇 pic.twitter.com/Hgmu3LuF3P

— Joe Pompliano (@JoePompliano) February 10, 2023
Pompliano explains that artists don't get paid for the act. However, the musicians receive a budget in the ballpark of $10-15 million to pay crews for the show. Many artists have to pay out of pocket to put on the act they want for the Super Bowl audience.
3) In fact, some artists end up spending millions of dollars of their own money on the performance.

For example, The Weeknd spent $7 million of personal cash on his show at Super Bowl 55, and Dr. Dre reportedly spent a similar amount last year.

So why do they do it?

Exposure. pic.twitter.com/SfcrphCeTs

— Joe Pompliano (@JoePompliano) February 10, 2023
But the exposure they receive from the halftime show is worth the costs.
5) Justin Timberlake saw a 534% increase in music sales after Super Bowl 52.

Travis Scott's performance fee went from $500k to $1M after Super Bowl 53.

Jennifer Lopez & Shakira gained 3M followers after Super Bowl 54.

And it's even better when artists time it up with a tour. pic.twitter.com/zy9UeDjKlv

— Joe Pompliano (@JoePompliano) February 10, 2023
It seems a little crazy to me that the NFL can't pay the artist a small fee from the sponsorship Apple is paying the league. But it's good to know that artists won't be totally screwed from the deal. I had always assumed they'd be compensated for the show, much like the athletes playing the game Sunday will.
This shows how much advertising for the Super Bowl works–if your company can afford the $7 million ad for 30 seconds. Rihanna's Super Bowl show should be pretty profitable for the artist.
For More Great Football Content
Follow us on Twitter at @GridironHeroics for more great content. We appreciate you taking time to read our articles. To interact more with our community and keep up to date on the latest in Football news, JOIN OUR FREE FACEBOOK GROUP by CLICKING HERE
Checkout our latest podcast!
[powerpress_playlist limit=1]