On Saturday the Virginia Cavaliers took on the Fighting Illini in Champaign. After months of preparation and refocusing on fundamentals, details, and overall improvement, the Cavaliers hit the road confident in a solid matchup and ready to notch another victory against the Illini. Too bad that didn't happen. As painful to write as it was to watch, here is the Virginia-Illinois recap, 2022 edition.
Got 'Em Saying Wow
For all the wrong reasons, wow. Not since the Monstars met the Looney Tunes has a talented team showed up with nothing in the tank but high hopes and maybe a prayer. Ahead of yesterday's game, Virginia left all of their physical skill back home in Charlottesville. So here we are with the Cavs 1-1 after a devastating 24-3 defeat by the Fighting Illini on their home turf in Champaign, IL.
A Cavalier loss was always in the cards; after all, someone has to lose and the Cavs aren't in a position to be an undefeated team just yet. But a 24-3 loss wasn't on the radar, even with Virginia considered the underdog in their matchup with the Illini. So what happened?
Virginia-Illinois Recap: The Offense
To begin, Virginia's offense didn't show up. Held to three points for the entire game while boasting one of the ACC's top talents at quarterback, it's an outcome as perplexing as it is frustrating. Illinois brought a defensive line ready to stop any hope of a decent run game for Virginia, but that's no surprise. In fact it should've been expected.
What was surprising was how ineffectual Brennan Armstrong and his receivers were. Sure the pass rush made things difficult but the total lack of execution is another issue altogether. The Cavs have a highly talented and experienced group of skill position players. If they can't overcome challenges to the rushing game, they have to be able to pivot to the passing game and make it work in their favor. If they can't get back on track, it's going to be a long season.
Virginia-Illinois Recap: The Defense
Virginia's defense, which has been its weak spot for several years, came to play. The defense was disruptive, forcing four turnovers and handing the Cavs' offense plenty of opportunity to take control and deliver a competitive contest.
Anthony Johnson's interception on the opening drive kicked off the defensive contest and the turnovers kept on coming. Antonio Clary, Kam Butler, and Jonas Sanker all forced fumbles to hand the ball back to Brennan Armstrong and the offense.
The Illini offense dominated the run game. QB Tommy DeVito served as game manager and play maker, throwing for 196 yards and two touchdowns. Lead RB Chase Brown averaged 7.3 yards a carry and finished with 146 yards on the ground. But, Virginia's defense held Illinois's offense to just 17 points which is a win for the Cavs' defense at least.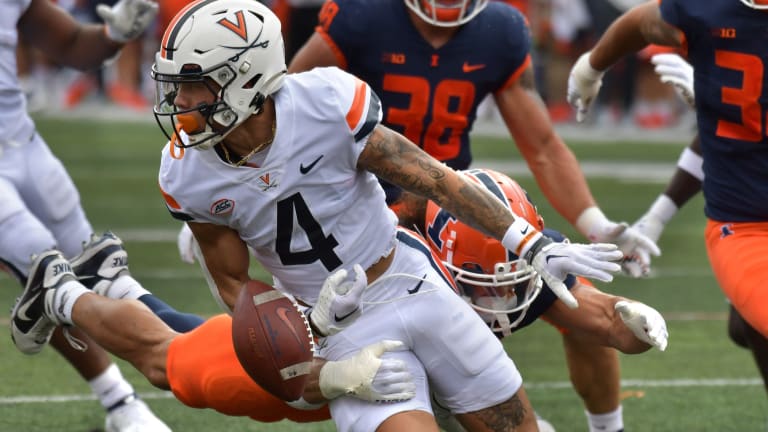 Virginia-Illinois Recap: Special Teams
Billy Kemp IV fumbled a punt in the end zone, allowing the Illini to recover the ball and take the lead. Obviously, they maintained that lead for the duration of play.
Virginia's backup punter Brendan Farrell had a number of short punts and a missed field goal, all of which only exacerbated the Cavs' growing problems throughout the day.
Special teams can't be blamed for losing the game entirely, but they contributed to the Cavs' inability to get back in the game thanks to added pressure on the offense plus bad field positioning.
Breaking In a New Coach
The Illini are in their second season with head coach Bret Bielema. His version of football is established for the Illini.
By contrast, the Cavaliers are in their first season with head coach Tony Elliott. Elliott knows championship football having been an offensive coordinator for Clemson, but he doesn't have experience in the HC position. Like Bielema, Elliott is in a rebuilding position with a program that's struggled to meet any true potential for far too long.
Yesterday's game showed the difference experience can make for a coach as much as a player. What's perhaps most problematic is that almost all of Virginia's problems came from its offensive playbook. Committing to the run game when that was clearly not the move is baffling. Yes Virginia's O-Line needs work and yes, Brennan Armstrong was undoubtedly going to feel pressure in the passing game but the coaching staff should've had a backup plan. Even without a win, a backup plan could at least have kept the Cavs in the game.
Looking Forward
Virginia needs work, this is not news. This game doesn't need to be an indication of what's to come for the Tony Elliott era at Virginia. But for the 2022 Cavaliers, this should serve as the program's wake-up call to re-work their weak spots with ACC play on the horizon.
Up next: the Old Dominion Monarchs. Considering ODU has already beat Virginia Tech, the matchup against UVA could be interesting.
Virginia-Illinois Recap: Vegas
You win some, you lose some. I took Virginia for this game and like the Cavs, I did not win.
I don't know the odds on next week's game yet but stay tuned! For info on the odds and a preview of the UVA-ODU matchup, check out the University of Virginia on Gridiron Heroics!
For More Great Football Content
Follow us on Twitter at @GridironHeroics for more great content. We appreciate you taking time to read our articles. To interact more with our community and keep up to date on the latest in Football news, JOIN OUR FREE FACEBOOK GROUP by CLICKING HERE
Checkout our latest podcast!
[powerpress_playlist limit=1]