The Tennessee Vols kicked off their season opener in Neyland Stadium against Ball State on Thursday night and what a way to start the season! Kicking off head coach Josh Heupel's second season with the Vols, Tennessee notched a huge win against the Cardinals. In a game that really highlighted the offensive tempo, Rocky Top definitely delivered which is hopefully a sign of great things to come this season.
Tennessee-Ball State Recap: What Worked
Two words: Hendon Hooker. Tennessee's star QB threw for 222 yards and two touchdowns and ran for two more scores on Thursday night. By halftime, Hooker had 211 passing yards and the Vols had secured  a 38-0 lead. Of Hooker's efficiency Coach Heupel commented, "He was in command; in control. He was in complete command of the football game." Hooker has thrown 33 touchdown passes in his two-year career with the Vols. Sophomore RB Jaylen Wright led Tennessee's ground game with 86 running yards and one touchdown.
Ball State head coach Mike Nue gave the Vols offense props saying, "Tennessee is good at what they do from an offensive standpoint. It's tough to slow down an offense like that with a quarterback playing at a high level."
Defensively, the Vols showed major improvement. Coach Heupel offered his take on the Vols' defense stating, "We were disruptive upfront. We controlled the edges. We didn't let him get vertical in their run game." The Vols' defense came ready to rumble and ended the game with three turnovers, including two interceptions. Tennessee's defense held the Cardinals to just 343 total yards, with an outstanding performance by DB Kamal Hadden.
The Vols brought home a 59-10 victory over the Cardinals.
I Had Five On It
I talked about odds on this game in my preview article. Using FanDuel Sportsbook, I bet on Tennessee to cover the spread. I'm a pretty conservative gambler but I turned my $5 into just under $10 so that's a W for me.
A more exciting wager was that placed by Dave Portnoy, who Tweeted a photo of his bet of $55,000 on the Vols. Talk about confidence in a team!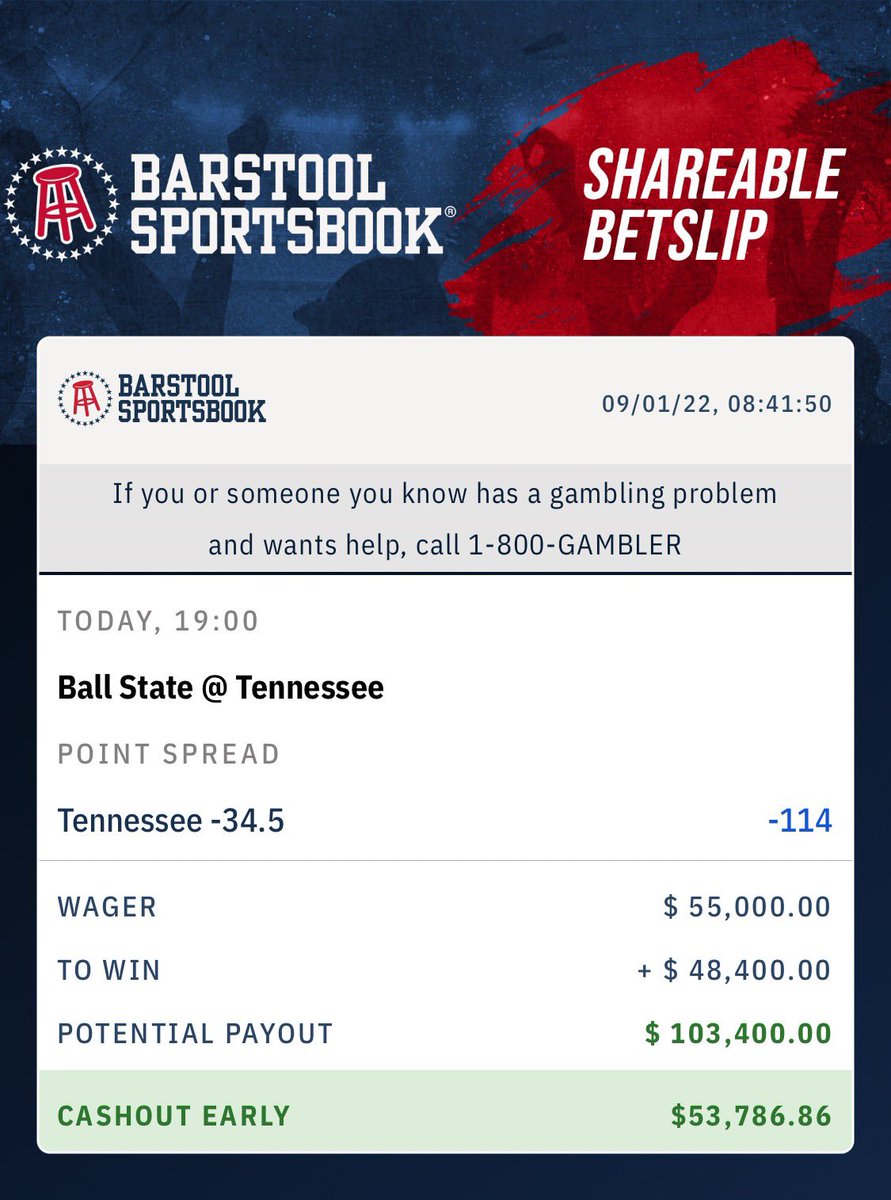 Looking Forward
After Thursday's game, Coach Heupel reflected that the Vols have more players who understand the 'why' than they did a year ago. "We're a deeper team than a year ago. We know more about this football team than a year ago."
Heading into next week's matchup against Pittsburgh, the Vols will need to iron out any wrinkles in their offensive and defensive lines. Last year, the Vols gave up 27 points in the second quarter and lost 41-24 against the Panthers.
This year, they'll head north with revenge on their minds for what is a huge non-conference game for the Vols. Stay tuned for more Vol Football news and predictions heading into week 2!