After a disappointing 5 point loss on the road in week one the Raiders are looking to bounce back. The silver and black return to Allegiant Stadium for the home opener against the Arizona Cardinals. Both teams are looking to avoid a deep 0-2 hole. Both divisions are strong so falling behind too far even this early might be too much to overcome. After both teams were in the playoffs last year look for a highly competitive fight for 4 quarters. The Cardinals played extremely well away from home last year so the location of the game doesn't mean much. Here are keys to a Raiders home win in my Raiders preview week 2 vs Cardinals.
Contain Kyler
Cardinals QB Kyler Murray is a big play threat on every play. The Raiders defense will need to play disciplined and be prepared. The play is never over with a QB as talented as Murray. It will be interesting to see how Patrick Graham plans to defend Murray. Will he use a spy or a more aggressive approach. The pass rush did not record a sack in week 1 so maybe a more aggressive style will be played on Sunday. I think the best approach is minimizing blitzes and trying to make Murray one dimensional but dropping into coverage more. Blitzing could work but the risk of letting up a big play should limit the amount of times Graham gets aggressive with his calls.
Running Game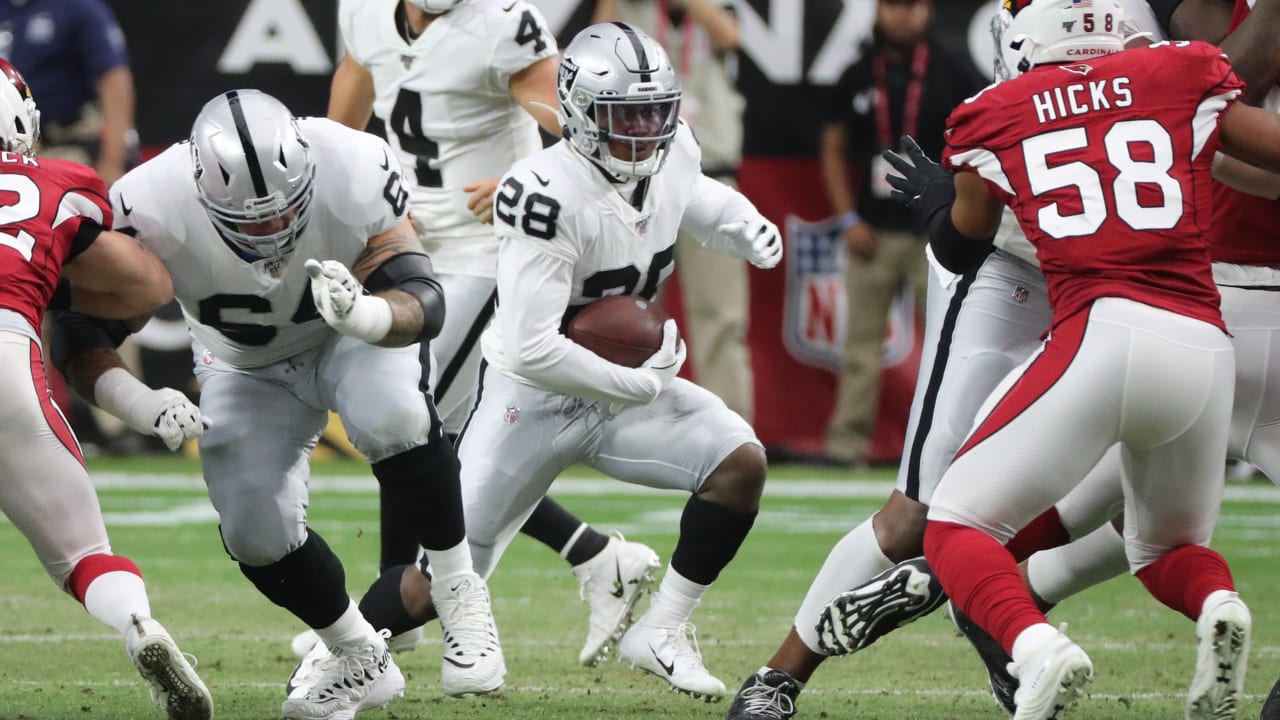 The amount of carries wasn't high enough last week but Jacobs averaged over 5 yards a carry. This offense is capable of a power rushing attack that can control the clock and keep the defense off balance. This week the Raiders should show a stronger commitment to the run. Coach McDaniels also didn't show a lot in the screen game last week and that is going to change as the season progresses. Brandon Bolden caught a touchdown last week and it appears the running backs need to become a bigger part of the passing attack. Also, with Bolden a little banged up this could be the week Zamir White gets his chance.
Dylan Parham
The rookie third rounder out of Memphis started at guard last week in his first NFL game. This Sunday it appears he will start at Center due to the concussion Andre James suffered on the final offensive play last week. Parham looked firmly in control and posted the second highest grade for a rookie in week 1. According to PFF Parham had a grade of 82.3. That is a solid beginning for the young lineman. Starting at center will bring a new set of challenges but Dylan is ready. The off-season had Parham working at both Guard spots and also at center. His versatility is extremely valuable especially with a line that is still finding the best 5 guys. It's still early in his career but the selection of Dylan Parham seems to be a very solid first pick for new GM Dave Ziegler.
Mismatches
Davante Adams had a huge debut last week for the Raiders. Although it seemed Carr might have forced a couple to Adams. Davante is the best in the league so it's understandable to look his way often. However, the Raiders have other targets creating mismatches and pressuring the D. Waller had his moments with 4 rec but more is expected from him and Renfow. Targets have a way of leveling out and this week should see more even distribution. McDaniels should have his offense ready to go Sunday and the hope is Carr can find and exploit the mismatches.
It's still early in the season but neither of these teams wants a 0-2 hole. After watching the Chiefs race out to a 2-0 start the Raiders need to start winning to keep up. Thanks for your time reading my article and for more Raiders talk follow me on Twitter http://@BrianRobert85. You can  check out a previous article here Raiders Game Review Vs Chargers . Also, I will have the week 2 review up Monday.
For More Great Football Content
Follow us on Twitter at @GridironHeroics for more great content. We appreciate you taking time to read our articles. To interact more with our community and keep up to date on the latest in Football news, JOIN OUR FREE FACEBOOK GROUP by CLICKING HERE
Checkout our latest podcast!
[powerpress_playlist limit=1]