Where to even start with this game. The Raiders were up 20-0 at half and 23-7 entering the fourth quarter. With the spread being -5.5, Vegas looked in control all game to cover.
A touchdown by Cardinals running back Darrel Williams, followed by a successful two-point conversion, cut the lead 23-15. With eight minutes left and now protecting a 2.5 (spread purposes) point lead, the Raiders had a chance to put it away. Instead, Vegas ran a grand total of five plays for 14 yards that took 3:15 off the clock. After a punt down to the Cardinals 27-yard-line with 4:43 left, it was hold your breath time for bettors with either side.
The Raiders defense had their first instance to end the game on 4 & 1 with 2:28 left. Kyler Murray scrambled for a two-yard run and the game continued.
Right Call?
Needing one more stop to secure the cover, 4th & 4 at the Las Vegas six-yard-line, Kyler refused to go down:
So #RaiderNation, holding or no? pic.twitter.com/Pbauk9Slik

— Chris Reed (@ChrisReed_NFL) September 19, 2022
A holding call set the Cardinals up with a fresh set of downs on the Raiders three-yard-line with 16 seconds left. Any Raiders backers at this point have already thrown something or jumped on twitter/reddit to see that other people are mad too, to make themselves feel better.
The Cardinals still needed to score and get the two-point conversion.
After all that had happened so far, it felt inevitable that the Raiders spread and moneyline was getting screwed. Chalk it up to questionable officiating and bad vibes.
The Kyler Touchdown:
Continuing with the dramatics, the Raiders once again had a third chance to end the game for good. Three straight incompletions brought up 4th & goal from the Raiders three-yard-line with eight seconds left.
Kyler Murray kept the ball in his hands and the holding that would've ended the game had come full circle for Raiders bettors who suddenly weren't covering anymore:
Kyler putting the team on his back! @K1

📺: #AZvsLV on CBS
📱: Stream on NFL+ https://t.co/FVZamC6mMP pic.twitter.com/AJLOXXPp3q

— NFL (@NFL) September 18, 2022
Two-Point Conversion:
Still trying to collect their thoughts, Raiders spread bettors had to quickly pivot to rooting for the Cardinals. A failed two-point conversion would end the game, a successful try gives Raiders bettors hopes of covering in overtime.
Kyler Murray makes an incredible tight window throw to AJ Green, and it was fitting a game like this got sent to overtime.
Kyler. Murray. Unreal comeback performance.

📺: #AZvsLV on CBS
📱: Stream on NFL+ https://t.co/FVZamC6mMP pic.twitter.com/mTlkoeLSzq

— NFL (@NFL) September 18, 2022
Overtime:
Hopes of the Raiders covering took a hit when the Cardinals won the coin toss and elected to receive in overtime.
4th & 1 at the Raiders 37-yard-line, Kyler found Marquise Brown for what would have big a big gain before Duron Harmon knocked the ball out.
What a play by Duron Harmon on 4th down! #RaiderNation

📺: #AZvsLV on CBS
📱: Stream on NFL+ https://t.co/FVZamC6mMP pic.twitter.com/Kz1PAqyUUK

— NFL (@NFL) September 18, 2022
Incomplete pass, Raiders get ball back on their 37-yard-line just needing a field goal to win. The -5.5 spread didn't look promising, but you never know if someone on the Raiders could break loose and end it with a touchdown.
What Just Happened??
2nd & 10 on the Cardinals 39-yard-line is where this painful game for Raiders bettors ends.
SCOOP AND SCORE FOR THE WIN!

Cardinals score 22 unanswered points in the 4th quarter and OT to win! #AZvsLV pic.twitter.com/9sHEfc3Bhl

— NFL (@NFL) September 18, 2022
A 59-yard scoop and score by Byron Murphy Jr. for the Cardinals to win the game.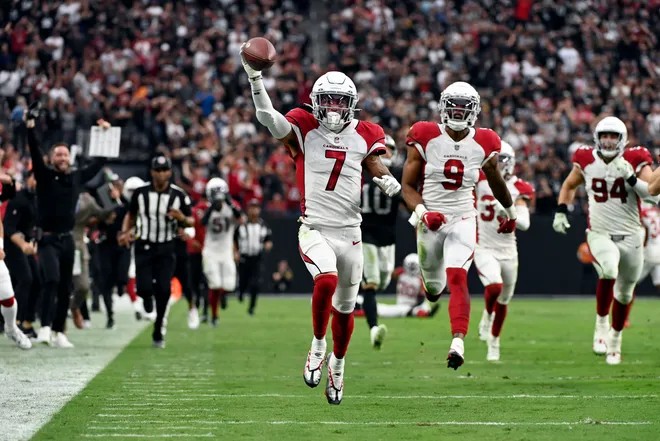 The Cardinals and quarterback Kyler Murray were fired up after the win:
.@AZCardinals sideline was going WILD after that game-winner. 🔥🔥🔥 #AZvsLV pic.twitter.com/phYzSQHrL6

— NFL (@NFL) September 18, 2022
Look at this competitor. Kyler Murray is here to win. pic.twitter.com/Aeh4fdD3Zx

— Johnny Venerable (@JohnnyVenerable) September 19, 2022
A painful defeat for Vegas bettors that had three chances to end this game in regulation and go home happy.
With the loss, the Raiders fall to 0-2. Since 2020, 18 teams have gone 0-2 to start an NFL season, zero have made the playoffs.
*Side note: The Cardinals miracle touchdown did push the over/under which sat at 52.
Vegas will look to rebound next Sunday with a trip to Tennessee in week 3.
Thanks for reading!
Click here to read more of my articles
Followed & Connect with me:
For More Great Football Content
Follow us on Twitter at @GridironHeroics for more great content. We appreciate you taking time to read our articles. To interact more with our community and keep up to date on the latest in Football news, JOIN OUR FREE FACEBOOK GROUP by CLICKING HERE
Checkout our latest podcast!
[powerpress_playlist limit=1]