,The deadline to reduce rosters to 53 was 4pm eastern on Tuesday.  The Raiders made several moves to get to 53. This will not be the final decision on the roster, some notable moves were made; They traded CB Trayvon Mullen to Arizona for a conditional late rd draft pick and combined with a mild surprise release of Darius Phillips, the new regime has completely reconstructed the corner back room and more moves should be expected soon. Here is what else caught my attention in my Raiders 53 man roster initial reaction.
Alex Leatherwood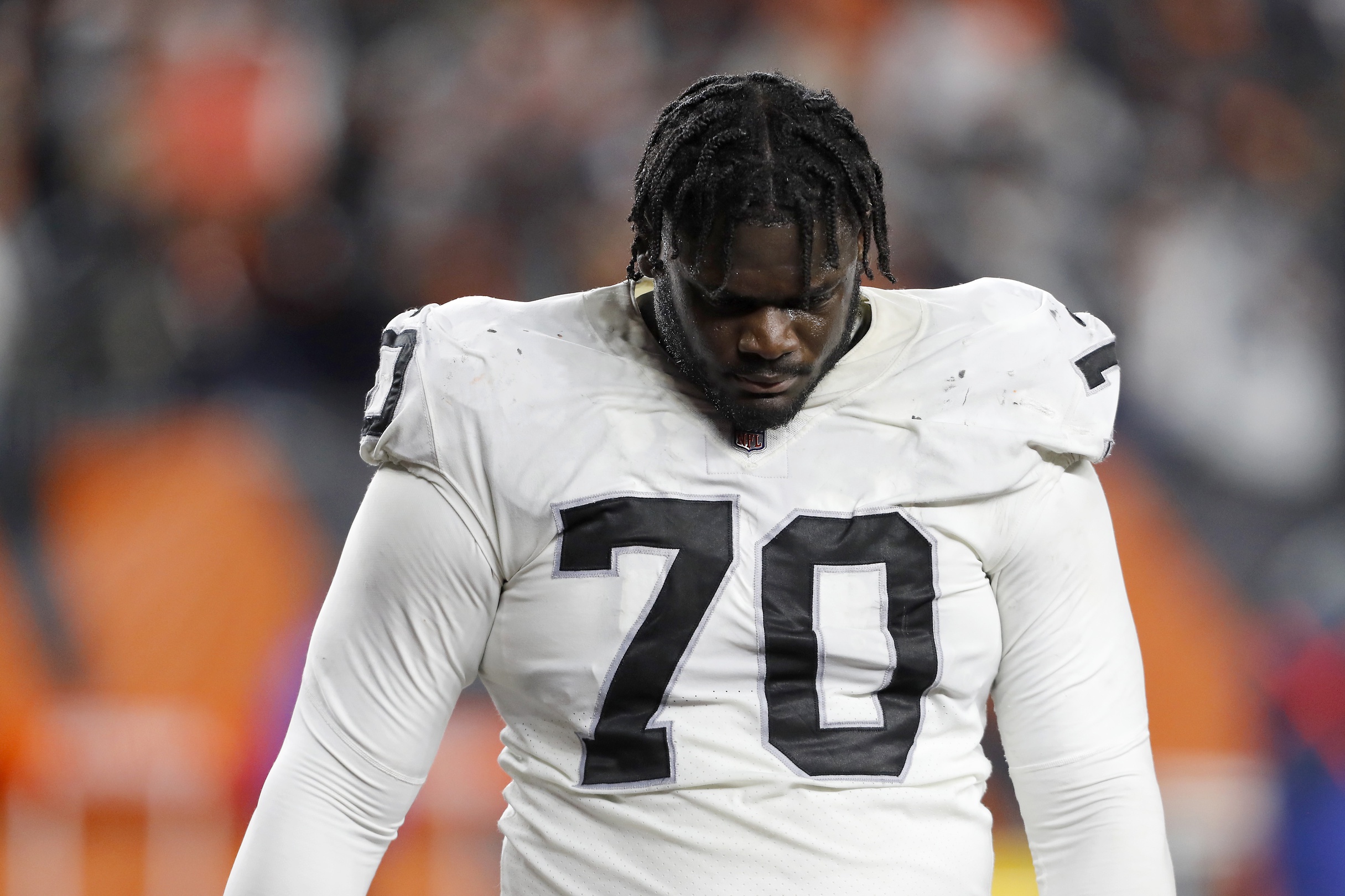 The Alex Leatherwood RT experiment was clearly going nowhere and now the Raiders have officially moved on. Unable to find a trade partner the team released Leatherwood Tuesday ending his Raiders career after just one season. Rumblings earlier this week had the team him to guard but that did not happen. Dave Ziegler and company decided to eat the dead cap hit and move on from the former 17th overall draft selection.  Leatherwood has lost his confidence in a big way and hopefully he can rebound and salvage his NFL career.  He is young enough to get more shots in the NFL and maybe a fresh start could benefit him. The previous regime hurt his growth by over drafting him and playing him out of position. Leatherwood always was a guard in the NFL and if he gets his career back on track that is where it will occur.
Trayvon Mullen
The once number 1 CB was traded Tuesday to the Arizona Cardinals for a late conditional draft pick. Mullen was yet another draft pick from the previous regime let go. Recovering from an injury this off-season left Mullen unable to earn a spot with the new staff. The Raiders acquired Rock Ya-Sin and Anthony Avertt this spring. Combined with the continued development of Nate Hobbs, who appears on his way to being a star, the team felt Mullen was expendable.  The only surprise is how low of a return they received but according to Ian Rappaport Mullen was going to be cut if he wasn't traded so any value is good at that point.
2022 Draft Class
After a historic awful run of drafting under Jon Gruden, the Raiders were in desperate need of a change. Under the new General Manager Dave Ziegler, the entire 2022 draft class made the initial 53 man roster. Not having a pick in the first two rounds makes this more impressive.  The Raiders drafted future starters Dylan Parham and Zeus White but also have great potential with the young defensive lineman Matthew Butler and Neil Farrell Jr. Thayer Munford Jr; who was also in the mix to be the starting RT before injuries forced him out. If he is healthy and can contribute quality snaps on the offensive line that is huge for a 7th round selection. Added to this group are the undrafted free agents that have also made the initial roster. Four players on defense went undrafted and made the cut for the Raiders.  It's a good start for Ziegler. Davante Adams is looking good to be  added to the group via 1ST and 2nd round draft picks, it is hard to imagine any GM having a better off-season.
Whats Next?
The Raiders will assemble their 16 man practice squad next. Look for a few names that have been with the team the entire off-season.  A 3rd QB so extra offensive lineman and secondary help and areas to watch. McDaniels and Ziegler are always looking to improve the roster so a few changes are likely before the opener.
On September 11th the Raiders will face-off with the Los Angeles Chargers; the excitement for Josh McDaniels first season in silver and black is extremely high among Raider Nation and the hope is this season will be a memorable one.
Thank you for your time reading my article. For more Raiders talk follow me on Twitter http://@BrianRobert85 or check out a previous article. I will have a season outlook up early next week followed by a preview of the opener vs the Chargers.