The AFC West features 2 QBs with Super Bowl rings and tons of wins and NFL experience. The Raiders must stop Patrick Mahomes and Russell Wilson twice a year. The man tasked with stopping these offenses is new Defensive Coordinator Patrick Graham. Coming over from New York Graham has over a decade worth of experience in the NFL. The new look defense will be tested early and often as the Raiders play one of the more difficult schedules in 2022. With the season less than a week away here is part 2 of my Raiders season outlook with a preview of the defense.
Patrick Graham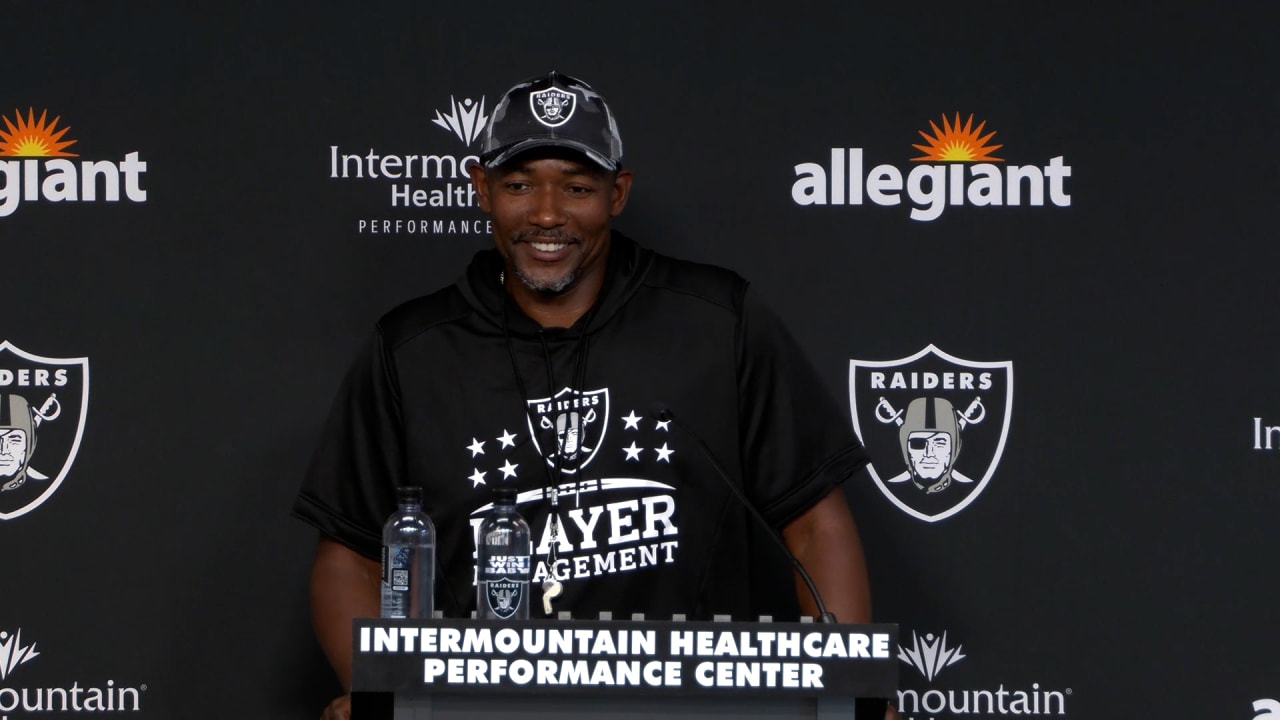 Coming over from the New York Giants, Graham has over a decade of experience in the NFL. His task in Las Vegas will be to create a tough, smart and physical defense who can handle some of the best offenses in the game. The Raiders have been absolutely horrible in creating turnovers the last few years. The Raiders were -9 in the turnover department a year ago. They managed to make the playoffs despite forcing an abysmal 15 turnovers. This is an area where Graham can drastically improve. During the preseason the defense was flying around and creating turnovers every game. With a brutal schedule and division the Raiders will need turnovers to help steal a win or two during the season. With a top notch pass rush the opportunity for more turnovers are there.
Pass Rush
After leading the NFL in pressure during the 2021 season , Maxx Crosby still has more to offer. The addition of Chandler Jones gives the Raiders one of the best pass rushing duos in the game. During the off-season the Raiders wanted to address the second group of edge rushers. Malcom Koonce has flashed this off-season and is ready for a larger role. Tashaun Bower also had a few quality games this preseason. With two groups of pass rushers the Raiders can develop multiple looks and disguises . Graham also likes to bring DBs on a blitz to confuse the opponent. Whether it's an extra safety or DB expect the Raiders to dial up multiple ways to attack and create turnovers.
Secondary
After Trayvon Mullen was traded the Raiders had almost completely rebuilt the corner position. The team believes in the duo of Rock Ya-Sin and Anthony Avertt to hold down the outside spots. Nate Hobbs is entering his second season and another big jump is expected after a stellar rookie campaign. Another 2nd year player ready for a big jump is safety Trevon Moehrig. After playing every snap his rookie year Moehrig is expected to start becoming a playmaker in the new defensive system. Duron Harmon brings a veteran presence along with a big play ability. With Harmon playing mostly at SS that should allow Jonathan Abram to roam around the line of scrimmage as an extra box defender or blitzer. This in my opinion is where Graham and the Raiders can maximize the strengths of Abram . He doesn't need to be in coverage but as an extra defender in a 3-3-5 or 4-2-5 look he brings tremendous opportunities.
Defensive Tackle
With Jonathan Hankins and Bilal Nichols returning midway through camp the Raiders were more than ready. Hankins is an excellent run defender and made his presence felt almost immediately. Nichols can do a little of both and pressure up the middle can really take this pass rush to the next level. With two great edge rushers any added pressure up the middle is going to make opposing QBs miserable. Depth is a mild concern but Andrew Billings showed potential this preseason. A solid season from Billings would allow the Raiders to be patient with their two young defensive tackles. Matthew Butler and Neil Farrell Jr have steadily improved this off-season but it might be too early for either to have a significant role especially early in the season. However, the opportunity is there for either to become a bigger part of the defense early in their career.
Linebackers
The Raiders have returning pro bowl MLB Denzel Perryman. A true force in the middle of the defense and a tackling machine. The team and Perryman have been discussing terms on a contract extension and it would be good for both sides to get a deal done. Divine Deablo is entering his second year and the expectations are rising after a solid end to the year. The Raiders also signed Jayon Brown who when healthy is an excellent cover linebacker. Two undrafted free agents join the LB group as Luke Masterson and Darin Butler earned a spot on the intial 53 man roster. The linebacker position has guys who can tackle and cover giving Graham multiple options when deploying this group. Perryman is an excellent early down option defending the run and Brown is an excellent coverage linebacker. Deablo adds a little of both and it will be interesting to see how Masterson and Butler are used especially early in the season.
Raider Nation is excited about Patrick Graham and what he can bring to the defense. If he can have a solid unit that creates turnovers and rushes the passer he will be the best defensive coordinator the team has had in decades. Thanks for your time reading my article and for more Raiders talk follow me on Twitter http://@BrianRobert85  You can also check out my previous article here Raiders 2022 Season Outlook: Offense an offensive outlook for 2022.
For More Great Football Content
Follow us on Twitter at @GridironHeroics for more great content. We appreciate you taking time to read our articles. To interact more with our community and keep up to date on the latest in Football news, JOIN OUR FREE FACEBOOK GROUP by CLICKING HERE
Checkout our latest podcast!
[powerpress_playlist limit=1]