Penn State QB, Sean Clifford, led this team to a measly 11-11 record in his past 22 games as the starting quarterback. If this team wants to get to the College Football Playoff, they need to make a leap as a group. This is a young QB room overall and that could lead to some indecision from Coach James Franklin. Will he go with the experience or the talent? Clifford is set to take center stage against Purdue on September 1st, but does that rule out the rest of the depth chart?
Sixth Year Senior QB: Sean Clifford
After declaring to make use of his Covid year, Sean Clifford will be back in Happy Valley for one last rodeo. This past season, the Penn State QB appeared in all 13 games and totaled 3,107 passing yards, 21 touchdowns, and eight interceptions. Not some world-beater numbers, but they'll get you some wins. That is exactly what Penn State looked like with Clifford at QB. After starting 5-0 and with heavy hopes to crack the top four, three losses in a row ended their chances at the College Football Playoff. In that stretch of games, Penn State only lost by a total of 14 points. However, Clifford put up two passing touchdowns, and three interceptions, and could not push the ball downfield late in these games.
However, there is still hope if Coach Franklin decides to rock with Clifford. Last season, another Pennsylvania QB couldn't push the ball downfield but used his legs and intermediate game to climb up draft boards. Kenny Pickett had plenty of knocks, but he ended up being a first-rounder in this past year's NFL Draft. Not saying this exact story will happen for Clifford in a stacked QB class, but he has one last shot to prove he can be an NFL QB of some caliber. He's got the experience and will most likely break Penn State's all-time passing yards record in 2022.
Red-Shirt Freshman: Christian Veilleux
While we have not seen much yet, Christian Veilleux looked great in his game against Rutgers this past season. 235 passing yards and three touchdowns are noteworthy against any squad and especially as a true freshman. Credit to the Penn State coaching staff for saving a year of eligibility. In a year where they would not make the Playoff, that is an underrated move.
In a similar situation to save Drew Allar's eligibility, Veilleux could find his opportunity early as he is loved among his teammates and fans. Whether he transfers due to the commitment to Allar is up for debate after the season. For now, Veilleux is one of the best backups in the country and provides great insurance for Penn State.
True Freshmen: Drew Allar and Beau Pribula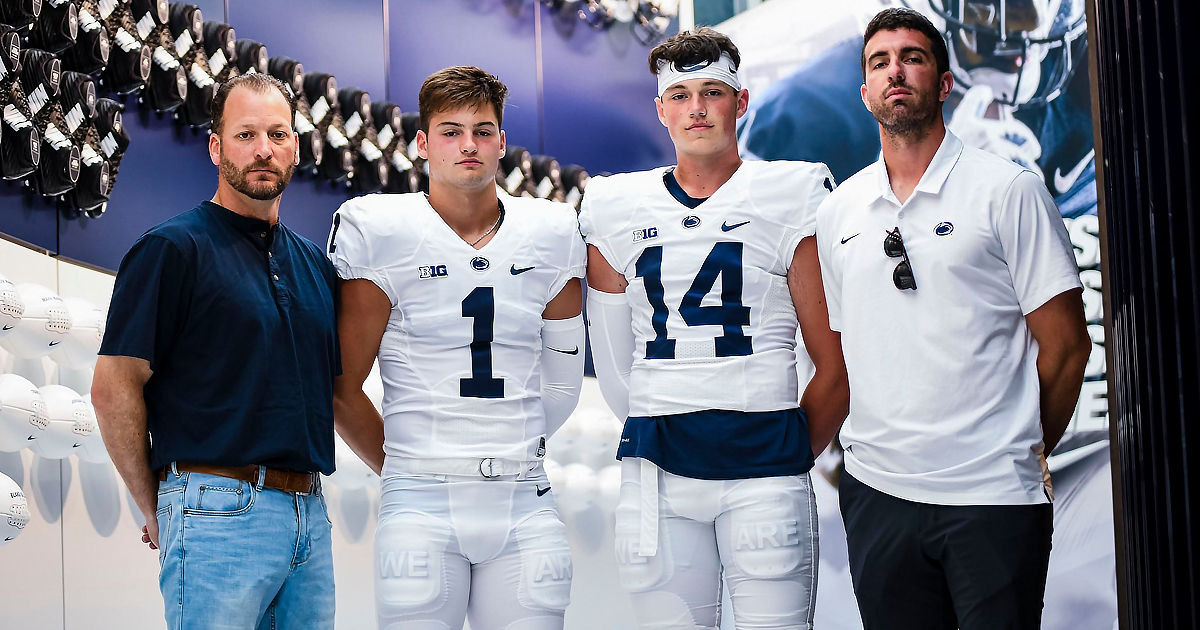 Drew Allar was the signing of the year. Penn State thought they had this luxury before Justin Fields recommitted, but it is now here. Allar is ranked as a 5-star and a top 10 QB in the country by almost every recruiting site and looks like the future at the QB position. He won virtually every Ohio High school award for football and broke many records. To make it all sweeter, Allar chose Happy Valley to be his home over Ohio State and Michigan. Drew Allar will have plenty of opportunities to show them why.
Beau Pribula is not too shabby himself. A four-star coming out of high school from York, Pennsylvania. Just as Allar did in Ohio, Pribula achieved just about any honor possible for a Pennsylvania football player. Pribula   ranked as one of the best dual-threat QBs in the nation by every major recruiting outlet. Pribula and Allar will compete to become the future of this team. Nice to have both on your side.
Overall Thoughts
While we may not anticipate this QB room having some dark-horse Heisman, it is a solid group. With anticipated improvement from Clifford and great insurance with three freshmen, the Penn State QB Room is loaded. For the present and the future.
For More Great NFL And College Football Content
Follow me on Twitter @amperez_17 and @gridironheroics. We appreciate the time taken to read and support our articles! To interact more with our community and keep up to date on the latest in Football news, JOIN OUR FREE FACEBOOK GROUP by CLICKING HERE.
For More Great Football Content
Follow us on Twitter at @GridironHeroics for more great content. We appreciate you taking time to read our articles. To interact more with our community and keep up to date on the latest in Football news, JOIN OUR FREE FACEBOOK GROUP by CLICKING HERE
Checkout our latest podcast!
[powerpress_playlist limit=1]