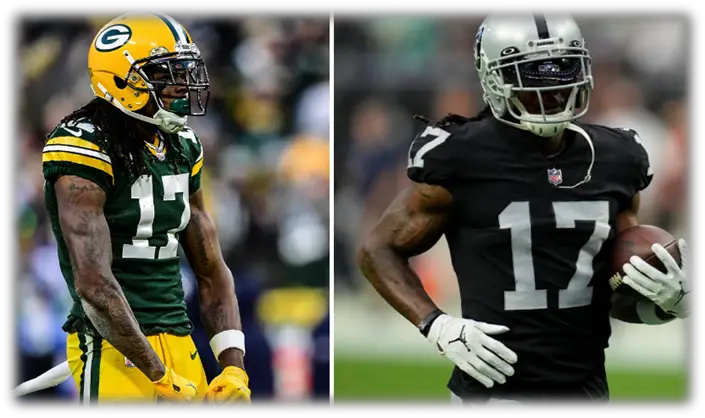 Back in March 2022, the Green Bay Packers traded all-star wide receiver, Davante Adams, to the Las Vegas Raiders in a blockbuster trade. The Packers received 22nd and 53rd draft picks in the 2022 NFL draft and the Raiders reunited Derek Carr with his long-lost college wide receiver. Since Adams will no longer be wearing a Packer uniform, the looming offseason question has been "who will take his place?"
Aaron Rodgers Trust
Adams left the Packers with big shoes to fill. To expect one person from the current Green Bay roster to perform at the same rate as him is outrageous. The good thing for Packers fans is you have 4-time MVP quarterback, Aaron Rodgers, behind center. Unfortunately, quarterback play only gets you so far. The main concern for fans should be "who will Rodgers trust?" He is a quarterback built on trust, from the offensive line to the wide receiver room.
Trusted Wideouts
What wideouts have established trust with Aaron Rodgers? The two players that immediately come to mind are Randall Cobb and Alan Lazard. In 107 career games with Rodgers, Randall Cobb has racked up 462 receptions with 5,526 receiving yards. On the downside, Cobb just turned 32 years old this August and is a few years past his prime. Though he may be past his prime, he is a crucial piece for mentoring young wide receivers. Cobb knows Rodgers's tendencies and pet peeves, which will help youngsters gain Rodgers's trust faster.
Alan Lazard has spent his Packers career under the shadow of Davante Adams. He has posted a mere 108 receptions and 1,428 receiving yards in 41 games with Rodgers under center. That being said, in the last 2 games played without Adams, Lazard posted a combined 11 receptions and 182 receiving yards. Those numbers are promising with the looming vacancy. Lazard is only 26 years old entering the 2022 season and is hungry to take Adams's production. Only time will tell if Lazard can handle the workload.
Free Agent Pick-up: Sammy Watkins
Watkins started his Packers journey with a bad reputation for injuries. Watkins got injured at the beginning of training camp, which was not a good introduction to the Packers. His injury kept him away from crucial reps with Rodgers. Luckily, his injury did not last long. It has been a long training camp for him but he is now getting recognized by Rodgers. After Thursday's practice, Rodgers said "ever since the Saints practice, the first one, Sammy has been a different player. He's been super reliable." Watkins has the talent to produce for the Packers and seems to be earning the trust of Rodgers. Athletic ability and intelligence have never been Watkins's issue, it's injuries. If he can find a way to stay healthy, he will likely have a productive year. We will see what fate wields Watkins after years of bad luck and unreliability.
Hopeful Rookies
Rookies that stand out on the Packers are 2nd round pick Christian Watson and 4th round draft pick Romeo Doubs. Watson was managing a knee injury and received no preseason playing time. Christian Watson does have extraordinary size and speed to his advantage. At 6'5 and 207lbs combined with a 40-yard dash time of 4.39, he has all of the characteristics of a great wide receiver. With all of his elite characteristics, injury has kept him away from cashing in crucial reps with Rodgers. This increases the difficulty for Watson to gain Rodgers's trust compared to his counterparts.
Romeo Doubs impressed a lot of Packers fans this offseason and also earned praise from Rodgers himself saying "Every single day… there's been at least one kind of 'wow' play for him and that's kind of rare for a young guy like that." As the 4th round pick, he had to work harder to earn his place on Rodgers's radar. Whether it's making "wow plays" in practice or winning 50/50 balls in the preseason. Doubs has proven to Rodgers and the Packers coaching staff that he deserves to be here. Doubs is on the right track to having a productive season on the Packers.  We will soon find out if he has what it takes to transform his off-season success into regular-season production.