Quay Walker is named to PFWA's All-Rookie Team
Green Bay Packers LB Quay Walker is named to the Pro Football Writers of America (PFWA) All-Rookie Team list.
Quay Walker was drafted 22nd overall in 2022's rookie draft. He was the player the Packers chose with the pick they gained from Davante Adams. Walker played in all 17 games this year with an 82% snap count. He amassed 75 solo tackles, 1.5 sacks, and 3 forced fumbles. He also has 46 assisted tackles, 7 passes defended, and 5 tackles for loss.
Walker showed everyone why the Packers selected him so highly. He became a starter in week 2 after a somewhat strong week 1 effort for a rookie where he was in for 8 tackles. He also His biggest play of the year came when he returned a fumble for 63 yards against the Eagles in week 11. Walker led all rookie LBs in tackles in 2022.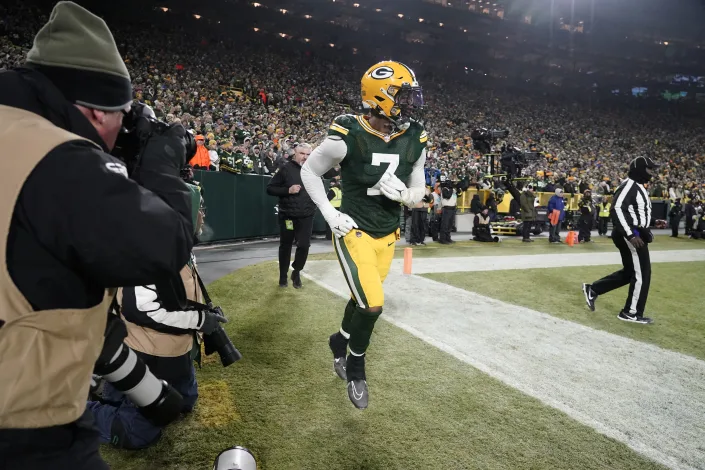 Quay Walker's on-field character was questioned when he was ejected twice this past season. The first ejection came in week 8 when he went after an inactive player out of bounds. The second ejection came in week 17 when he pushed a Lions' training staff member. That one was certainly egregious considering that the Packers needed to win that game to make it to the playoffs. Walker did not take the ejection well and has since apologized for his actions.
The PFWA is an organization dedicated to increasing pro-football writers' access to players and teams and ensuring that they are treated professionally. Each season, the organization puts together an All-NFL list, All-NFC/AFC list, and an All-Rookie list. Walker joins the likes of CB Sauce Gardner, DL Aidan Hutchinson, DL Kayvon Thibodeaux, and CB Tariq Woolen on defense for the PFWA's All-Rookie team.
Quay Walker has the physical tools to compete in the NFL. He simply has to mature a little bit and rein in his temper in high-emotion situations. He is a much needed piece in an extremely shallow Packers linebacking corps. Should he avoid any more ejections and embrace the athlete that can run down someone like Justin Fields, he has the makings to be a great defensive player in the NFL.