Every week of college football is another week closer to the end of the season. It also means it is time for Monday's PAC 12 Power Rankings. Each and every week SpikedJohnnyB has his power rankings out for the PAC 12, SEC, Big 10, Big 12 and ACC. The host of Spiked College Football Show and Units Only Go Up ranks every single power five team. Where did your team fall this week?
PAC 12 Power Rankings: Title Contenders
#1 USC
I don't know if this is where they actually belong. In my head I don't think so, but other teams lose to teams they never should have. I get they only have one loss, away, by one point. I just don't know if I fully trust the Trojans, but they keep winning the games they should, and by the amounts that they should. Each week they play the team in front of them and win; and that's the name of the game. I think I will fully buy in if they handle UCLA this weekend. They deserve to be number one in the PAC 12 power rankings based on what they have done on the field, not my thoughts; which are usually right.
#2 UCLA
This may seem a little high because they lost to a very average Arizona team. Remember my PAC 12 power rankings are based on if teams played tomorrow, on a neutral site. I think UCLA lost a typical look ahead game last week because they have USC this week. I could not in good conscience put the Bruins ahead of the Trojans after that loss. But I do think DTR rights the ship and beats the boys of Troy this weekend. They can still make the PAC 12 title game and a high New Years Six Bowl.
#3 Utah
Again, most people would not have the Utes ahead of the Ducks; but I am not most people. Like I said, power rankings are based on if they played tomorrow. Luckily tomorrow is this weekend. I know the game is in Autzen, but that doesn't mean anything to me after they were embarrassed last week. I think Utah goes into that stadium and bullies the Ducks on both sides of the line. Cam Rising has not been my favorite player this year but I think he out plays Bo Nix and the Utes steal this game. I think the physical play and better coaching from Whittingham leads the Utes to the PAC 12 title game.
#4 Washington
The Huskies won their biggest game of the year last week, and they needed to in order to salvage their season. I didn't see it coming. I don't even think they can make the PAC 12 Title game, but I have to put them ahead of the team they just beat last week on the road. The offense came to play and the defense wasn't perfect, but got the stops to kill momentum when they needed to. This team could be very dangerous going into Bowl season.
#5 Oregon
I think the magic run for Bo Nix is coming to an end and it started last week versus Washington. I think they will lose this weekend to the Utes and then lose to the Beavers in the Civil War. I know they only lost by three last week to Washington, but the coaching seemed off at the end. It just doesn't look like Lanning is ready for the biggest of big moments. This PAC 12 power ranking of Oregon is only on vibes and that may sound silly, but come find me after this week and the next to say I was wrong or not. The JuJu is just gone.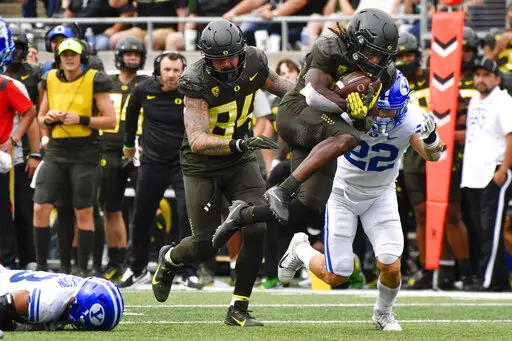 PAC 12 Power Rankings: Bowl Teams
#6 Oregon State
Just like I said last week, this team's only losses are to top 4 teams in the PAC 12 power rankings. The Beavers handle their business besides the close losses to good teams. I really think they give the Ducks a run for their money the last game of the year. I love the chemistry and the character of this team. I feel they will be a great bowl team and will use this momentum to carry on for a few more years. I don't know. I just like cheering for Beavers; I mean the Beavers.
#7 Washington State
The Cougs are bowl eligible! That is right. I told y'all they would be in last weeks PAC 12 power rankings, and boom, here we are. Cameron Ward and the Cougs get to play post season football, and I don't think they are done winning PAC 12 games either. I believe they will complete the Arizona sweep this week and give the Huskies a hell of a game in the Apple Cup. That game might be low key, the best rivalry game of the year that no one is talking about. Two unbelievable, high-powered big play QB's battling it out. It is like a college football fan's wet dream.
PAC 12 Power Rankings: Bad Teams
#8 Arizona
A very impressive upset road win by the Wildcats, and they also have a win over the Huskies. If they didn't have the games they did versus Colorado and Cal; two teams they are much better than. This team could be in the tier above in the PAC 12 power rankings. They technically are still alive for a bowl game, but I don't think they will beat the hungry Cougs this week. What those two upset wins and two losses to teams they are better than prove is that the team is right there. They have the talent. They just need the discipline and experience to get over the hump.
#9 Stanford
This team should have like three or four more wins. They just need a new head coach. The talent is there, but I don't think Shaw is the guy.
#10 Cal
See above. Wilcox is not the guy. The offense is old and antiquated and the defense is just there. The talent is there to hang with teams, just not to win those games. By the way, has anyone ever met a Cal fan? Asking for a friend.
#11 Arizona State
At least you're not Colorado. Also, hire the right guy so you are not at the bottom of the PAC 12 power rankings.
#12 Colorado
You are Colorado and that really sucks for a once very good program. You need to hire someone that is innovative and fun. There is one name you should look into and it is Jamie Chadwell of Coastal Carolina. His triple option spread offense is exactly what the Buffs need and will work with the talent that Boulder gets. Trust me, this is the guy that can turn this program around.
Well there you go, college football fans, I have delivered yet another unbiased and spot on article of where these teams stand within their conference, Be sure to follow on Twitter and come hang out during the Spiked College Football podcast. Tell us your thoughts on all things college football and let us know who you're rooting for.
For More Great Football Content
Follow us on Twitter at @GridironHeroics for more great content. We appreciate you taking time to read our articles. To interact more with our community and keep up to date on the latest in Football news, JOIN OUR FREE FACEBOOK GROUP by CLICKING HERE
Checkout our latest podcast!
[powerpress_playlist limit=1]