Ohio State Football Report February 25th, 2023
Stroud and Jones Call Out Buckeye Basketball.
We still can https://t.co/Ga8AY51roA

— Dawand Jones (@dawandj79) February 12, 2023
We still can https://t.co/Ga8AY51roA

— Dawand Jones (@dawandj79) February 12, 2023
With the Ohio State Basketbucks on a month-long losing streak, the Buckeye football players took to Twitter to call them out. C.J. Stroud and Dawand Jones had previously talked about wanting to take on the basketball team on the hardwood and after another brutal Buckeye loss, Buckeye Nation was recalling said time.
Asking again if Buckeye fans remember that time Jones and Stroud said they could beat the men's basketball team, 6'8″ (with a 7'5″ wingspan) Dawand Jones said "We still can." and his quarterback C.J. Stroud retweeted his sentiments. With the basketball team being 11-17 (3-14 in the Big Ten) and on a nine-game losing streak, Jones and Stroud's claim is less and less bravado and likely more and more fact.
Ohio State Cancels Home-and-Home with Washington
Ohio State canceled its home-and-home series with the Washington Huskies. The 2019 Rose Bowl rematches were scheduled to take place in 2024 and 2025. The Buckeyes still face Notre Dame this year, Texas in 2025 and 2026, Alabama in 2027 and 2028, Georgia in 2030 and 2031, Oregon in 2032 and 2033, and Boston College in 2035 and 2036.
It seems likely that the Buckeyes canceled on the Huskies and are paying them a 500K buyout because 2024 is the year USC and UCLA are set to join the Big Ten. Ever since those two announced their move, there has been speculation that Washington and Oregon would join them in their move to the Big Ten. With USC and UCLA joining in 2024, the conference could look to add them to the Buckeyes' schedule, and having 16 teams will be a new force for college football's two biggest conferences (the other being the SEC) to try and implement well.
There is also the possibility that this is some way to try to persuade Washington and Oregon to join USC and UCLA and jump to the Big Ten. I for one wish the Huskies and Buckeyes had simply rescheduled, but with the turmoil of conference realignment, particularly in the Pac-12 (soon to be Pac-10 again) it seems likely that this matchup could still occur sooner than later.
Hockey Bucks Salute Ohio State Football
1940🏈 ➡️ 2023🏒🏟️

First look at the Faceoff on the Lake sweater❗️#GoBucks pic.twitter.com/EJssf4EQHH

— Ohio State Men's Hockey (@OhioStateMHKY) February 17, 2023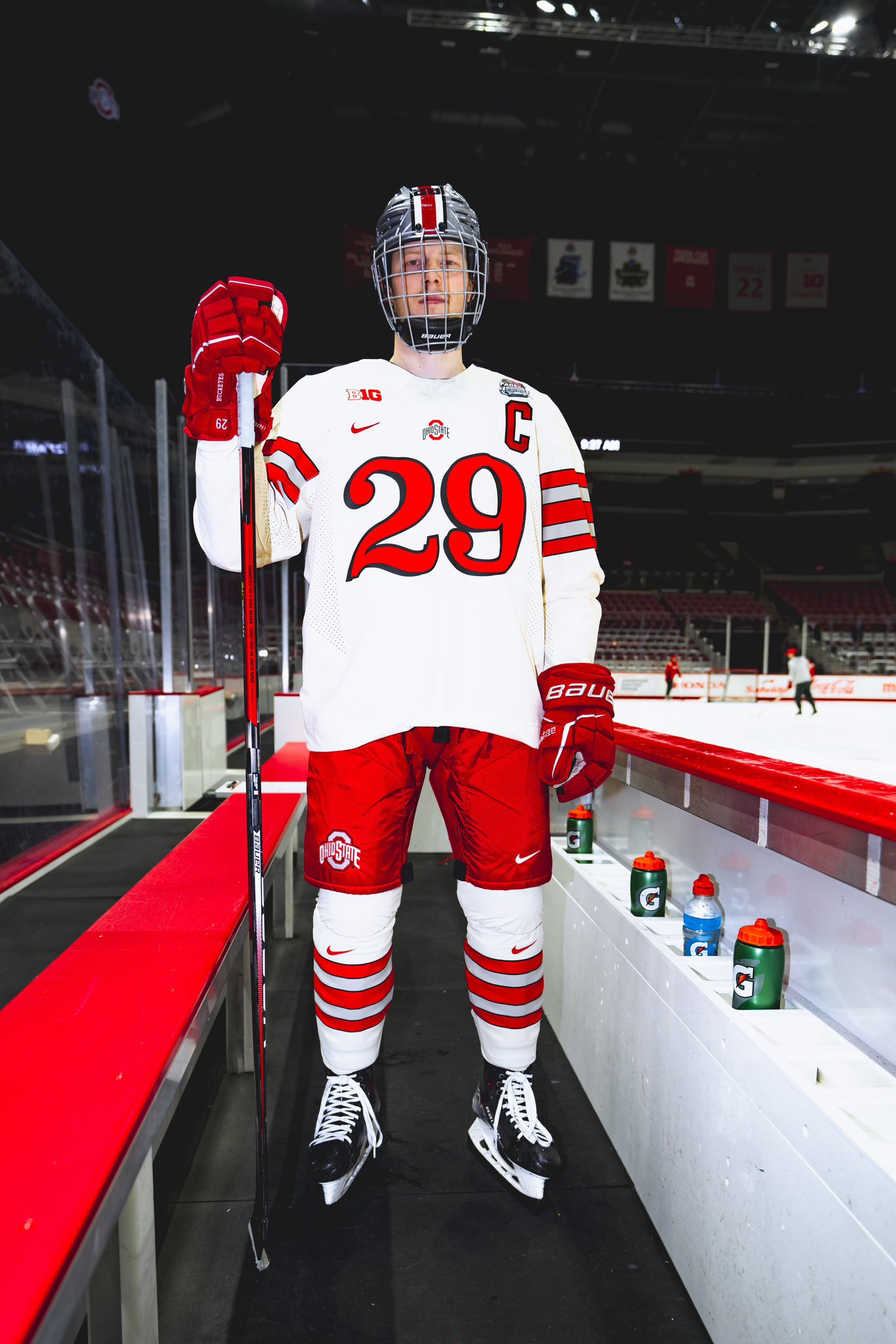 These uniforms were a tribute to the style of uniforms the Ohio State football team won in the 1940s and are remembered especially for the first Buckeye national championship in 1942.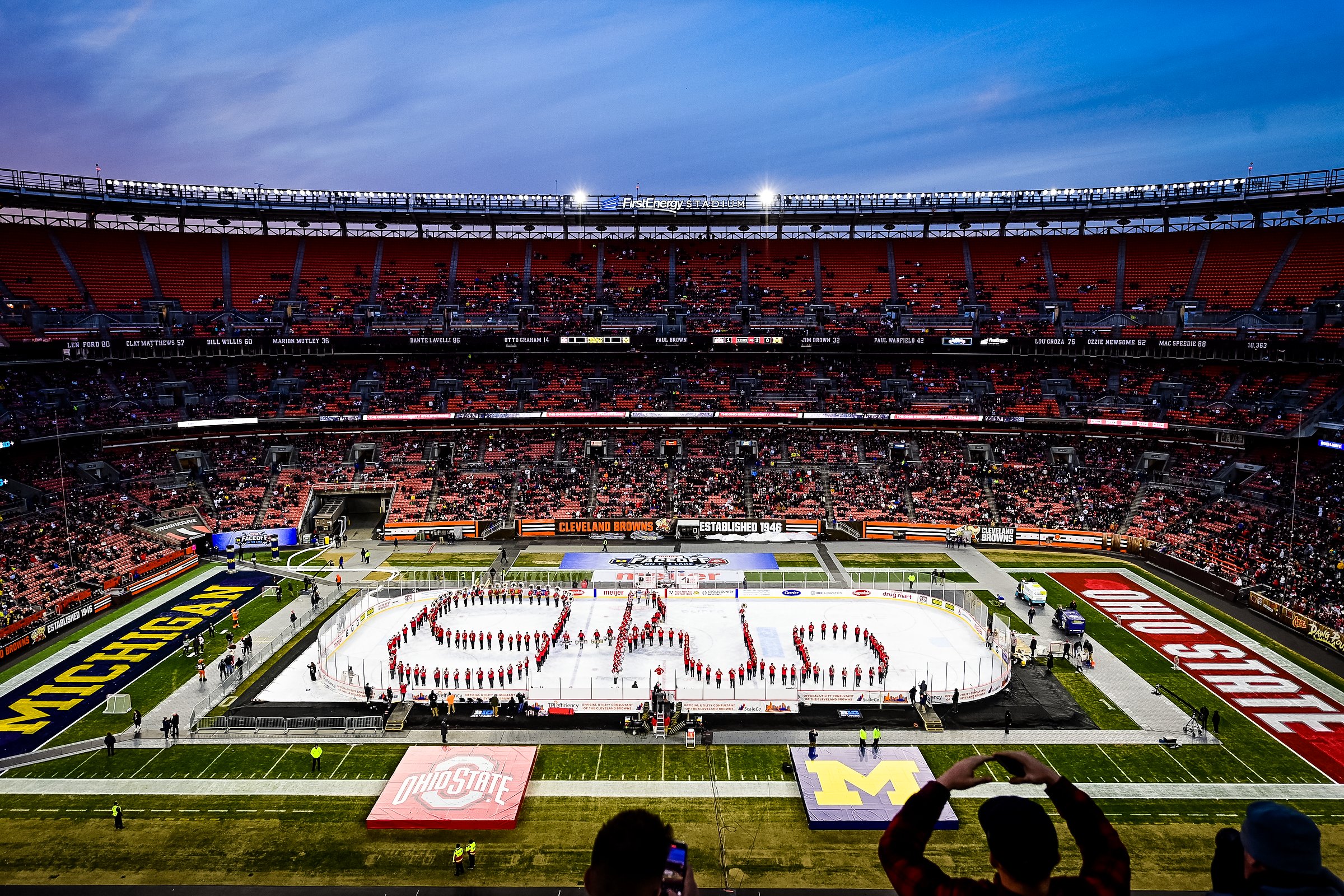 First Energy Stadium, home of the Cleveland Browns hosted this outdoor game which 45,523 Buckeye fans attended. The game was somewhat considered a neutral site and the home of the Browns did both of their end zones in each school's respective design. Ohio State football offensive coordinator Brian Hartline made a guest appearance, smashing a guitar that had been defiled with the designs and colors of the wolverines to get Buckeye Nation in the game.
The Hockey Bucks emerged victorious on the shores of Lake Erie with a 4-2 win over ttun. The Buckeyes took the season series three wins to one over the wolverines in what has been a great year for Big Ten and Buckeye hockey. I'd love for them to do an outdoor game like this at the Shoe one year. I'd do my darnedest to be one of 105,000 fans that would inevitably pack the House that Harley Built for that one.
Outrageous Ticket Prices for Ohio State Football
Take a look at the highest average ticket prices for the 2022 season 🎟👀

How much would you pay to see your favorite team? pic.twitter.com/nlUf2TP7yz

— FOX College Football (@CFBONFOX) February 25, 2023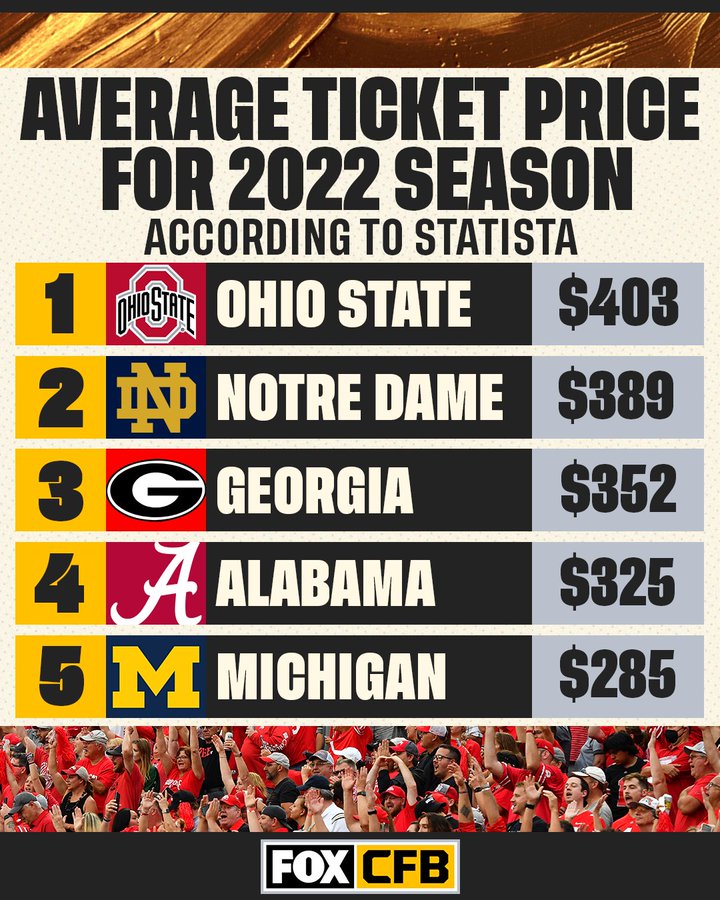 Ticket prices this high are downright offensive. Now, of course, that doesn't mean every fan is paying $400 per ticket, it means that there are plenty of ones around $100 but also plenty of absurdly high ones! Like rent and house payments high. This is awful on many levels for the game of football and Ohio State. Especially given how less aggressive (to put it nicely) Ohio State football has been with NIL.
If ticket prices are going to be that high then you better be finding ways to bring in the best recruits with plenty of that cash. I know the school doesn't do the paying directly but this just shows how much money is floating around and how that can be utilized.
The next point and this is bigger than NIL because if you do this right, the NIL money will follow and at a higher rate. You want more people, and more of a variety of people attending games in Ohio Stadium than less. The axiom of "You have to spend money, to make money," applies to sports more than any other monetary venture. You spend to get more seats, to get seats at a cheaper rate than most teams across the country, and to get more merchandise at an affordable rate.
Why? Because to quote a movie, "If you build it, they will come." The more people you get in the Horseshoe, even if it's only once a season for them, or once in their life, the more you'll create a magical experience, and create lifelong fans who fall in love with Ohio State. You'll get all kinds of fans that way who will be loyal Buckeyes for life and pass that love and loyalty on to their families and friends.
You'll get them forever and across the board. That fan who goes to one football game that leaves a lifetime impression will then go to basketball games, hockey games, and baseball games. When they have a kid who is into swimming, they'll take them to all water sports competitions. You'll get the fans who then save up for better seats every year, the ones well off enough to get box seats once or maybe often. Increasing access is playing the long for fandom and revenue. When you make it for everyone, everyone will love it.
Old School Game of the Week
The Game 2010
This is a game that was special to me and close to my heart. For my birthday in 2010, my folks spent extra for me to get a ticket to my first rendition of The Game. It was well over $200 (That was a few years' worth of birthdays at least for my humble family from Butler County) and it was still a semi-obstructed view in B-Deck. And it was worth every penny.
It was a complete game by the offense, defense, and special teams. The wolverines were in it early, but a big kickoff return for a touchdown by Jordan Hall broke their backs. Terrelle Pryor, Dane Sanzenbacher, DeVier Posey, and Dan "Boom" Herron all had great games. The Buckeyes would win and win their share of a record sixth-straight Big Ten Championship. They won 37-7. A 30-point win in The Game!
The Buckeyes would go on to win the Sugar Bowl over Arkansas and finish the 2010 season at 12-1. I didn't know it then, but I was watching Jim Tressel coach his last game in Ohio Stadium that day. And it was all due to covering for his players who were doing what is now small potatoes in the day of NIL money. They traded memorabilia for tattoos. Big freaking deal. Ohio State Athletics would fumble their response to this in such an awful way that it still leaves a bitter taste in the mouths of Buckeye Nation.
They'd fire Tressel and fight the NCAA to have a bowl game for the 2011 season, when they were 6-6 and would lose the bowl game to go to 6-7, the most losses ever in program history in a season, and would lose to the NCAA who would ban Ohio State football from postseason play in 2012. The athletic department at Ohio State would then further compound things and not fight for that 2012 team or the 2010 team, choosing to not appeal the NCAA's ruling on the postseason ban and willingly vacate all 12 wins and all records from 2010.
This would cost Ohio State a national championship in 2012 and the administrators who didn't fight for that team owe them a national championship. The 2012 Buckeyes would go undefeated, a perfect 12-0, and wouldn't be allowed to play in the Big Ten Championship. With wins over both other participants in that game, the Buckeyes were the de facto Big Ten Champions anyway, but this kept them from a national championship too. They likely would have been undefeated and played undefeated Notre Dame for the title. The same Notre Dame team that got thumped 42-14 by eventual national champion and one-loss Alabama.
The administration would add further insult to injury to the 2010 team by not appealing to have their wins reinstated after other universities with much more awful violations would appeal and have theirs restored. If Penn State can have their wins and records restored after the hell that went on there that was brought to light at the same time as the dreaded "Tattoo-gate," then Ohio State football should have had theirs restored emphatically and with an apology.
For Buckeyes and football fans, the 2010 team's season happened. The win over ttun happened. The 2012 Buckeyes had as much claim to a championship as anyone in college football that year. They happened I was there for them both. But that's a story for another time.
Check out the most recent Ohio State Football Report to see what's been going on!
For More Great Football Content
Follow us on Twitter at @GridironHeroics for more great content. We appreciate you taking time to read our articles. To interact more with our community and keep up to date on the latest in Football news, JOIN OUR FREE FACEBOOK GROUP by CLICKING HERE
Checkout our latest podcast!
[powerpress_playlist limit=1]