Here we are, week 10 – and you know what that means? Notre Dame vs Clemson. The struggling program going through a coaching change with a backup quarterback against Dabo Swinney's dynasty. After what's been an… interesting year for Irish fans (and not necessarily in a good way) – Notre Dame finally circles around to the match-up we've all been waiting for… Number 5, Clemson.
Ironically, for a team with just about zero chance at a National Championship – this matchup is just about as crucial as can be. Not just for the record, not just to crack the rankings – but to make a statement. A statement that lets the whole country know that Notre Dame is by no means "down and out". It's been a year far, far below the Fighting Irish standards and expectations. A win against Clemson would show the country what Notre Dame is capable of, and that they still remain a top program amidst the big boys down south. Maybe not now – but soon.
Hell, it's worth mentioning that even for Clemson who sits at number 5, it hasn't been the prettiest of seasons, either! DJ Uigalalei was supposed to be the next big thing! Uh, hasn't looked like it. A wide receiver room that has gone from DeAndre Hopkins to Sammy Watkins to Mike Williams to Tee Higgins has suddenly lost its star power. Clemson is no slouch at number 5, but they're certainly not untouchable, either.
So, the stage has been set for Notre Dame vs Clemson and I think everyone who has a say in this game knows the impact – so let's take a deeper look into the head-to-head analysis:
Notre Dame vs Clemson: Head to Head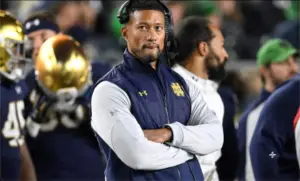 Ironically, when you look at the QB stats – Drew Pyne and DJ Uiagalelei are not that far apart. Yup, you read that right. The guy who was pegged to be the heir apparent to Tahj Boyd, DeShaun Watson, and Trevor Lawrence is at the same level as a backup. It's no wonder Swinney's been mixing up the snaps behind center. And at receiver – Clemson doesn't have the Sammy Watkins, Mike Williams, or DeAndre Hopkins they've been known for. Instead, when you look at the top receiver matchup – advantage Michael Mayer. However, Notre Dame's depth at receiver this year has been awful – Lorenzo Styles has shown flashes, but few and far between. But again… Notre Dame has Michael Mayer.
The Passing Game: 50/50
When it comes to the run game, this one might be obvious. Jordan Shipley has been an absolute problem this year. However, while Audric Estimae, Chris Tyree, or Logan Diggs may not have the national star power that Shipley does, their performance has been a pleasant surprise in an otherwise abysmal season. A perfect example? Estimae and company had their way against number 16 Syracuse, as well as (then) number 16 BYU – and it carried the Irish to victory. But, as we all know, most running backs are only as good as their Offensive line – and that is where Notre Dame has the advantage. Look at the statistics alone, Clemson ranks 24th at the highest in all blocking categories, whereas Notre Dame averages an overall far higher ranking.
The Running Game: Advantage Notre Dame
On the defensive side, things get a little scary for the Golden Domers. Not only does Clemson have the advantage statistically, but their performances alone tell the story. Notre Dame has given up massive amounts of points in losses to sub-par teams like Cal, Stanford, and… Marshall. One of the scariest parts of all is the fact that Clemson's Defense limits an average of only 87 rushing yards to opposing Offenses; an area that Notre Dame will need to rely on if they have any chance of winning. And yet – the irony is, Notre Dame was able to shut down Ohio State for 3 quarters… so you never really know.
The Defense: Advantage Clemson
Lastly, and probably most importantly, you have to look at the Coaches who will be leading these young men in this marquee matchup. On one side, you have a National Champion Coach with dynastic numbers, popularity, and a way with recruits. Whereas on the other sideline, you have… Marcus Freeman. Okay, that was a bit harsh – I do like the first year Coach and believe that he's onto something, but these things take time, and it's been a rocky start thus far. But, it doesn't take a psychologist to know that this game is a defining moment for Marcus Freeman – so we'll see if he can step up.
The Coaching: Advantage Clemson
Notre Dame vs Clemson: Prediction
So, all in all – what do we have here – a pretty even match despite the massive variance in rankings and records. And that actually might be the defining difference – the glue, the confidence, the swagger of a team that hasn't lost a game; versus a team who's struggled and is still finding their identity. You can just see it in the way they walk, in the way they play – there's a tangible element to the "swag".
Do I think Notre Dame can pull this off? Absolutely! There's a reason they're only +4 underdogs. But will they? I don't know. All of the history goes against it – as Notre Dame has had a terrible recent history of blowing big games. BUT – who was the one major program they overthrew in recent history?
Oh yeah, that's right… Clemson.
Overall, based on the head-to-head, and the fact that ND has shown up in big games under Marcus Freeman – I think it'll be a close game. A shoot-out, but a close game. Clemson's run defense has been stout, no doubt, but with the way that ND's been running the ball – you have to believe that the three-headed monster of Estimae/Tyree/Diggs can keep it close. And if not, Pyne's been capable, at least. He won't win the Irish the game, but he certainly won't give it away, either.
Take all of that, and add in the fact that the game is in South Bend.
My prediction: 24-28, Notre Dame Shocks Clemson in a Back & Forth Shoot-Out