Jordan Addison hasn't even played a single minute in the NFL and already, he's gotten himself into some trouble off the field. The Minnesota Vikings' No. 23 overall pick was originally cited in July after he was caught driving at 140mph in the wee hours of the morning. A Minnesota State Patrol officer reportedly recorded his deangeorusly high speed in a local freeway east of St. Paul.
Jordan Addison to Plead Guilty to Misdemeanor Speeding Charge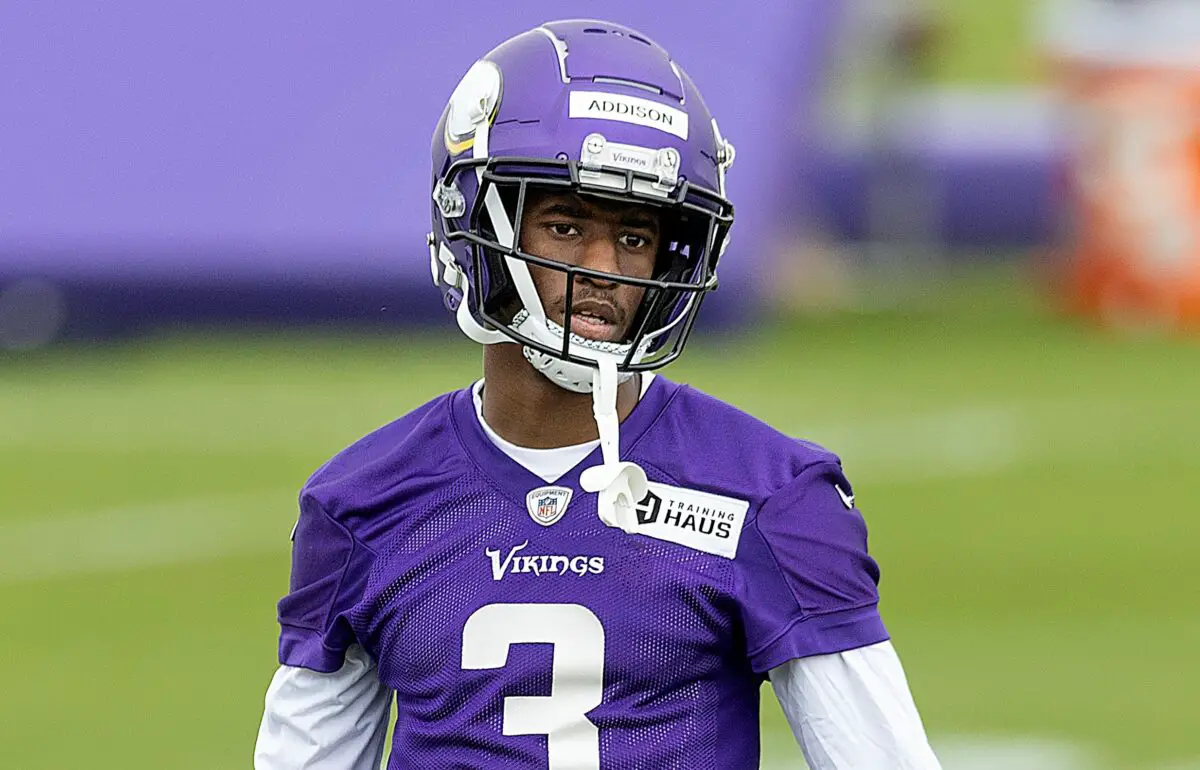 On Thursday, it was revealed that Addison has agreed to a guilty plea to a misdemeanor speeding charge. This report comes via Kevin Seifert of ESPN:
"Minnesota Vikings rookie receiver Jordan Addison has agreed to plead guilty to a misdemeanor speeding charge stemming from his July 20 citation for driving 140 mph on a local freeway, according to an agreement filed Wednesday with the Ramsey County District Court," Seifert wrote.
When he was first cited, Addison explained that he was driving at such high speeds in order to attend to a home emergency involving his dog. He later admitted to his error and made a public apology in an official statement:
"I made a mistake and used poor judgment. I recognize and own that. I am going to learn from this and not repeat the behavior. I am truly sorry."
The silver lining here is that the Vikings youngster seems to have already learned from his mistake. Moreover, this could have been a far worse situation if Addison got in some sort of an accident.
Let's just hope that this is a one-time thing for the highly-touted wide receiver as he looks forward to a long and fruitful career with the Vikings.
Our Partners
Mayfield Sports Marketing
Call Mayfield Sports Marketing at 262-366-8188 to schedule Green Bay Packers players or alumni for your corporate appearance or product promotion.  Our booking agents will work on your behalf to get you the best price for your desired sports speaker.
Mayfield Sports Marketing has earned a reputation of being the one to call for booking top athletes to speak at events and trade shows. To learn more about Packers players or alumni appearance cost and booking fee, please call us today. www.MayfieldSports.com.
Radtke Sports
Wisconsin Sports Heroics is proud partner with Radtke Sports to offer autographed memorabilia. Brett Favre, Rob Gronkowski, Giannis Antetokounmpo, and MORE Guaranteed Authentic Collectibles and Memorabilia including signed jerseys, photos, and more at www.RadtkeSports.com USE promo code: WSH for FREE SHIPPING on your purchase. Some restrictions may apply.
For More Of My Content
Follow me on Twitter at @PaoloSongcoNBA. You may also reach out to me personally at pao.songco@gmail.com.