This week's NFL Underestimated Player Spotlight is a defensive player in just his second year of the NFL. This athlete is on the Jacksonville Jaguars, a struggling team who recently got their fourth win of the season. This week's NFL Underestimated Player Spotlight is Tyson Campbell, Cornerback of the Jaguars.
NFL Underestimated Player Spotlight: Collegiate Career
Campbell played for the Georgia Bulldogs from 2018 to 2020. The cornerback played all three years, and they were also all bowl seasons for the Bulldogs. In the three seasons, Campbell had a total of 89 combined tackles, 58 of which were solo, and 3.5 tackles for loss, according to Sports Reference. In the three years, Campbell only had one sack, which is still good considering he is a cornerback.
Campbell also has a total of ten pass deflections over the course of three years. As for turnovers, the cornerback only forced one fumble but recovered three. He also only had one interception but for 40 yards. This may have not made Campbell a first-round pick, but he did more than enough to get drafted into the NFL.
NFL Underestimated Player Spotlight: NFL Season
Tyson Campbell was drafted by the Jacksonville Jaguars in the 2021 NFL draft. He was selected in the second round with pick 33. Jacksonville is not a strong team but has shown improvement since last season. Being on a poor team is a large factor as to why Campbell is an NFL underestimated player.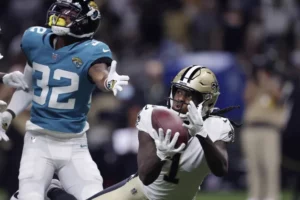 In his two years so far, Campbell has had a total of 118 combined tackles, 84 of which were solo, and three tackles for loss, according to Pro Football Reference. The cornerback also has 18 pass deflections, one forced fumble, and one fumble recovery. His 18 pass deflections are already more than he had in his three seasons with Georgia.
Even more notable about Campbell is that he has had four interceptions in less than two full seasons. This is an impressive stat as it saves their defense from letting up points, and putting the offense back on the field. With a weak team that loses often, this is important for any team.
NFL Underestimated Player Spotlight: 2022 Season
This season, the Jaguars have won four games, most recently against the Baltimore Ravens. Last year, Jacksonville only won three games. While this is not a large improvement, it is still better than last year. This season, Campbell has had a total of 45 combined tackles, 35 of which are solo. According to ESPN, Campbell has caught two interceptions this season, which is tied for 22nd in the NFL. This season he has had eight pass deflections and looking for that number to grow.
Campbell is more dangerous to opponents than people may expect. One of his fumble recoveries came against their most recent win against the Baltimore Ravens. Next weekend, the Jaguars will be facing the Detroit Lions, who do not have a great record but have been keeping games closer than expected. Both teams will be looking for a win to show they are a better team than people give them credit for. This season, the Lions quarterback, Jared Goff has thrown for 2,682 yards and seven interceptions, according to ESPN.
Look for this week's NFL underestimated player to make a difference for the Jaguars against the Lions. This could be a game where he makes a difference and could be a large reason his team gets a win.
For more NFL and NCAA Football Content:
Check out last week's NFL Underestimated Player Spotlight. Also, check out my most recent article on the statements made by former 49ers players. Also, read here for how the 49ers' offense played against the New Orleans Saints.
For More Great Football Content
Follow us on Twitter at @GridironHeroics for more great content. We appreciate you taking time to read our articles. To interact more with our community and keep up to date on the latest in Football news, JOIN OUR FREE FACEBOOK GROUP by CLICKING HERE
Checkout our latest podcast!
[powerpress_playlist limit=1]