Everyone knows that New York Jets quarterback Aaron Rodgers has unconventional views on the world. This, of course, is not a bad thing. Every person has various experiences that shape the way they view the world around them.
In Rodgers' case, one experience that he had before being drafted by the Green Bay Packers shaped the way he views the universe. As many people around the world believe, Rodgers does not think that humans are alone in the universe. On the season finale of Hard Knocks on HBO, Rodgers finally gave details about his long-rumored UFO sighting.
New York Jets Quarterback Aaron Rodgers Saw a UFO Before the Green Bay Packers Drafted Him
Rodgers first referenced the time he saw a UFO during one of his regular appearances on The Pat McAfee Show. He did not, however, go into great detail about it.
Perhaps it was because Steve Levy, Rodgers' former teammate at Cal, was visiting practice. Maybe it is because Rodgers and Levy witnessed the UFO while at Levy's house in New Jersey, and Rodgers now plays for the Jets. Whatever the reason, Rodgers went into great detail about what he saw while staying with Levy ahead of the 2005 NFL Draft (which was held at Radio City Music Hall in New York):
"Did we just see what we think we just saw?"

Aaron Rodgers details a UFO sighting 🛸

Stream the #HardKnocks finale now on @StreamOnMax pic.twitter.com/reQgankPod

— NFL (@NFL) September 6, 2023
As depicted in the video, Rodgers talks about a large flying object that lifted into the sky. Alarms from a nearby nuclear power plant sounded and military fighter jets flew past in pursuit of the objects.
Rodgers states that he and Levy (and Levy's brother) just stood there for upwards of 20 minutes staring at the sky, trying to figure out what it is that they saw. According to him, they checked the newspapers for days afterwards trying to find any mention of it; but there was none.
A Note on UFO's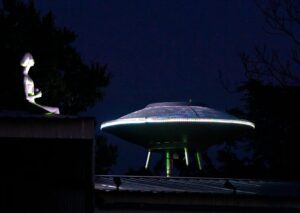 UFO's, or what the government refers to as unidentified aerial phenomena, are witness have been witnessed by hundreds of Americans. According to a January 2023 report, there have been 510 such sightings since 2004. Amazingly, that number stood at 144 in 2021.
According to the report, most of these sightings had explanations. However, 171 of them did not.
For More of My Content
Follow me on Twitter at @theotherRobin19 or reach out to me personally at robadams14@gmail.com.