The Chicago Bears were recently named as a team that could trade for Kansas City Chiefs' disgruntled defensive tackle Chris Jones. Jones has sat out of training camp this summer due to failed negotiations for a new contract with the Chiefs. Jones wants a major payday after his 15.5 sacks in 2022 helped the Chiefs win a Super Bowl.
The Chiefs don't want to trade Jones. However, they may not pay Jones what he wants to stay in Kansas City. Rumors have appeared this summer the Chiefs could trade Jones.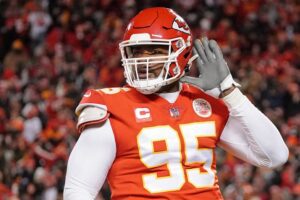 The Chicago Bears could trade a 1st for DL help
Brad Gagnon with Bleacher Report wrote about four teams for Jones to be traded to this fall. Gagnon thinks the Chicago Bears would be a prime target to trade for Jones if they give up a first-round pick:
"The Chicago Bears would probably be a preferred trade partner for the Chiefs simply because they're much less likely than Dallas to make a run in 2023. That dynamic could potentially enable Chicago to land Jones for less than a first-round pick.

On the bright side, the team has two first-rounders following this year's trade out of the No. 1 pick.

But that's also part of the reason the Bears should consider a run here. They've bolstered the roster substantially this offseason, and with plenty of draft and real-world capital they could be primed to explode after gelling in a final "rebuild year" this fall.

Consider this an early investment in the exact type of player they'd covet, and an immediate upgrade over Justin Jones—one of the weakest lines within that defense."
Could the Bears land Chris Jones?
The Bears' defensive line was atrocious last season–ranking last in the league in total sacks generated. The Bears added three defensive tackles through the draft and signed Andrew Billings at defensive tackle in free agency this March. The team should be better, but Jones would solidify the interior defensive line in a way their current roster cannot.
But, the Bears would have to spend more capital on the defensive tackle position. The Bears have other needs on the roster that could be filled with a first-round pick.
Defensive end Yannick Ngakoue is only in Chicago for one year–and the Bears don't have a great player at defensive end signed for the long term. They also need a true DB1.
Given the Bears have other pressing needs and the Chiefs' unwillingness to part with Jones, it doesn't seem likely he'd come to Chicago. But he'd make a difference if he did.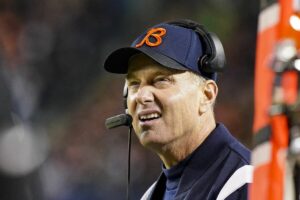 For More Football News:
Follow me on Twitter at @JordanSig. You can also reach out to Jordan Sigler via email at jordanmsigler@gmail.com. To read more of our articles and keep up to date on the latest in college and NFL news, click here!