It's official. The New York Jets will be without Aaron Rodgers for the remainder of the season after the four-time NFL MVP suffered a torn Achilles in the opening drive of his Jets debut. This is the worst possible news New York could get, but unfortunately, this is the harsh reality this organization and its fans will now have to deal with.
New York Jets QB Aaron Rodgers' Official Injury Status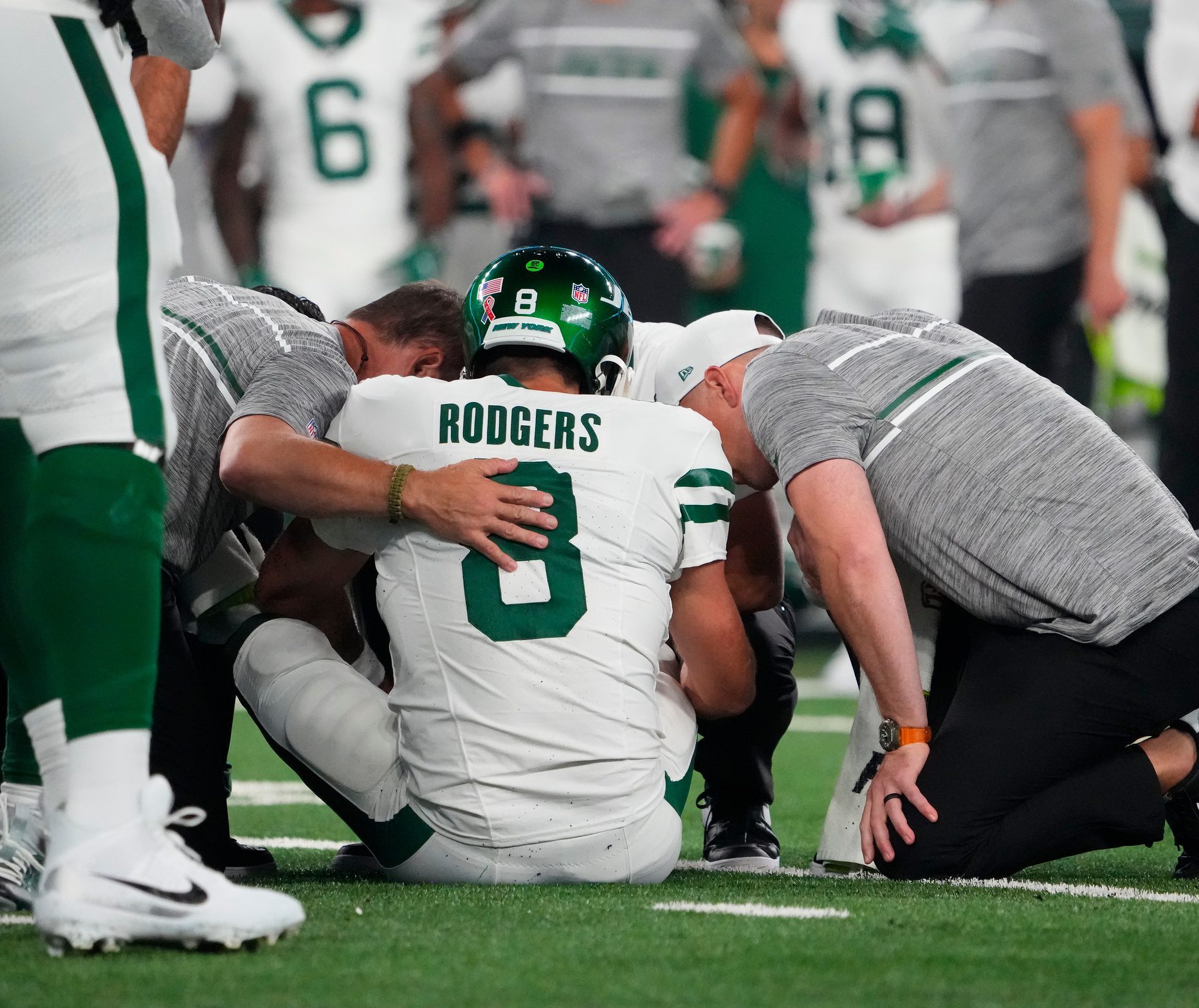 Rodgers went down after the Jets' fourth snap of the evening and at that point, you could tell that it wasn't good. The 39-year-old had to be carted off the field and instantly, there was a lot of fear that A-Rod had suffered a significant injury.
True enough, New York's worst nightmare was realized. On Tuesday, it was confirmed that Rodgers is indeed done for the year:
BREAKING: Aaron Rodgers suffered a complete tear of his left Achilles tendon, out for the season. (via @RapSheet + @TomPelissero) pic.twitter.com/xRy3NUESSN

— NFL (@NFL) September 12, 2023
Robert Saleh Hints at New QB Addition
Next man up for the Jets is Zach Wilson, right? New York's No. 2 overall pick from the 2020 NFL Draft has been their starting QB over the past two seasons, and it wasn't until this summer that the 24-year-old conceded the QB1 role to Rodgers.
Jets head coach Robert Saleh has already indicated that the team will now turn to Wilson amid Rodgers' injury, noting that the young QB will be "the guy" moving forward.
Saleh doubled down on the team's confidence in Wilson, but at the same time, the New York shot-caller also hinted at possibly signing a new quarterback via free agency:
"We are gonna look through some things, but I do want to make it very clear that Zach's our quarterback," Saleh said, via Josh Alper of PFT. "We've got a lot of faith in Zach, we're really excited about this opportunity. We're rolling with Zach and excited for him."
Saleh and the Jets have a lot of confidence in Zach Wilson. However, it appears that this trust is not enough for them not to consider adding a new QB. Wilson should get his chances in New York with Rodgers now out of the picture, but it is also clear that there's going to be a lot of pressure on him to perform every single game.
For More Of My Content
Follow me on Twitter at @PaoloSongcoNBA. You may also reach out to me personally at pao.songco@gmail.com.