The New York Giants are having a miserable season, mostly due to the NFL's worst offense. New York is only averaging 11.8 points per game, so when they get a rare opportunity in the red zone, they need to convert. Well, right guard Marcus McKethan single-handedly prevented any shot at a touchdown during a red zone rushing play last Sunday. Take a look at how he ruins an otherwise well-designed rushing play out of the Wildcat.
NFL Player pic.twitter.com/U1NGk3sOGf

— Bobby Skinner (@BobbySkinner_) November 14, 2023
To recap, McKethan (#60) initially peeked into the backfield right before the snap, causing him to get off the ball significantly later than everyone else on the field. Then, he pulled with no confidence, getting to the edge successfully before turning back to look at Saquon Barkley. So, instead of blocking anyone, McKethan managed to clog a massive hole. A potential third and short, at the very least, instead became third and long. The Giants did not score on this drive after a failed fourth and two play.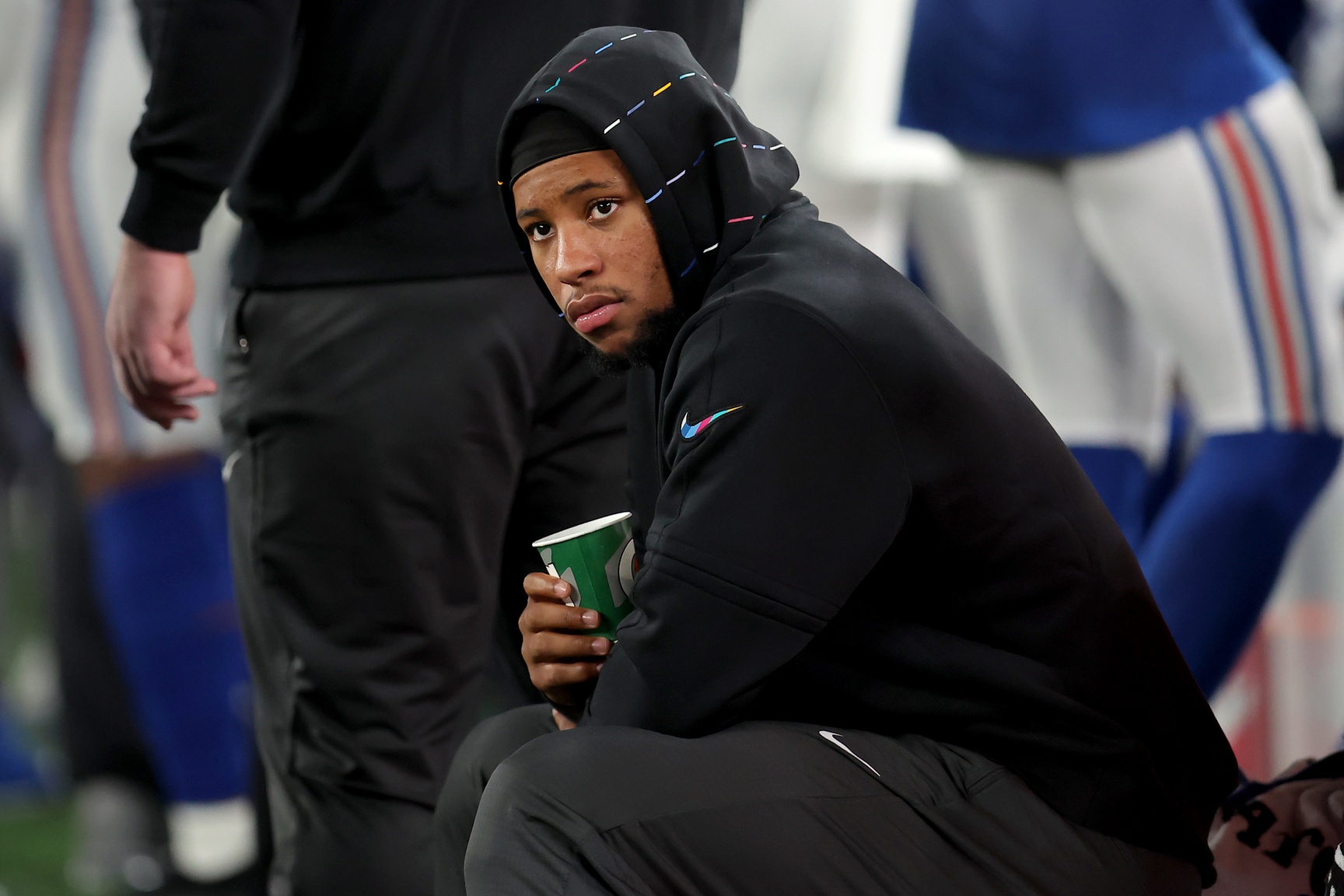 New York Giants fans online have had a lot to say. One fan said he needed to be checked for a concussion. Another fan joined the parade of people calling for the offensive line coach, Bobby Johnson, to get fired. A Dolphins fan even chimed in claiming that the refs should've thrown a flag for 12 men on the field. People are having a field day with this play.
The New York Giants Offensive Line Has Been a Mess All Season
Marcus McKethan is far from alone when it comes to struggling linemen on Big Blue's roster. Injuries have plagued the New York Giants up front all season. Most notably, All-Pro left tackle Andrew Thomas has only played in three games this season.
When guys are healthy, they've consistently played poorly. The Giants average the fewest yards per play, 4.0, with the running game only picking up 3.9 yards per carry. New York's quarterbacks have been sacked 54 times in 10 games. That's seven more than the closest team has allowed this season. The foundation of a football team is along the line of scrimmage, and New York's 2-8 record can be explained quickly by embarrassing offensive line play.
For More Football News:
Follow me on Twitter at @TowerTalkSports. You can also reach out to Andre Ifill via email at andre.ifill.jr@gmail.com. To read more of our articles and keep up to date on the latest in college and NFL news, click here!