The Saints 2022 schedule is here lets see what their opponents bring to the table.
No question on the starting quarterback. We solved the wide receiver problem in the draft with some young talent. The talent that is returning on defense should make Saints fans happy. The Saints are looking to improve on their 9-8 season and make the playoffs this year. With this 17 game schedule the Saints get 9 home games in the Caesars Superdome.
Sunday September 11th at 1pm EST on Fox
Key Additions:
Marcus Mariota, Casey Hayward,
Arnold Ebikete, EDGE, Penn State
Troy Anderson, LB, Montana State
Desmond Ridder, QB, Cincinnati\
DeAngelo Malone, EDGE, Western Kentucky
Justin Shaffer, G, Georgia
John Fitzpatrick, TE. Georgia
2021 Season: 7-10
Offense
With the trade of Matt Ryan it leaves a whole in the Falcons Offense that could pose a problem earlier in the season. No one knows right now who the starting quarterback will be for this season with the Falcons bringing in Marcus Mariota from the Titans. With the draft they picked up Desmond Ridder who played for Cincinnati that is also a choice for the Falcons at Quarterback.
With the new additions to the Defense they might be able to put up a fight against the Saints offense. The line has added new member Vincent Taylor and may see some improvement from last years' lineman. There may be some optimism for the secondary. They bring in Casey Heyward, and hopefully A.J. Terrell, Isaiah Oliver can stay healthy to do some good for the defense this year.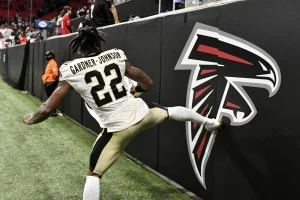 Sunday September 18th at 1pm EST on Fox
Akiem Hicks, Deandre Senat, Keanu Hill
Luke Goedeke, OT, Central Michigan
Rachaad White, RB, Arizona State
Cade Otton, TE, Washington
Zyon McCollum, CB, Sam Houston State
Tom Brady is returning for the Bucs offense this season. With his return and the return of basically the whole offense they have a chance to repeat or even go farther than last season. They are going to have to use some younger tight ends because of the retirement of Gronk.
The defense brings back a star line up too but with training camp coming up be on the look out for some younger guys to shine.
Sunday September 25th 1pm EST on Fox
Ra'Shaun Henry, D'Onta Foreman, Derek Wright
Matt Corral, QB, Mississippi
Brandon Smith, LB, Penn State
Amare Barno, DE, Virginia Tech
With a new quarterback in Matt Corral this could bring new light to Panthers offense with some wide receivers who may learn a thing or two from a new quarterback.
The defense is seeing plenty of new faces from free agency, to the draft, to the undrafted players who are rookies. They need to better across the board from blocking the run, playing deeper on the ball and keeping teams out of the end zone.
Sunday October 2nd 9:30 am EST on NFLN
Jonathan Bullard, Ty Chandler, Patrick Peterson
Andrew Booth, CB, Clemson
Brian Asamoah, LB, Oklahoma
Akayleb Evans, CB, Missouri
Esezi Otomewo, DL, Minnesota
Vederian Lowe, T, Illinois
Jalen Nailor, WR, Michigan St
The Vikings are heavy on the run game but this year expect more passing attack because of the Teams new head coach Kevin O'Connell who has spent the last two years with Rams as offensive coordinator. With the wide receiving core they have it could be a dangerous offense to try to stop on Sundays.
The defense can be good this season if they can stay away from the injury bug. Danielle Hunter needs to be a big part of their game plan on the defensive line to keep the pressure on the quarterback.
Sunday October 9th 1pm EST on Fox
Marquise Goodwin, Josh Jones, Geno Smith
Charles Cross, OT, Miss St
Kenneth Walker III, RB, Michigan St
Abraham Lucas, OT, Washington St
Coby Bryant, CB, Cincinnati
Tyreke Smith, LB, Ohio St
Dareke Young, WR, Lenoir-Rhyne
Expect to see the tight ends being utilized a lot more this season. The quarterback situation is still a question for the Seahawks with Russel Wilson going to the Broncos this offseason. Every other offensive position is strong and ready to produce on the field this fall.
The Seahawks defense hasn't change a bunch but you may see some different looks on the field when it comes to seeing players at many positions among the linebackers and the Defensive ends.
Sunday October 16th 1pm EST on CBS
Eli Apple, Hayden Hurst, Scott Washington
Cam Taylor-Britt, CB, Nebraska
Zachary Taylor, DT, Florida
Cordell Volson, OT, North Dakota St
Tycen Anderson, S, Toledo
Jeffery Gunter, EDGE, Coastal Carolina
The Joe Burrow show is going to continue he gets the offense that can catch, run, and keep him safe in the back field. The is going to be a lethal offense and defenses are going to be able to stop them.
Over the last seasons the Bengals have added talent to their defense to add to their all star roster. They have added to their defense in this years draft, and they are hoping that it will continue to produce results this fall.
Thursday October 20th 8:15pm EST on Amazon
Trey McBride, TE, Colorado St
Cameron Thomas, DL, San Diego St
Myjai Sanders, DL, Cincinnati
Lecitus Smith, OL, Virginia Tech
Christian Thomas, CB, Valdosta St
Jesse Lekuta, LB, Penn St
Marquis Hayes, OL, Oklahoma
They have the guys to get it done they also have to continue to produce without DeAndre Hopkins the first 6 games of the year. They still have plenty of wide receivers with plenty of talent.
Their star roster on defense is coming back and stronger. They would have produced a little better down the stretch if they could stay healthy and if their backups is needed could be ready to play on Sundays.
Sunday October 30th 1pm EST on CBS
Davante Adams, Hunter Henry, Josh Jacobs
Matthew Butler, DT, Tennessee
Thayer Munford Jr, OT, Ohio St
Derek Carr signed a new contract, Hunter Henry returns, and the Raiders picked up Davante Adams. They reunited Carr and Adams from College can they pick up where they left off.
Maxx Crosby, Chandler Jones on the Defensive line this could help bring the Raiders more production on attacking the line. They added depth at safety and with the line making life difficult for the quarterback the safeties are making it difficult for the wide receivers.
Sunday November 7th 8:15pm on ESPN
Kyle Fuller, Mike Davis, Calais Campbell
Kyle Hamilton, S, Notre Dame
Tyler Linderbaum, C, Iowa
David Ojabo. Outside Linebacker, Michigan
Daniel Faalele, OT, Minnesota
Jalyn, Armour-Davis, CB, Alabama
Charlie Kolar, TE, Iowa St
Isaiah Likely, TE, Coastal Carolina
Damarion Williams, CB, Houston
Tyler Badie, RB, Missouri
The wide receiving and the tight ends are going to be a valuable to this offense this season. Their quarterback have to find them in the backfield before they take off running.  The offensive line is going to be a battle in training camp so watch that battle.
They could be a top-10 defense this year. They need to stay healthy their defense collapsed last year because of injury. Picked up Marcus Williams this year.
Sunday November 13th 1pm on Fox
Kenny Pickett, Minkah Fitzpatrick, Connor Heyward
Kenny Pickett, QB, Pittsburgh
George Pickens, WR, Georgia
DeMarvin Leal, DE, Texas AM
Calvin Austin III, WR, Memphis
Connor Heyward, TE, Michigan St
Mark Robinson, LB, Mississippi
Chris Oladokun, QB, South Dakota St
The Steelers offense is going in a downward spiral and changing quarterbacks after Roethlisberger's retirement. If they might be the worst offense this season.
On a good note at least the defense could get better and be one of the best in the season.
Sunday November 20th 1pm EST on Fox
Jared Pinkney, TJ Carter, Brayden Thomas
Logan Bruss, G, Wisconsin
Decobie Durant, CB, South Carolina St
Kyren Williams, RB, Notre Dame
Derion Kendrick, CB, Georgia
Daniel Hardy, EDGE, Montana St
Russ Yeast, DB, Kansas St
AJ Arcuri, OT, Michigan St
The defending super bowl champions brought on more weapons for Matthew Stafford. Options to run and pass and people to use on the field.
The defense number 15 in the NFL last season but that they can and will bring that up this year adding new guys to the roster. Aaron Donald can't play on his own to the other positions need to start helping out.
Sunday November 27th 4:25pm on Fox
Kevin Gibbons, Jamycal Hasty, Nate Sudfeld
Tyrion Davis-Price, RB, LSU
Spencer Burford, OL, UTSA
Samuel Womack, CB, Toledo
Tariq Castro-Fields, DB, Penn St
The quarterback situation is going to be a battle in training camp. The offensive line is trending in an upward position and could be better in 2022. This would come in handy to give the quarterback more time to throw and bigger holes for the running backs.
Al-shaair brought him on to help with this already all-star line up. Defensive line is going to be better in 2022 with some new faces being added. Linebackers are climbing the rankings in 2022 as they continue to use top players to fill those positions. Cornerbacks don't expect much new from them.
Week 13: @ Buccaneers
Monday December 5th 8:15pm EST on ESPN
Saturday December 17th TBA
Saturday December 24th 1pm EST on CBS
Deshuan Watson, David Njoku, Amari Cooper
Martin Emerson Jr, CB, Miss St
Jerome Ford, RB, Cincinnati
Mike Woods II, WR, Oklahoma
Isaiah Thomas, DE, Oklahoma
Dawson Deaton, G, Texas Tech
The quarterback situation is still way up in the air with Deshuan Watson looking like he is going to be suspended. The wide receiver core is shaping up nicely
Browns had one of the better defenses in the NFL last year even though they were the problem. Miles Garrett and Jadeveon Clowney are expected to carry the defense like last year.
Sunday January 1st 1pm EST on Fox
Jaquiski Tartt, Josh Sills, Britain Covey
Jordan Davis, DT, Georgia
Cameron Jurgens, C, Nebraska
Nakobe Dean, ILB, Georgia
Kyron Johnson, ILB, Kansas
Grant Calcaterra, TE, SMU
Jalen Hurts at quarterback with AJ Brown, Devonta Smith, and other guys that can help produce on offense. No one left from last year's offense so it should get better.
The Eagles defense could improve in 2022 if they could stay healthy and work as a unit. 
Week 18: vs Panthers