One of the biggest needs heading into last year's NFL Draft was the wide receiver position and the New Orleans Saints traded up to take Ohio State wide receiver Chris Olave. Olave had a sensational rookie campaign and the Saints were also able to hit with undrafted rookie free agent, Rashid Shaheed. New Orleans was also be getting back Michael Thomas, but health has been a question mark for the veteran wide receiver. New Orleans have already lost Deonte Harty and could be losing both Marquez Callaway and Jarvis Landry to free agency. Here are some of the wide receiver prospects the Saints could turn their attention towards:
Jaxon Smith-Njigba, Ohio State
New Orleans could continue their Ohio State pipeline by taking one of the best wide receiver prospects in this year's draft, Jaxon Smith-Njigba. He started his Ohio State career during the 2020 season and would rank as one of the top freshman in the country. Smith-Njigba played in seven games during his freshman season. He racked up 10 catches for 49 yards and a touchdown on the season.
Entering the 2021 season, Smith-Njigba would continue to elevate his status as one of the best wide receivers in the nation. The Rockwall, Texas native would close out the 2021 season with 60 receptions for 958 total yards. Smith-Njigba would have five consecutive games with at least 100 receiving yards. Heading into the 2022 season, Smith-Njigba would be regarded as one of the top receivers in college football.
Injuries would limit his production on the field as he only had five receptions for 43 yards in his final season with the Buckeyes. Smith-Njigba would play in just two games on the season, but when he was healthy it was hard for anyone to cover him.
Zay Flowers, Boston College
Zay Flowers started his career at Boston College in 2019. Flowers would appear in all 13 games for the Eagles and would have two starts. He would be involved in both the rushing and receiving game during his debut season. In 2019, Flowers rushed 27 times for 195 yards and a touchdown. Through the air, Flowers caught 22 passes for 341 yards and three touchdowns.
Flowers would be able to continue that momentum heading into the 2020 season as he would earn All-ACC First Team selection. The Fort Lauderdale, Florida native would have one of the most productive seasons in Boston College history. He would continue to earn accolades in his junior season as he would be named to the All-ACC Third Team selection.
Flowers would enter his final year with the program with 122 receptions, 1,979 yards and 17 touchdowns. During his senior season, Flowers would set the Boston College single-season mark in receiving touchdowns and receptions in a season.
Jalin Hyatt, Tennessee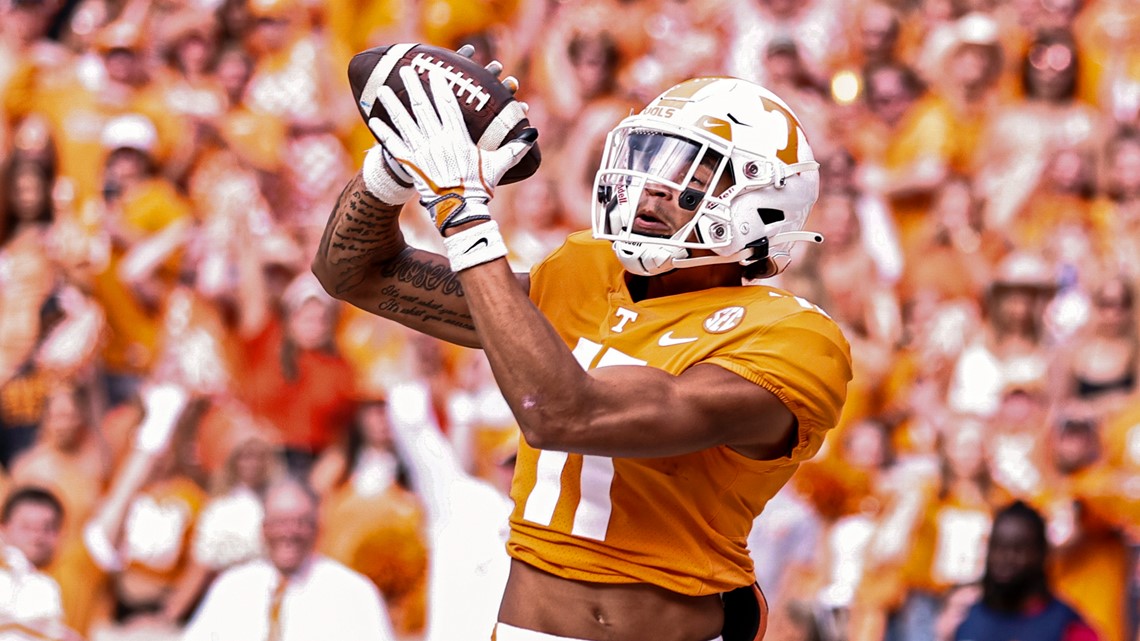 Jalin Hyatt proved to be one of the best wide receivers in college football this season and was able to get off to a hot start during his freshman season at Tennessee in 2020. Hyatt proved to be one of the best freshman wide receivers in the SEC as he finished the year with 20 receptions for 276 yards and two touchdowns. He would continue to contribute in the Volunteer offense heading into the 2021 season.
During the 2021 season, Hyatt finished the year with 21 catches for 226 yards and two touchdowns. Hyatt played in all 13 games for Tennessee during the year with one of them being a start. The 2022 season would be Hyatt's best as he captured the Biletnikoff Award and became a first-team All-American. In 2022, Hyatt recorded 67 catches for 1,267 yards and a school-record 15 touchdowns.
Hyatt finished second in college football and first in the Power Five in receiving touchdowns. He also led the SEC in receiving yards, touchdowns, receptions per game and receiving yards per game.
Josh Downs, North Carolina
Josh Downs started his collegiate career at North Carolina in 2020. During his true freshman season, Downs had seven catches for for 119 yards and three receiving touchdowns. Downs would score his first collegiate touchdown against NC State. Heading into his sophomore season, Downs would serve a vital role at wide receiver and as a punt returner.
The Suwanee, Georgia native would earn First-Team All-ACC honors and would be a Biletnikoff Award Semifinalist. He would set a North Carolina program record with 101 receptions for 1,335 receiving yards during the 2021 season. During the 2022 season, Downs started in all 11 games he appeared in. He would lead the ACC in receptions (94), receiving yards (1029), receptions per game (8.5) and receiving yards per game (93.5).
Downs would earn second-team All-American honors and be named as a Biletnikoff Award Semifinalist for his performance during the 2022 season.
Nathaniel Dell, Houston
Nathaniel Dell started to become a difference maker for Houston's offense during his sophomore season in 2020. During the 2020 season, Dell would start in all eight games for the Cougars. He led the team with 428 receiving yards and 29 receptions with three touchdowns. The Daytona Beach, Florida native would rack up 564 all-purpose yards on the year.
Heading into his junior campaign in 2021, Dell would continue to excel in Houston's offense. Dell would earn First-Team All-American Athletic Conference honors for his performance during the 2021 season. He would again lead the team in receptions (90), receiving yards (1,329) and receiving touchdowns (12).
The 2022 season would be Dell's Best as he made 13 starts at the wide receiver position. Dell hauled in 109 receptions for 1,398 receiving yards and 17 touchdowns. His 17 touchdowns on the season would rank him as a national leader.
For More Great Football Content
Follow us on Twitter at @GridironHeroics for more great content. We appreciate you taking time to read our articles. To interact more with our community and keep up to date on the latest in Football news, JOIN OUR FREE FACEBOOK GROUP by CLICKING HERE
Checkout our latest podcast!
[powerpress_playlist limit=1]