The Minnesota Gophers (5-3) travel to Lincoln Saturday to take on the Nebraska Cornhuskers (3-5) at Memorial Stadium at 12:00 pm (EST). Minnesota is a 16.0-point favorite and are given a 77.2% chance to win according to ESPN's FPI. With that let's see what to expect in Minnesota vs. Nebraska.
Minnesota
Minnesota got back on track this past week with a 31-0 shutout win over Rutgers (4-4). The Gophers snapped their three-game losing streak and look to rip off five straight wins to finish 9-3. Standing in their way are the Cornhuskers. A win against them would put Minnesota at 6-3, make them bowl eligible, and get them on a two-game win streak. A loss would likely put the end to any type of late season run. Questions would continue to be raised about how good this team could be, especially with all their veteran talent.
What To Watch
At this point, it's hard not to mention the running game, specifically Mohamed Ibrahim. It is even more so this week as Nebraska allows 190.1 rushing yards per game. I expect Ibrahim to keep his 100-yard rushing streak going. No one has been able to stop him this year and it'll stay that way for another week. Last week Chase Brown and the Illini rushed for 188 yards and it's not hard to expect that the Gophers will also as they average 223.1 yards rushing per game.
Now, the only thing is that everyone knows the Gophers are a run first team and their passing game hasn't been great in the last four games. If the Cornhuskers find a way to slow down Ibrahim, it could spell trouble for the Golden Gophers on Saturday.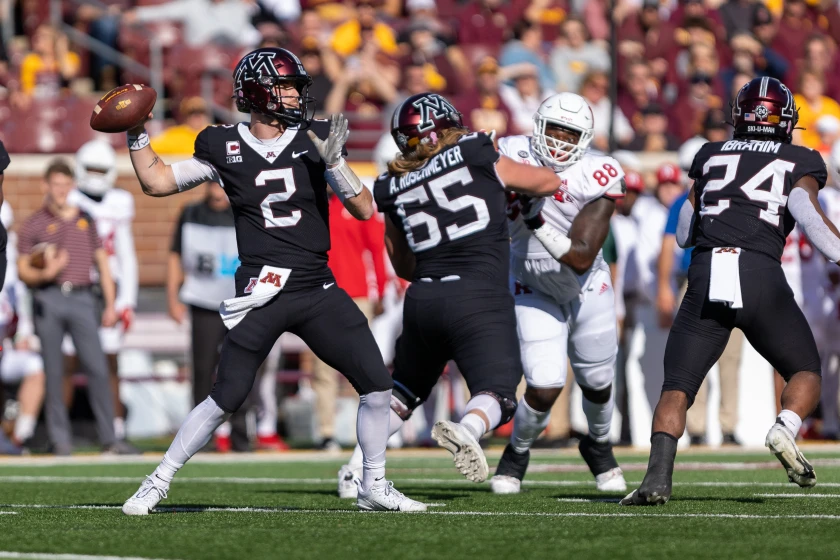 Biggest Question
The biggest question I have for the Gophers is can they take advantage of teams focusing on stopping the run. As mentioned above everyone knows they're going to run the ball, a lot. If Nebraska is able to scheme something up to slow down Ibrahim and the run game, can Morgan and the passing game step up?
Minnesota should be looking to get their passing game involved. If they can force the Cornhuskers to back off and not stack the box, they can really start hitting them with a one-two punch of their rushing and passing attack. It's also smart to do this week, ahead of their big rivalry game against Iowa. Finding strong balance is key to them winning against the Cornhuskers, Iowa, and Wisconsin.
Nebraska
The Cornhuskers are coming off a tough loss at home to #17 Illinois 26-9. Nebraska now sits at 3-5 in what can only be described as a season of disappointment. The Cornhuskers now look ahead to the Gophers who got back in the win column last week. A win for the Cornhuskers puts them at 4-5 and gives them a chance at getting bowl eligible. A loss would put them at 3-6 and likely remove them from bowl contention, since #5 Michigan remains on their schedule.
What To Watch
What I'll be watching is how Nebraska's offense does against the Gophers defense. The Cornhusker's offense this season averages 402.1 yards with 259.3 passing and 142.9 rushing. Quarterback Casey Thompson on the season has 2,023 yards passing with 12 touchdowns but has a bit of a turnover issue with ten interceptions. He is also day-to-day with an arm injury that took him out of last week's game. If Thompson is out, it will be between Chubba Purdy and Logan Smothers to take the reins or even share snaps.
Whoever starts Saturday will need to step up big time against a very good Minnesota defense. The Gophers this year allow 14.4 points per game, with 274.4 yards per game (168.1 passing and 106.3 rushing). Minnesota won't give you much, just ask Rutgers who was held to just 134 yards of total offense, 18:58 minutes time of possession, seven first downs and turned the ball over three times, with a back-up quarterback. Nebraska will need to find ways to move the ball offensively against a defense that doesn't give up much.
Biggest Question
Can they slow down the Gophers' run game? Why don't I say stop because no one this season has been able to. Not Illinois, not Purdue, not even Penn State. So, can they slow it down? Well, if you only allow Ibrahim to rush for 100 yards, that'll be a good start.
You must contain Trey Potts and Bryce Williams and not let them run like Ibrahim. If Nebraska can do this and force the Gophers to pass, giving them the best shot at winning this game. If Minnesota goes off for 200-300 yards it'll be a long day, because that plays into the Gophers game of being able to control the time of possession.
Bold Prediction
My bold prediction is that the Gophers will pass for 250 yards and rush for 200. Why is this a bold prediction? Well, the Gophers haven't passed for 250 yards in three weeks. They aren't huge when it comes to passing, but Nebraska will find a way to limit the Gophers in the run game for a bit. With that P.J. Fleck and Minnesota will be forced to get the passing game involved. Once the passing game is clicking the Gophers will be able to get their rushing game going once again and take control of the game.
Betting
The following betting lines are according to ESPN's Pick Center.
Spread:
Minnesota: -16.0
Nebraska: +16.0
Money Line:
Minnesota: -750
Nebraska: +525
Over/Under: 46
Where To Watch
Minnesota vs. Nebraska will air on ESPN2 on Saturday at 12:00 pm (EST). Commentating the game will be Anish Shroff (play-by-play), Brock Osweiler (analyst), and Taylor McGregor (sideline). You can watch the game on the ESPN app or on their website (you will need to have a TV provider to watch). Streaming Services that have ESPN are fuboTV, Youtube TV, Sling, Hulu (with live TV), and DirecTV Stream.
Prediction
Like last week Nebraska will make it competitive, and they'll hang around longer this week. The Gophers will struggle, finding their only success in the running game for a bit. Nebraska will score and take a lead at the half. The Gophers will come out adjusting and start passing. The Gophers defense will step up and shut down the Cornhusker offense and get a pair of turnovers. In the end the Gophers will pull away getting both their passing and rushing game going. Minnesota wins 37-24.