It was like I said. It would be close and ugly. The Minnesota Vikings (6-1) rallied from ten points down in the fourth quarter to beat the Washington Commanders (4-5) to take a 4.5 game lead in the NFC north. The Vikings got out to an early lead 7-0, but then stalled, taking a 7-3 lead into the half. Washington came out and with a little help took a 17-7 lead early in the third quarter. The Vikings then went on to score 13 unanswered points, with a 28-yard Greg Joseph field goal to win it for the Vikings. With that let's take a look at my Minnesota Vikings week 9 takeaways.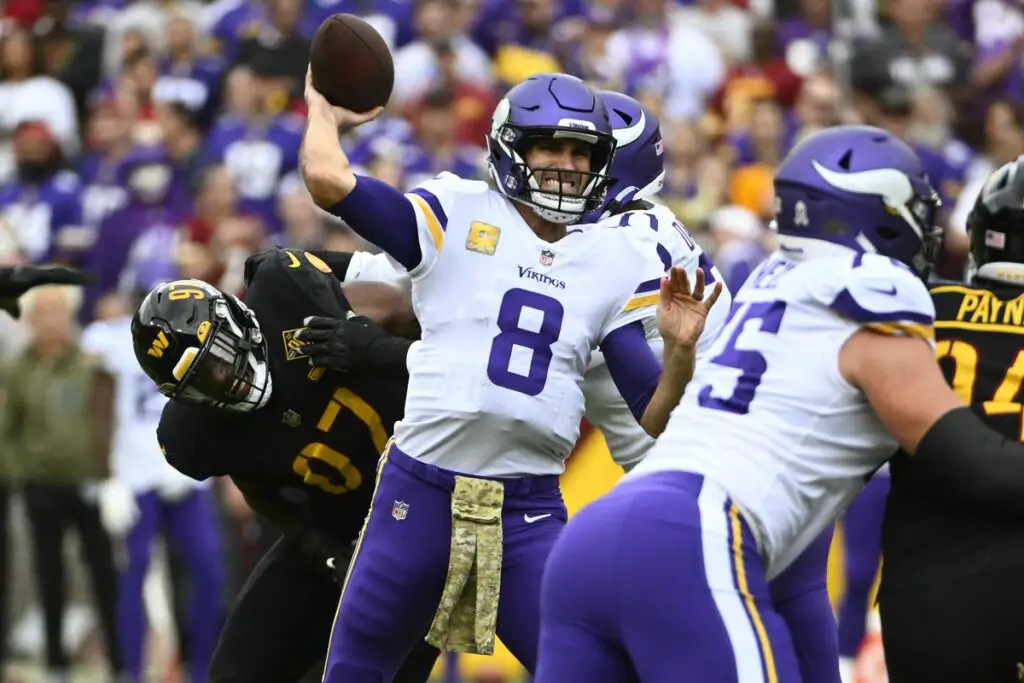 The Offense Needs To Get Their Act Together
Yeah, this is starting to become a problem. While I am not opposed to a good end of game comeback, they need to start scoring more consistently. The Vikings went 43:31 between scores. They scored on their opening drive and then didn't score until 10:46 in the fourth quarter. That is just unacceptable with this offense's level of talent. You have Jefferson, Thielen, Cook, Mattison, and now T.J. Hockenson with Kirk Cousins. This offense should be near unstoppable, not punting six times a game. Yeah, the Vikings punted six times only running 27 plays on those drives.
The Vikings offense had 301 total yards (245 passing and 56 rushing), 17 first downs, and possessed the ball for 29:13 minutes. Not bad but the Vikings must find a way to run the ball. They have really struggled there, and it was obvious today. The Vikings need to get some balance on offense to give them a better chance at winning. They must find ways to be more consistent, especially as they enter the gauntlet of their schedule.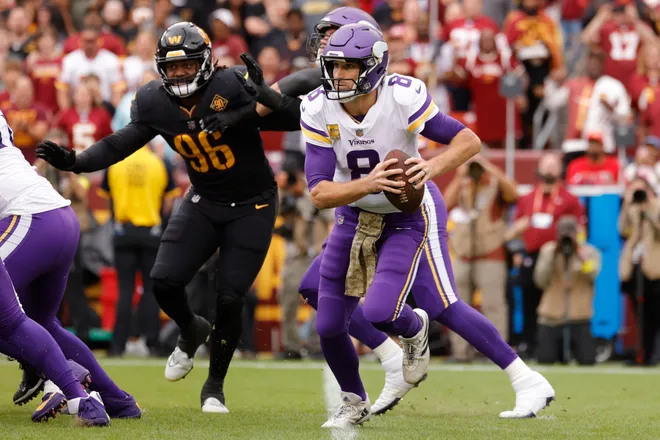 The Pass Protection Sucks
Yeah, this was frustrating and the real reason the offense struggled today. They are to take most of the blame, but Kevin O'Connell needs to get creative and find a way to get Cousins out of the pocket, whether it's a roll out or something else. If you know your offensive line will be under pressure, then help them out.
Cousins today was sacked two times for 17 yards, hit 13, and hurried 18. Not a great day for him or the offensive line. He was forced to throw it away a lot and just make some not so good throws (shockingly not the interception). Cousins this season has been sacked 16 times or two times per game. It is something that must be fixed, especially when he tends to be pressured or sacked on third down. The offensive line needs to step up, especially with tough defenses in the Bills, Cowboys, Patriots, and Jets all coming up.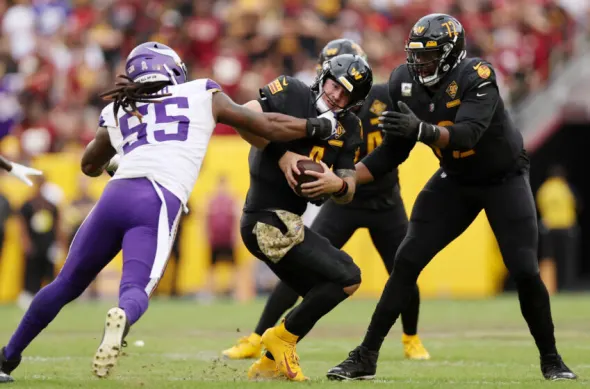 The Defense Is Looking Really Good
The Vikings defense has been looking great as of late. The Vikings held the Commanders to 263 yards of total offense, 18 first downs and 30:47 time of possession. Not too bad all things considered. Harrison Smith also got his fourth interception that turned the tide of the game, leading to a Viking touchdown. Also this epic celebration, though the Vikings have had a few of those this season.
Jordan Hicks does a GREAT job selling the wobbly pin on Harrison Smith's bowling INT celebration pic.twitter.com/iZg648vIkN

— Shawn (@syedschemes) November 6, 2022
The Vikings' defense is looking sharp and have helped the offense out a lot as they struggle to get points. Keeping games close has allowed Kirk Cousins and the offense to get late drives and scores to give the Vikings the comeback and close wins this season. If they keep this up it should spell for some great success down the road, they just need the offense to step up and join them.
Especially The Pass Rush
The Vikings have been getting fantastic pressure the past few weeks. Today, Danielle Hunter had a pair of sacks putting him at 5.0 on the year. The team has a total of 24 sacks and 38 quarterback hits on the year. They have been led by Za'Darius Smith who leads the team with 8.5 sacks. Ed Donatell has seemed to have gotten the defense in check and they are now playing at a much better and consistent level than they did at the start of the year.
Had To Mention It
I'm sorry but this needs to be addressed. This was horrendous to watch. I mean what in the world was the ref thinking!
Listen as Vikings radio analyst LOSES IT on the officials after back judge takes out Cam Bynum leading to #Commanders TD! #kfanvikes #vikings

Listen to the call —> https://t.co/dXgvS0GS3f pic.twitter.com/KWeCdRDbcj

— KFAN1003 (@KFAN1003) November 6, 2022
The NFL needs to come out and address this. That it led to a touchdown when it should have been a pick is outrageous! The league needs to make a rule about this, because it is unacceptable for something this significant to happen without some sort of consequence. Thankfully, the Vikings had another one of their classic rallies and won, so it isn't as big of a deal now as it would've been if they lost.
A Look Ahead
It's finally here. The big game has arrived. The Vikings travel to Buffalo to take on the Bills (6-2). Buffalo is coming off of a 20-17 loss to the Jets on the road. This is the Vikings second real test of the season. After winning six straight games this is a real test after their week two loss to the Eagles. This game will tell us a lot about the Vikings and potentially how far this team could really go.
For More Great Football Content
Follow us on Twitter at @GridironHeroics for more great content. We appreciate you taking time to read our articles. To interact more with our community and keep up to date on the latest in Football news, JOIN OUR FREE FACEBOOK GROUP by CLICKING HERE
Checkout our latest podcast!
[powerpress_playlist limit=1]