The Gophers snapped their three-game skid in shutout fashion, blanking Rutgers (4-4) 31-0. It took Minnesota a while, but they got up 14-0 at the half. A slow third quarter turned into a 17-point fourth, putting away the Scarlet Knights for their first Big 10 shutout since Illinois in 2004. Mohamed Ibrahim led the way with 159 yards and three touchdowns. Tyler Nubin had a pair of picks and the Gophers got back in the win column. With that let's take a look at my Minnesota Gophers week 9 takeaways.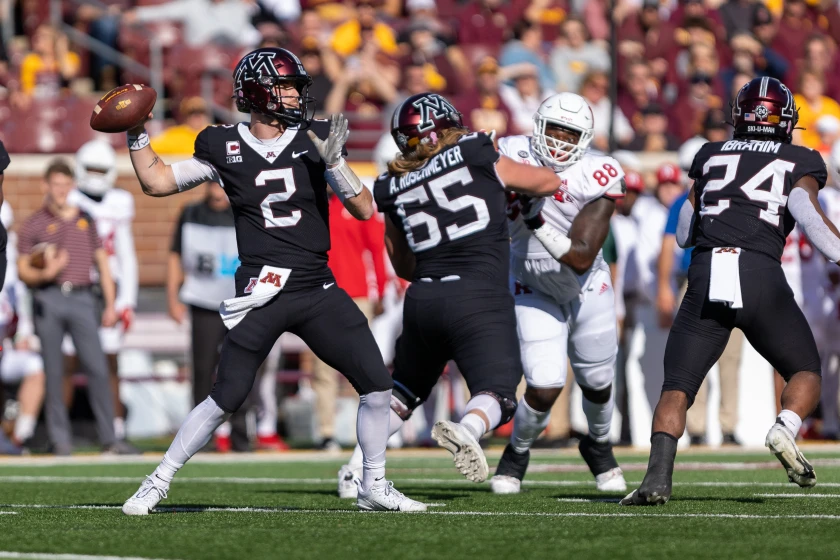 Returning To Normal
The Gophers finally looked like their 4-0 self. Dominating the game from start to finish. Minnesota out gained the Scarlet Knights 375 yards to 134, had 21 first downs to their seven, and held the ball for 41:02 minutes to their 18:58. They also had three turnovers. It was just what Gopher fans were hoping for after seeing them struggle for three games. While Minnesota had issues with balance on offense (more on that later) they were dominant on the ground. The Gophers rushed for 253 yards and had four touchdowns.
The defense was great as well, holding Rutgers to 134 yards of total offense and getting three turnovers (two interceptions and one fumble). The Scarlet Knights only had 86 yards passing and 48 rushing. It was another great performance by the defense and the offense returned the favor with long drives, giving them all the rest, they needed. If the Gophers can keep playing like this, they have a good chance of ripping off a few more wins to end the season.
Record Breaking Ibrahim
What record hasn't Mohamed Ibrahim broken at this point in his career? Today Ibrahim became the Gophers all-time touchdown leader. Ibrahim broke Darrell Thompson's 33-year-old, 43 touchdown record today.
Your new all-time TD leader for @GopherFootball: @_moibrahim. 🙌 pic.twitter.com/WJWxQiIH8e

— Big Ten Network (@BigTenNetwork) October 29, 2022
Mohamed Ibrahim rushed for 159 yards on 36 carries, averaging 4.4 yards per carry and scoring three touchdowns. He also extended his 100-yard rushing game streak to 16, passing the former Ohio State Buckeye Ezekiel Elliott. Ibrahim was the offense again today, rushing for more yards than the team had passing. Needless to say, even with the team not playing the greatest of football, he should really be considered for the Heisman if he keeps up this performance.
Play Calling Was Still An Issue
While the Gophers won 31-0, there were still issues (unlike in their first four games) that need to be talked about. The play calling again was questionable. Yes, when your opponent allows you to rush for 253 yards, I'm not saying you shouldn't be running it, but when your star running back rushes for more than you pass it's a concern.
The Gophers must find balance on offense if they want to keep winning. Teams are going to focus on stopping the run, so take advantage of that knowledge. Who isn't going to go into a game against Minnesota trying to stop the run. Establish a strong passing game, before going for the knock-out punch with the run game.
This Game Should Have Been A Bigger Blowout
Now I wouldn't say the Gophers got lucky today, because they were going to win this game regardless. It did help that Rutgers' receivers drop passes that hit them in their hands. Also having nine penalties for 53 yards helps as well. Was Rutgers going to win this game? No, but the Gophers are a bit lucky. Things went their way that otherwise would have made this game closer. Rutgers had moments that if some events went their way it could have made the game interesting. Especially since the score was 14-0 heading into the fourth quarter.
The game just felt like the Gophers weren't winning as big as they maybe should have. I know I'm complaining about a 31-0 win. It's a valid point. Outside of Northwestern, every team they will play will be a tougher opponent than Rutgers. So, they just need to play better if they want to win their last four games.
A Look Ahead
Next week the Gophers travel to Lincoln to take on the Nebraska Cornhuskers (3-5). Nebraska is coming off of a 26-9 loss to #17 Illinois. 
For More Great Football Content
Follow us on Twitter at @GridironHeroics for more great content. We appreciate you taking time to read our articles. To interact more with our community and keep up to date on the latest in Football news, JOIN OUR FREE FACEBOOK GROUP by CLICKING HERE
Checkout our latest podcast!
[powerpress_playlist limit=1]