The Minnesota Gophers football team barnstormed their way through their non-conference schedule in dominating fashion. They made mincemeat out of New Mexico State, Western Illinois, and Colorado, dispatching these cupcakes in a convincing fashion. They dominated both sides of the ball and outscored these three opponents 149-17. In other words, they played like a Power 5 school should play against outmanned opponents.
But the day of reckoning has arrived. It's time for coach P.J. Fleck's team to man up. The Big Ten season is starting and there is little room for error. First up are the Michigan State Spartans in a tough road test. We'll explore what obstacles the Gophers face and what they will need to do to compete in this always competitive conference.
Fired Up Spartans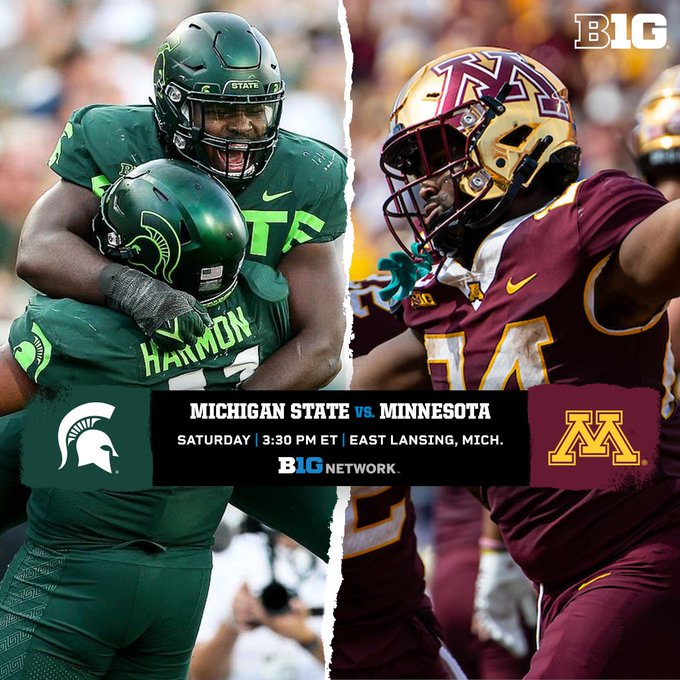 Unfortunately, the Minnesota Gophers are facing the Spartans at the worst possible time. Michigan State won its first two games over Western Michigan and Akron by a combined score of 87-13. They traveled to Washington last week ranked 11th in the country but they lost to the Huskies 39-28. That dropped them from the Top 25 Rankings.
The Spartans are led by quarterback Payton Thorn, who last year broke Kirk Cousins' school record with 27 touchdown passes. Jayden Reed is his favorite target, and he was on the receiving end of 10 of those touchdowns. Michigan State rotates Wisconsin transfer Jalen Berger and Jarek Broussard at tailback. They have combined for 392 and six rushing touchdowns through the first three games.
Spartans' Key Defensive Injuries
The Spartans' sack attack is led by UNLV transfer defensive end Jacoby Windmon. He is leading the Big Ten with five and a half sacks coupled with 12 quarterback pressures. Michigan State suffered two key injuries to their defensive cops in the season opener. Linebacker Darius Snow will miss the remainder of the season with a leg injury. And safety Xavier Henderson will miss several weeks also with a leg injury.
The Spartans were torched last week through the air by Washington quarterback Michael Penix Jr. He threw for 397 yards and four touchdowns against a Spartans' defense that had no answers. Players like cornerback Chester Kimbrough will have to step up their game if Michigan State hopes to shut down Tanner Morgan and the Gophers' air attack.
Will the Real Tanner Morgan Please Stand Up?
"It made seven years all the more worth it." #Gophers receiver @Clay6Geary said he couldn't stop smiling after catching his first career touchdown Saturday against Colorado. #RTB pic.twitter.com/cOSfaCsMHz

— Bally Sports North (@BallySportsNOR) September 21, 2022
The Minnesota Gophers are enjoying the renaissance this year of Morgan. He resembles the outstanding quarterback he was in 2019 and seems to gain more confidence every week. The key to success for the passing game this week is who steps up to replace leading receiver Chris Autman-Bell after his season-ending injury.
Wideouts Michael Brown-Stephens and Daniel Jackson will certainly be counted on to contribute their fair share. And everyone cheered when seven-year receiver Clay Geary caught his first collegiate touchdown pass against Colorado. Here's betting that the talented Dylan Wright will rise to the occasion and show his big-play ability for the remainder of the season.
Offensive Line has Player Well for the Minnesota Gophers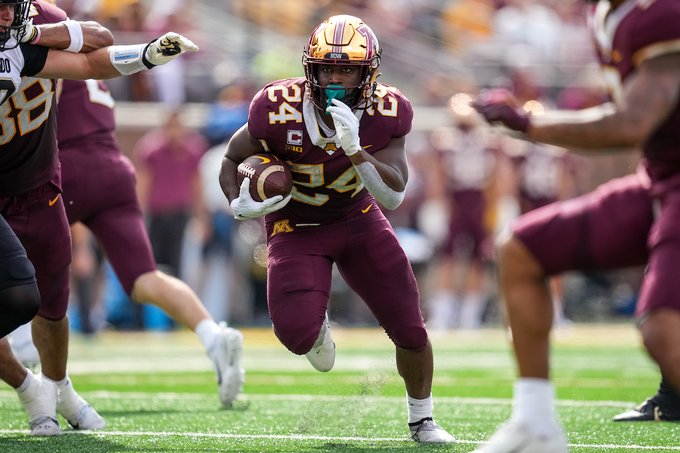 The offensive line has played well this year but the game against the Spartans will be their first true test. The line is ably led by All-American and Rimmington award candidate center John Michael Schmitz. They will have to hold back the potent Michigan State pass rush and give Morgan the time to find his receivers. They also must continue to open up huge holes for running backs Mo Ibrahim, and Trey Potts to run through.
The Minnesota Gophers are currently ranked second in the nation in total defense, and they lead the nation in third down stops. To continue this trend, defensive ends Thomas Rush and Danny Striggow will have to maintain the aggressive pass rush that they have displayed through the first three games.
Minnesota Gophers Will Be tested on Defense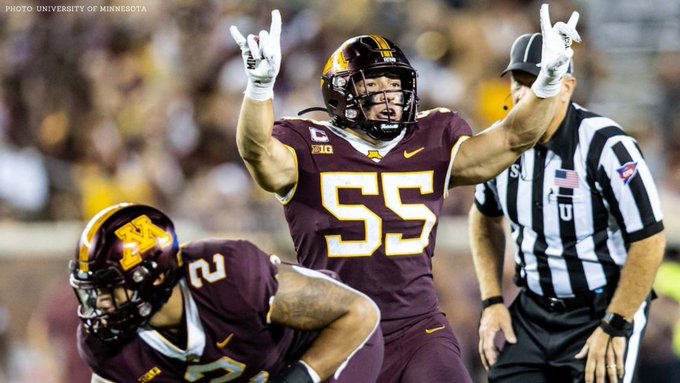 And middle linebacker Mariano Sori-Marin will have to interrupt his career as a food critic and continue to be the leader of a run defense that currently ranks ninth in the nation. Finally, safeties Jordan Howden, Tyler Nubin, and the rest of the secondary will have to continue their ball-hawking ways to ensure a Gophers victory.
The Minnesota Gophers enter always noisy Spartan Stadium to play a team that is fired up to avenge last week's road loss. For the Gophers, it's a chance to show their prowess against a big-time football program. Moreover, it's a chance to start to lay their claim to the Big Ten West Division title. Let the game begin.
For More Great Football Content
Follow us on Twitter at @GridironHeroics for more great content. We appreciate you taking time to read our articles. To interact more with our community and keep up to date on the latest in Football news, JOIN OUR FREE FACEBOOK GROUP by CLICKING HERE
Checkout our latest podcast!
[powerpress_playlist limit=1]