Gridiron Heroics partners with Draft Scout to give each school's Top 5 NFL Draft prospects in the Big Ten. Welcome to a list of the Michigan Top 5 NFL Draft prospects for 2023, as seen by Draft Scout.
Each week brings us closer and closer to one of the most anticipated days on the sports calendar — the NFL Draft. This year's draft will be held in Kansas City, Mo. from April 27-29. Today, we take a look at the Michigan seniors, the class of 2023. Since we don't know yet which underclassmen will declare, we'll reconfigure the rankings when that happens, so be sure to revisit us.
Our Big Ten Draft prospect series will run beginning Nov. 14 and will run for the next week, with three schools running per day in alphabetical order. A master conference list of the Big Ten's Top 20 NFL draft prospects will wrap things up on Monday, Nov. 21. Please check the team links below frequently so you can check out the other schools' top prospects as the week progresses.
BIG TEN TOP 20 PROSPECTS: Overall Big Ten Top Prospect List
BIG TEN EAST PROSPECTS: Indiana | Maryland | Michigan | Michigan State | Ohio State | Penn State | Rutgers
BIG TEN WEST PROSPECTS: Illinois | Iowa | Minnesota| Nebraska | Northwestern| Purdue| Wisconsin
---
RELATED STORY: The Top ESPN 30 for 30 Shows in College Football — We Rank Them
So, we all know that not every team in the country has five surefire draft picks on it. Some programs do, especially in some of the more elite conferences, but the vast majority don't have that many top-flight prospects. But, we also know that the definition "top-flight" doesn't always pan out, and at the same time that strong undrafted free agent everybody forgot? He ends up making an NFL and flourishing.
Below is a look at the Michigan Top 5 Draft Prospects, and how they project in the eyes of Draft Scout. Again, for now, we'll go strictly with seniors (c/o 2023), as no underclassmen have been allowed to declare earlier yet, though when they do, we'll update the lists below.
Michigan TOP 5 NFL DRAFT PROSPECTS
NO. 1 PROSPECT
NAME: Ryan Hayes (OT)
DRAFTSCOUT PROJECTION: 1st round
CAREER STATISTICS: Hayes has been the anchor of an offensive line that boasts one of the country's best rushing attacks. He has appeared in a total of 36 games with 26 of them being at left tackle.
THE TRUTH: At 6'7″ and 305 pounds, Hayes has the raw talent to be a force in the league. While running back Blake Corum is getting a lot of the buzz, he would not be gaining all of the yards if it were not for Hayes and the offensive line. The former 4-star recruit plays with intelligence and seals the edge often for runners to break it outside. His pass blocking will need a little work but the raw talent is there. Hayes is projected as a first-round pick which makes sense given how high offensive tackles have been picked in the past. He ranks 26 in Draftscout's top 350.
---
NO. 2 PROSPECT
NAME: Olusegun Oluwatimi (C)
DRAFTSCOUT PROJECTION: 2nd round
CAREER STATISTICS: A transfer from the University of Virginia, Oluwatimi has started all 10 games at center for the Wolverines. He is a part of an offensive line that boasts one of the top rushing offenses in the country.
THE TRUTH: Michigan is all about running the football so it is no surprise that the top two draft prospects are from the offensive line. The former 2-star recruit has great hands and can handle defensive tackles who are trying to bull rush. He reacts well to different stunts and twists defensive lines might try to create pressure. At 6'3″ and 307 pounds, Oluwatimi is another Michigan offensive lineman who has the raw skills to be successful at the next level.
---
NO. 3 PROSPECT
NAME: Luke Schoonmaker (TE)
DRAFTSCOUT PROJECTION: 4th round
CAREER STATISTICS: Schoonmaker has caught a total of 49 passes for 534 yards and 6 touchdowns in his time at Michigan. This year he has been more of a focal point for the passing offense, especially after the injury to Eric All.
THE TRUTH: Schoonmaker is ranked 138 in Draftscout's top 350. His stats don't necessarily jump off the page. In his senior season, he is just over 300 yards receiving through 10 games. What is attractive about him as a prospect is his all-around game. As I discussed above, Michigan likes to run the ball. A key part of any running game is a tight end that can block. The issue is that many blocking tight ends have issues catching the ball. This is not the case for Schoomaker as he is featured prominently in the passing game. Schoonmaker has the potential to be a Day 3 steal for a team.
---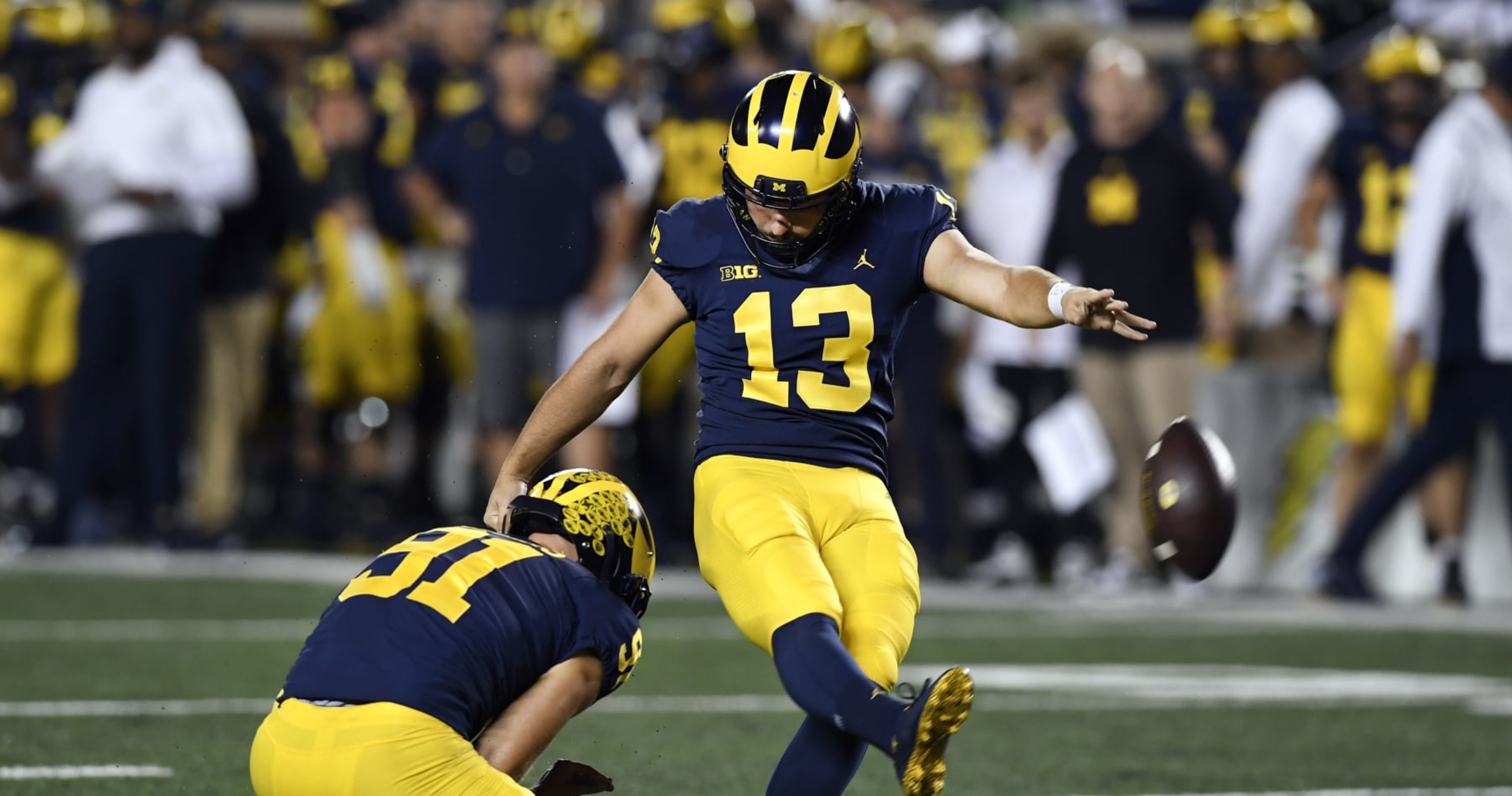 NO. 4 PROSPECT
NAME: Jake Moody (K)
DRAFTSCOUT PROJECTION: 4th-5th round
CAREER STATISTICS: Jake Moody is perfect on extra points during his career. He is 61/75 (81.3%) on field goals in his career. Moody is the reigning Lou Groza award winner and leads NCAA in points this season.
THE TRUTH: The fact that Draftcout is ranking Moody as number 153 in their top 350 should tell you something about Jake Moody. We don't often see kickers taken this early in drafts but Moody is going to be too good of a talent for a team to pass on. For teams who have an older kicker looking to retire or a revolving door of failed kicking projects, Moody could be the answer. He has the leg to kick from a distance and the accuracy that so many teams crave. Make no mistake, Michigan is 10-0 right now because of Jake Moody and his leg and an NFL team is going to love having him on the roster.
---
NO. 5 PROSPECT
NAME: Taylor Upshaw (DE)
DRAFTSCOUT PROJECTION: 5th-6th round
CAREER STATISTICS: Talyor Upshaw has racked up 34 tackles in his career at Michigan. 9 of those have been for a loss and he has also registered 5 sacks as a Wolverine.
THE TRUTH: Upshaw's numbers do not jump off the page but this is in part to how much talent is on the defensive line. Michigan has a history of cranking out great edge prospects (see the 2021 draft) so while Upshaw hasn't dominated games but he works well within the unit. Upshaw specializes in stopping the run and will be a great first and second-down player for an NFL team. He has great pursuit and locates the ball well. He is a tad undersized at only 262 pounds but the skills are there for an NFL team to use a day 3 pick and develop him.
For More Great Football Content
Follow us on Twitter at @GridironHeroics for more great content. We appreciate you taking time to read our articles. To interact more with our community and keep up to date on the latest in Football news, JOIN OUR FREE FACEBOOK GROUP by CLICKING HERE
Checkout our latest podcast!
[powerpress_playlist limit=1]