Listen, I know we've only just concluded Week 3, but it's never too early to start discussing accolades. After a huge blowout 70-20 win over the Denver Broncos, the Miami Dolphins are quite arguably the best in the game. No argument about that.
The Dolphins tacked on 70 points in a single game, that's more points than any team since the Washington Redskins scored 72 in 1966.
The Miami Dolphins are Undefeated
Sure, there are other teams across the league that are undefeated, but they are not playing football like the Dolphins are. The Dolphins are 3-0, and while that's a small record to deal with, it's one of the more impressive ones to discuss.
Now, this could change next week against the Bills, or the Dolphins could stay hot until December or January and start to fall off, who knows? What we do know is that the Dolphins are playing some great football.
Head coach Mike McDaniel knows what he's doing, and his team keeps getting better and better.
Tua is Unstoppable
Even despite injuries and setbacks, the Miami Dolphins have persevered. So far this season, they've been able to attack the defense and be an offensive force, protecting their quarterback.
Tua Tagovailoa is something out of a video game. The way he's been able to command his offense and lead his team to greatness is admirable. Even without Jalen Ramsey, Jaylen Waddle, and Salvon Ahmed, other players have stepped up in their absences and been forces to be wreckoned with.
The quarterback completed his first 17 passes and finished the day 23-of-26 for 309 yards and four touchdowns. When he left the game one play into the fourth quarter, he had just three incompletions.
Tagovailoa and the Dolphins are the first team in NFL history to record five passing touchdowns and five rushing touchdowns in the same game, and the second team in history to record more than 700 yards of offense. Additionally, they are the first team to score 70 points with 700 yards of offense, and the second to record 300 rushing yards and 300 passing yards, according to ESPN Stats research.
¯\_(ツ)_/¯ pic.twitter.com/rw72CVdkn3

— Miami Dolphins (@MiamiDolphins) September 24, 2023
The historic game started off with Tagovailoa finding Tyreek Hill for a 54-yard touchdown on the third play from scrimmage. Miami then went on to score 10 of their first 12 offensive drives. With 33 seconds remaining, the team had a chance to break the single scoring record, but McDaniel called in backup quarterback Mike White to kneel and allow the Broncos to run out the clock and the crowd at Hard Rock Stadium actually boo'd the coach's decision. White did go 2-for-2 on 67 yards and a touchdown, respectively.
Crazy enough, Tagovailoa's numbers that he's put up in the first three weeks of this season are EXACTLY the same ones that he produced last season in his first three games.
Is it too early to start putting Tua's name in the MVP discussion? Only three weeks in and Tua Tagovailoa is putting himself as the MVP front runner in the NFL.
Incredible Offense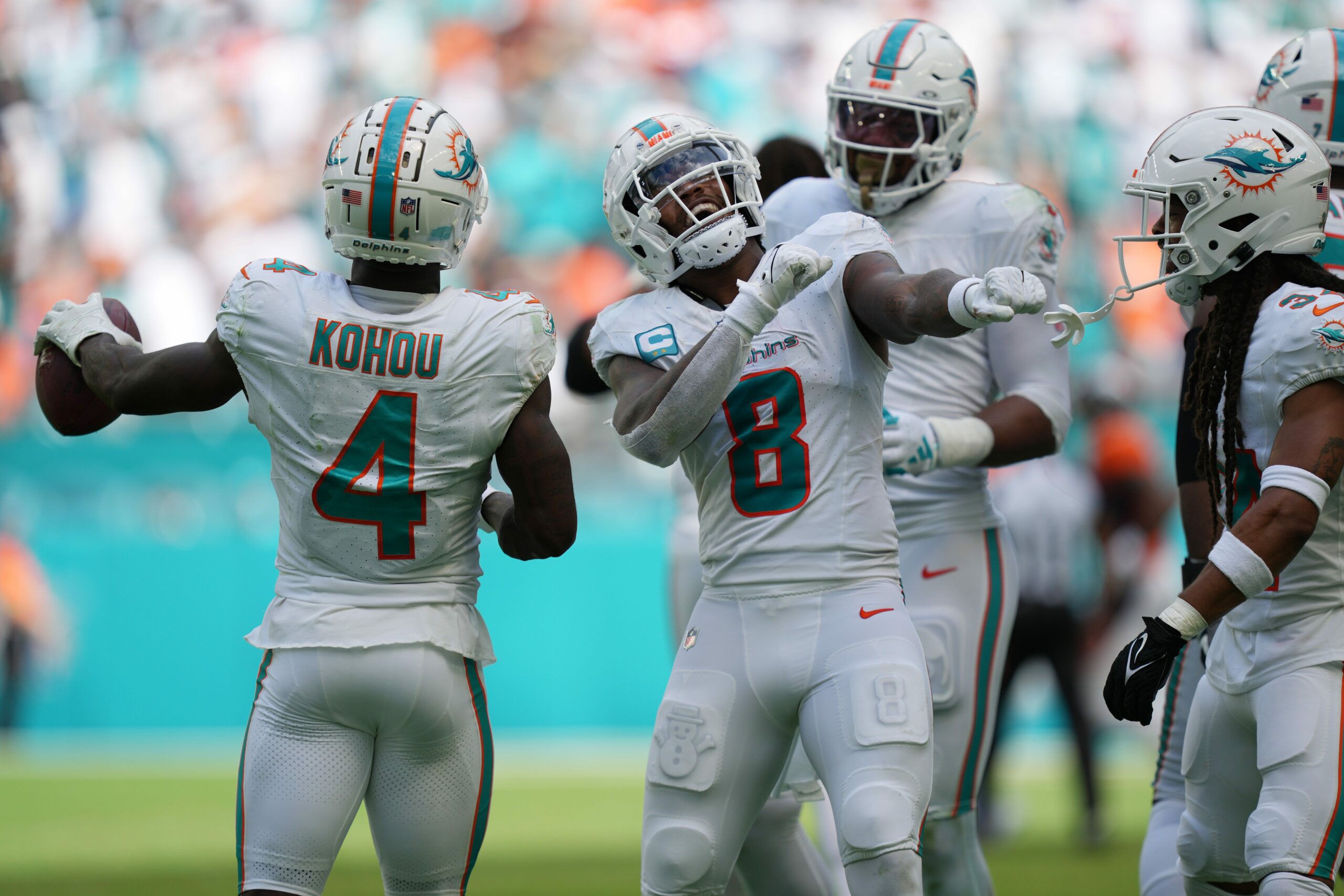 What a day it was for running back Raheem Mostert as he finished the day with 142 total yards and four combined touchdowns, pushing his league-leading total to six rushing touchdowns through three games.
Running back De'Von Achane had four touchdowns and 233 total yards, including 203 yards on 18 carries. Tyreek Hill continued to amaze as he caught nine passes for 157 yards and a touchdown; His second best outing this season compared to his 215 receiving yards against the Chargers.
Total, the Dolphins have put up 1,651 total yards for 130 points, the most in the first three games of a season.
Super Bowl Run?
Like mentioned previously, we're only on Week 3, and there's plenty of football left to play for Miami. However, this could be the first time in nearly 40 years that the Dolphins make a Super Bowl appearance, and how sweet would that be? A 3-0 start is promising, but we also have to look ahead at the Dolphins schedule to see how hopeful a Super Bowl appearance truly looks.
The Dolphins will face off next with the Buffalo Bills, who are 2-1 after winning 37-3 over the Washington Commanders on Sunday. After watching Sunday's games, the Bills win seems underwhelming compared to the day that the Dolphins had, but the Bills defense had a whomping nine sacks and four interceptions on the Commanders. The Dolphins offense however, might pose a legitimate threat against Buffalo's defense as we head into Week 4.
This Week 4 matchup is going to be one to watch across the league. The Bills have been division champions the last three seasons, but just based off how Miami is performing so far, the AFC East could easily be theirs. This game is going to be a huge factor in determining who will ultimately come out on top at the end of the season.
No other team is playing football like the Miami Dolphins are, and if these other teams want to be the best, they have to beat the best and by the looks of it, no one is stopping the Dolphins anytime soon.
For More Football News:
Follow me on Twitter at @sarahspooon. You can also reach out to Sarah via email at sarahspooon@gmail.com. To read more of our articles and keep up to date on the latest in college and NFL news, click here!