If you follow Michigan State recruiting, you know that Mel Tucker has added elite commits to his 2023 class. With 12 commits, MSU is currently ranked No. 22 overall. This ranking includes seven offensive commits.
Four-star OIL Cole Dellinger,
Four-star IOL Clay Wedin,
Four-star RB Kedrick Reescano,
Four-star TE Brennan Parachek,
Three-star ATH Demitrius Bell,
Three-star IOL Johnathan Slack, and
Three-star QB Bo Edmundson.
Let's dig deeper into each commit.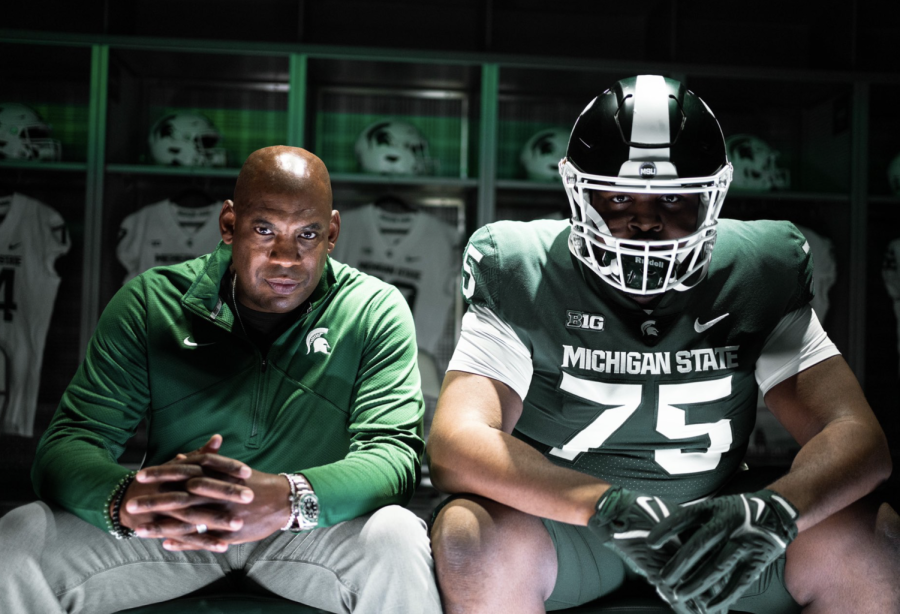 Cole Dellinger
First, let's start with Michigan State's most recent commit, Cole Dellinger, 6-4, 280-pound guard out of Clarkston, Michigan. Dellinger picked MSU over LSU and Purdue, where his brother plays. 247Sports ranks Dellinger as the No. 5 player in Michigan and the No. 16 best interior offensive lineman nationally. Dellinger is a massive pickup for the Spartans; any fan of the program knows the offensive line has been struggling in the past five years. Importantly, he becomes the highest-rated MSU offensive lineman since 2019 (Devontae Dobbs, who transferred after a year). Check out his tape here.
Clay Wedin
Next, another offensive lineman, this time out of Tampa Bay, Florida. Clay Wedin is a massive pickup for Michigan State and offensive line coach Chris Kapilovisc. He is a 6-6, 300-pound four-star offensive lineman who had Auburn, Texas A&M, Miami, Michigan, Ohio State, and Florida heavily recruiting him. He is teammates with fellow 2023 commit Eddie Pleasant III. Wedin is ranked the No. 21 IOL in the nation. Understandably, fans are understandably worried about the future of the offensive line; however there are no excuses for Kapilovisc with Wedin and Dellinger in the mix. Check out his highlights here.
Kedrick Reescano
Reescano is a four-star running back out of New Caney, Texas, who committed to Michigan State in January 2022. He was among the numerous recruits who attended Michigan State's epic comeback victory against Michigan on Halloween. Reescano took an official visit to Michigan State during the weekend of June 10 and then canceled all of his remaining official visits to other schools. Running backs coach Effrem Reed played a huge part in getting Reescano to commit. However, it is an easy sell after the breakout year Kenneth Walker III had. Reescano is the only running back in Michigan State's 2023 recruiting class. That likely will not change as Michigan State is already deep in that position. Check out his highlights here.
Brennan Parachek
Interestingly, the 6-6, 235-pound tight-end committed to Michigan State back in September 2021. He has stuck with Michigan State in a time where we see players decommit on a daily basis. Parachek picked MSU over Pittsburgh, Purdue, Syracuse, and Arizona State. He is a multi-sport athlete who plays basketball and baseball at Dexter High School. However, he will stick to football as he is rated the No. 6 player in Michigan and the 18th best tight end in the nation. Check out his highlights here.
Demitrius Bell
Bell is listed as an athlete, but will play wide receiver at Michigan State. The 6-1, 175-pound Bell is a high 3-star recruit out of Murfreesboro, Tennessee.  He has offers from most of the SEC schools, including recent offers from Tennessee and Alabama after he committed to Michigan State. Thus, Mel Tucker and Wide Receiver Coach Courtney Hawkins will need to continue recruiting Bell to make sure he does not flip to his home school or powerhouse Alabama.  Bell is the thirteenth best recruit in Tennessee and will likely raise in rankings with a strong senior year.  Check out his highlights here.
Johnathan Slack
Slack is another top in-state recruit. Listed at 6-foot-3 and 280 pounds, 247Sports  lists him as the No. 9 recruit in Michigan and the No. 24 interior offensive lineman. His other offers include Oregon, Miami, Cincinnati and Tennessee. Clearly, this is another big addition for Coach Kap and the juice squad.  Slack is one of my favorite Michigan State commits. Check out his tape here.
Bo Edmundson
Last but not least, the quarterback of the group. The 6-foot-3, 200 pound prospect picked Michigan State over Penn State, Oklahoma State, Pittsburgh and Kentucky and many others. He is known for his football IQ and plays at one of the talent-rich schools in Austin, Texas. Michigan State is setting its self up nicely for the future at this position. One to two more years of returning starter Payton Thorne, then a couple of years of elite talent Katin Hauser, and by that time Edmundson will be ready to make an impact. Check out his tape here.
Michigan State's 2023 Commits are Looking Good So Far
Finally, it appears that Michigan State recruiting is heading in the right direction with the current commits. MSU has elite talent coming to East Lansing in the coming years, including on the defensive side of the ball. Mel Tucker is in good shape to land a top 20 2023 class.
For More Great Michigan State and Big Ten Content
Follow me on Twitter @Arabo_Gridiron us on Twitter at @GridironHeroics and Gridiron Heroics website for more great content. We appreciate you taking time to read our articles. To interact more with our community and keep up to date on the latest in Football news, JOIN OUR FREE FACEBOOK GROUP by CLICKING HERE
For More Great Football Content
Follow us on Twitter at @GridironHeroics for more great content. We appreciate you taking time to read our articles. To interact more with our community and keep up to date on the latest in Football news, JOIN OUR FREE FACEBOOK GROUP by CLICKING HERE
Checkout our latest podcast!
[powerpress_playlist limit=1]