Even in his short NFL career, Marcus Mariota is a seasoned veteran. The 28-year-old quarterback is on his third team and playing for his sixth head coach. Through a career of ups-and-downs, the former second overall pick has been guided by numerous coaching regimes, which makes it notable when Mariota comments on the greatness of his current coaching staff. He's only been on the team for about four months, but he's already sharing positive comments on the coaching methods of his new mentors.
Marcus Mariota: "I think they challenge us."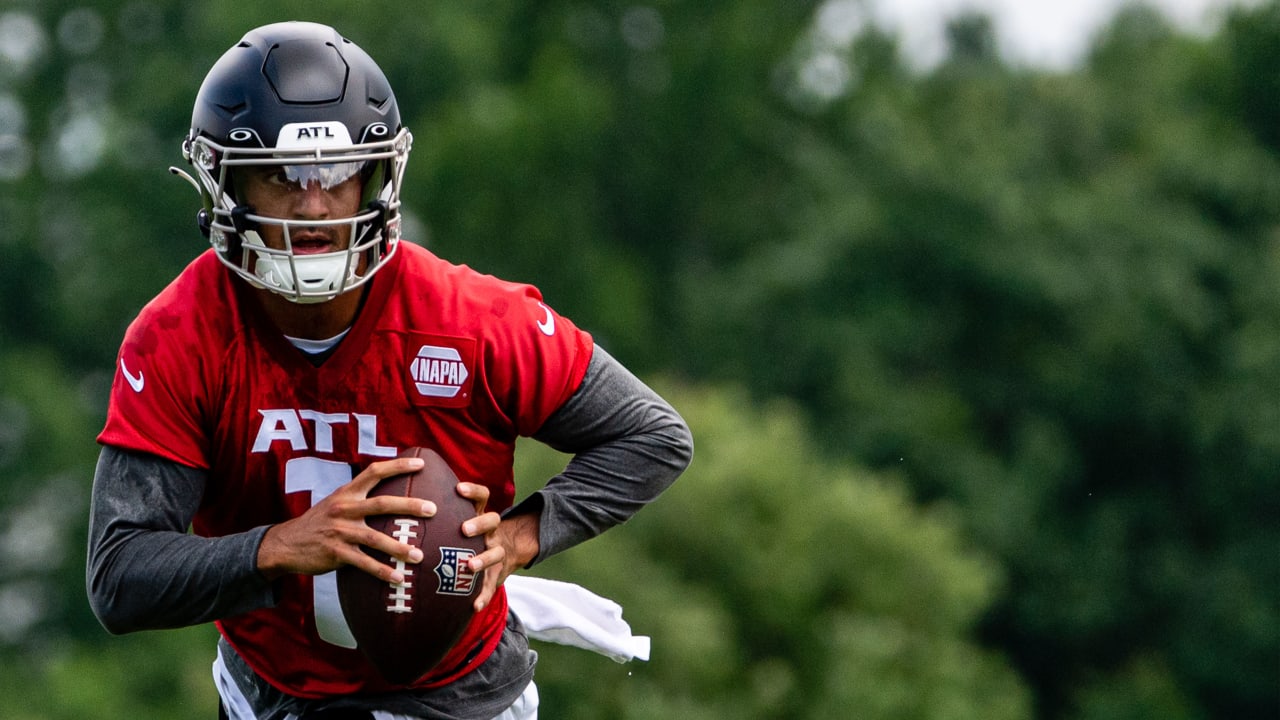 That was in response to the Falcons' coaching's impact on Mariota. But it's not only Arthur Smith who earned his praise. Offensive coordinator Dave Ragone and quarterback coach Charles London also received high regard from the veteran quarterback. Challenging Mariota may unlock the best in him, considering he's already challenged in a quarterback duel with rookie Desmond Ridder.
Mariota is a special quarterback. His ability to run and pass opens up the playbook. With the number of plays being called with his skill set in mind, it'll be important for Mariota to understand why the coaches choose those specific plays. Something he says Arthur Smith does exceptionally well of explaining:
"They want us to understand why we run certain concepts, what coverages we're running against. For us, it's mentally stimulating because it's challenging to look at it from different perspective."
Mariota can run, pass, and even catch. If he can grow his football IQ, perhaps a rebound season is in order.
Arthur Smith sees coaching as "teaching."
Arthur Smith is a mentor.
Smith started coaching in 2006 at the college level. After a short NFL stint with Washington, he returned to college for a year, then landed with the Tennessee Titans in 2011. He worked his way up through the ranks with the Titans.
In 2014, Smith was the assistant tight-end coach for Tennessee. He had helped mentor Delaine Walker into one of the best at his position in the NFL. A bright spot in a year that was frustrating for Titans fans. The team finished 2-14 and had the number two pick in the upcoming draft.
They selected Marcus Mariota.
Thus began a series of challenging years for the Titans, resulting in numerous coaching firings and instability within the front office. One person stayed constant in Mariota's career, though, Arthur Smith. In 2019, he was promoted to offensive coordinator, and although they never worked directly together, head coach Mike Vrabel said they had "close rapport."
It's through developing close relationships that Smith can coach players to success. Smith wants to ensure that his relationship is always on par, so he and his quarterbacks can remain in constant sync:
"Our job as a coach, you're really a teacher. Ultimately, they're the ones that are out there on the field so we are trying to educate them and understand so we're in sync."
Mariota has had a challenging NFL career. Perhaps this new stability with a familiar coach can bring out the best quarterback play. In an upcoming season full of unknowns, one thing is for sure. Arthur Smith, and the rest of the Falcons' faithful, will be rooting for Marcus every snap of the season.
For More Great Football Content
Follow us on Twitter at @GridironHeroics for more great content. We appreciate you taking time to read our articles. To interact more with our community and keep up to date on the latest in Football news, JOIN OUR FREE FACEBOOK GROUP by CLICKING HERE
Checkout our latest podcast!
[powerpress_playlist limit=1]