The Los Angeles Times put out an article saying that the NFL should give Colin Kaepernick another shot at playing in the league. Kaepernick has tried to make his way back into the league this offseason, and it all started with a letter to the New York Jets asking to join their practice squad after quarterback Aaron Rodgers was ruled out for the season. He was ultimately denied, and every team in the league has said that they are not interested in bringing him in.
@LZGranderson sums up so well the mysteriousness of @Kaepernick7 not being offered a chance.

Pete's not a football fan for many reasons, but the ludicrousness of Kap not being offered a chance is glaring hypocrisy and just plain ignorant by NFL owners.https://t.co/kfuAumVyPK

— chillsatwillpodcast (@chillsatwillpo1) November 2, 2023
Los Angeles Times
The writer LZ Granderson suggests that Kaepernick is not getting a fair shot because of the time he kneeled during the National Anthem in a preseason game when he was with the San Francisco 49ers. Granderson also brought up that everything the former quarterback stands for is now promoted by the league, and that they should give him another chance at playing.
Kaepernick has said that he is a "risk-free contingency plan" for any team that is looking to add a quarterback, which was his goal when he wrote his letter to the Jets asking to join their practice squad. He has been a part of many rumors regarding a potential NFL comeback, but they have been shot down very quickly every time they pop up.
Colin Kaepernick Rumors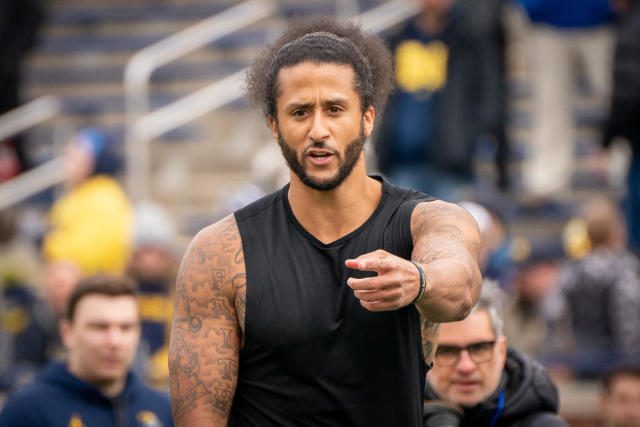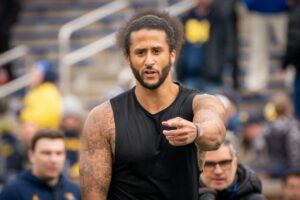 Kaepernick had another comeback attempt during this past offseason when he had a workout with the Las Vegas Raiders. He was ultimately not given a job by the team, but there have been rumors from about a month ago after he was seen having dinner with the Raiders President Sandra Douglass Morgan.
Colin Kaepernick & Raiders President Sandra Douglass Morgan together in Summerlin for the Vegas Tech Summit pic.twitter.com/NTQvBoStTp

— Raiders Report Mitchell Renz (@MitchellRenz365) October 5, 2023
At the end of the day, it is very unlikely that Kaepernick will play in the league this season, and possibly ever again. These are all just rumors, but they are very intriguing, to say the least. We will see if the NFL does give the former quarterback another shot in the near future.
For Additional Content
Please go and follow me on Twitter @TaylorHartmaNFL for more NFL news and updates. If you have any further personal questions or comments for Taylor, connect with him on Linkedin. For more articles on the NFL, go to this site here! Also, go check out our podcast @FSHeroics!