Every Now and then a player comes into a franchise and revolutionizes the franchise. They lead them to great success and pile up personal accolades. Selling jerseys and bringing smiles to fans' faces are just a few of the possible perks.  If they're lucky enough they can take their child on a trip to Disney land.  Right before that they'd be dancing in confetti with their teammates after a Super Bowl title. 
The Birth Of A Monster
AARON DONALD. , over the last four seasons, he has totaled 60 sacks l, in all 8 of his seasons in the league he has made the pro bowl. He won defensive rookie of the year, and dpoy 3 times. He is a 7time all-pro at his position and his name has a nice …. Ring to it heading into next year as he won his first Super Bowl this past season.
  We'll give the Jared Goff mention now I guess?
Jared Goff?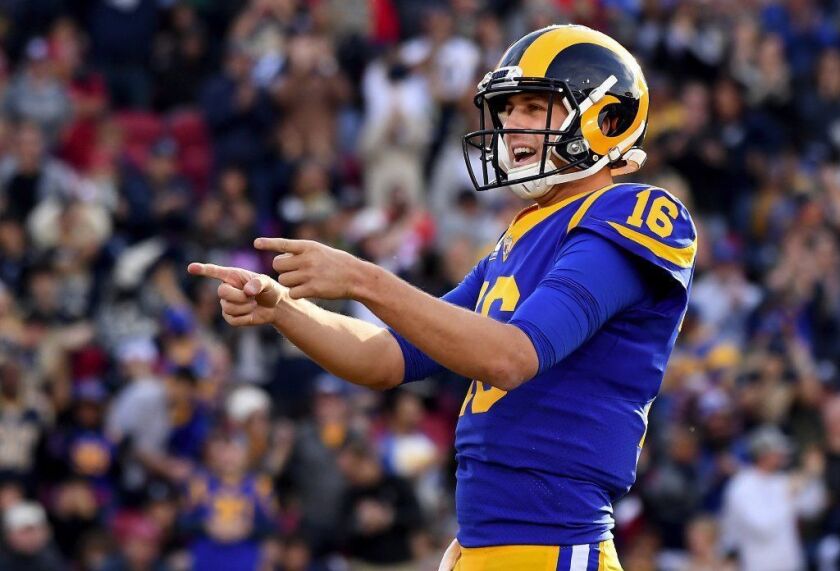 Drafted by the Rams in 2016 Jared Goff was well vanilla. He was quickly viewed as a quarterback who wasn't necessarily awful by definition but never showed he could elevate his team to a higher level. In his years on the rams and including this past season on the Lions  Goff has made the pro bowl just twice. Even in the ram's Super Bowl appearance year, he was only able to mesh a qbr of 63 on the season. And in the Super Bowl, he only was able to through for a TD, a pick, and was sacked 4 times.
Surrendering to what would be another Tom  Brady celebration. Keep in mind this is a year when the rams shouldn't have even been in the SUPERBOWL had the refs not screwed the Saints  8 ways from Sunday (no pun intended) in the NFC title game that year it would probably be a different chapter in the Super Bowl
4 fairly solid years with the Rams, but nothing that jumps out to you astronomically as an assassin let's keep this in mind and hold on to this thought
The Trade: 
On March 18, 2021, the Rams sent Jared Goff and 5 picks to the Lions in exchange for bad boy Matthew Stafford …. And then everything changed. Back to Cooper Kupp How did Stafford impact the team
    A GIANT KUPP OF TEA/ Stafford effect
  Under Matthew Stafford's football, Cooper Kupp just completed one of the greatest seasons in wr history most likely a top 10 ever depending on who you ask. (Takes a deep breath) Kupp finished the season with earth-shattering 145 receptions, 1,947 yds, and 16 TDS. Securing the triple crown as a receiver to lead the league in all 3 categories, guys like Van  Jefferson, Robert Woods who was shipped off to the Titans this offseason, and Tyler Higbee all elevated their game.
Von  Miller is not the Super Bowl MVP menace he once was.  However, he had a few plays this past season that made a serious impact.  This off-season he went from 75 and sunny to a Buffalo winter wonderland.  He will look to have an impact on a team electrified to be a Super Bowl favorite this year. Of course, Jalen Ramsey who has undoubtedly cemented himself as the best corner in the league, long Before Stafford arrived
The 2021 Playoffs:
The Wildcard round was a statement win.  The cardinals who struggled late but dominated the season, were obliterated 34-11 and sent packing. Of course no DeAndre for ARIZONA but you could have had  Jesus Christ as a wideout, the Cardinals had no chance.
Divisional Round: 
   A trip to Tampa to take on all-time great Tom Brady who controls the playoffs better than the cameramen. The second half started 27-3 Rams.  Tom Brady had a bloody mouth, was frustrated, and the GOAT almost made his signature comeback.  Instead, Brady went back home and the Rams were one game away from the dance.  
 

Conference championship
BELIVE it or not the 49ers stemmed like the underdog kids in the defense. The 49ers controlled most of this game. Heroism from Matthew Stafford and Cooper Kupp (both stellar games ) edged out the 49ers.  In one game Stafford went from putrid Detroit to a trip to the dance.
Super Bowl
Similar to the 9ers the Bengals had a hero-like story heading in and young Joey B was Super Bowl bound.  The Bengals held a 20-16 lead heading into the final 15 of the season. With just a minute left in the game, Cooper Kupp caught the biggest catch of his career.  This gave the Rams a 23-20 lead they'd hold and the glory of all held within. The Rams were Super Bowl champions, rings, Disney trips, maybe even more kids.  Not to mention new merchandise, and a fan base the happiest it's been since 2000. That's how it's done right.
     And now !!
    If you don't win the very last game of the entire NFL season you haven't competed for the goal every player and team strives for. Matthew Stafford's new scenery resulted in a title.  It's been 20 years since a team has repeated in the NFL. The Rams certainly are capable and have the team to do it. Can they? I guess we'll just have to wait and see!
For More Great Football Content
Follow us on Twitter at @GridironHeroics for more great content. We appreciate you taking time to read our articles. To interact more with our community and keep up to date on the latest in Football news, JOIN OUR FREE FACEBOOK GROUP by CLICKING HERE
Checkout our latest podcast!
[powerpress_playlist limit=1]