The Los Angeles Chargers' social media team is at it again with their unique approach, making them one of the most appreciated in the NFL. From funny schedule release videos to quirky Twitter (also known as X) replies, the Chargers have always garnished high praise from league fans and personalities. However, their most recent viral tweet, a more than two-hour highlight tape of wideout Keenan Allen, has adorned over one million views on Elon Musk's social website. 
f**k it, all 10,000 receiving yards in keenan's career pic.twitter.com/n3mROtvqSZ

— Los Angeles Chargers (@chargers) November 16, 2023
"f**t it, all 10,000 receiving yards in Keenan's career," captioned the Chargers social team. Allen and Las Vegas Raiders wideout Davante Smith became the 53rd and 54th players to eclipse 10,000 receiving yards in NFL history. 
Los Angeles Chargers WR Keenan Allen: Eclipses 10,000 Receiving Yards in Week 9
Los Angeles Chargers wide receiver Keenan Allen will retire as one of the best players in Los Angeles Chargers lore. However, Allen has further supplanted himself in Chargers history with another massive season in 2023. Earlier this year, Allen passed Hall of Famer Lance Alworth for second place in Chargers career receiving yards. And then, in Week 9, the California Golden Bears product became just the second Chargers pass catcher to surpass 10,000 receiving yards, joining future Hall of Famer Antonio Gates as the only other member.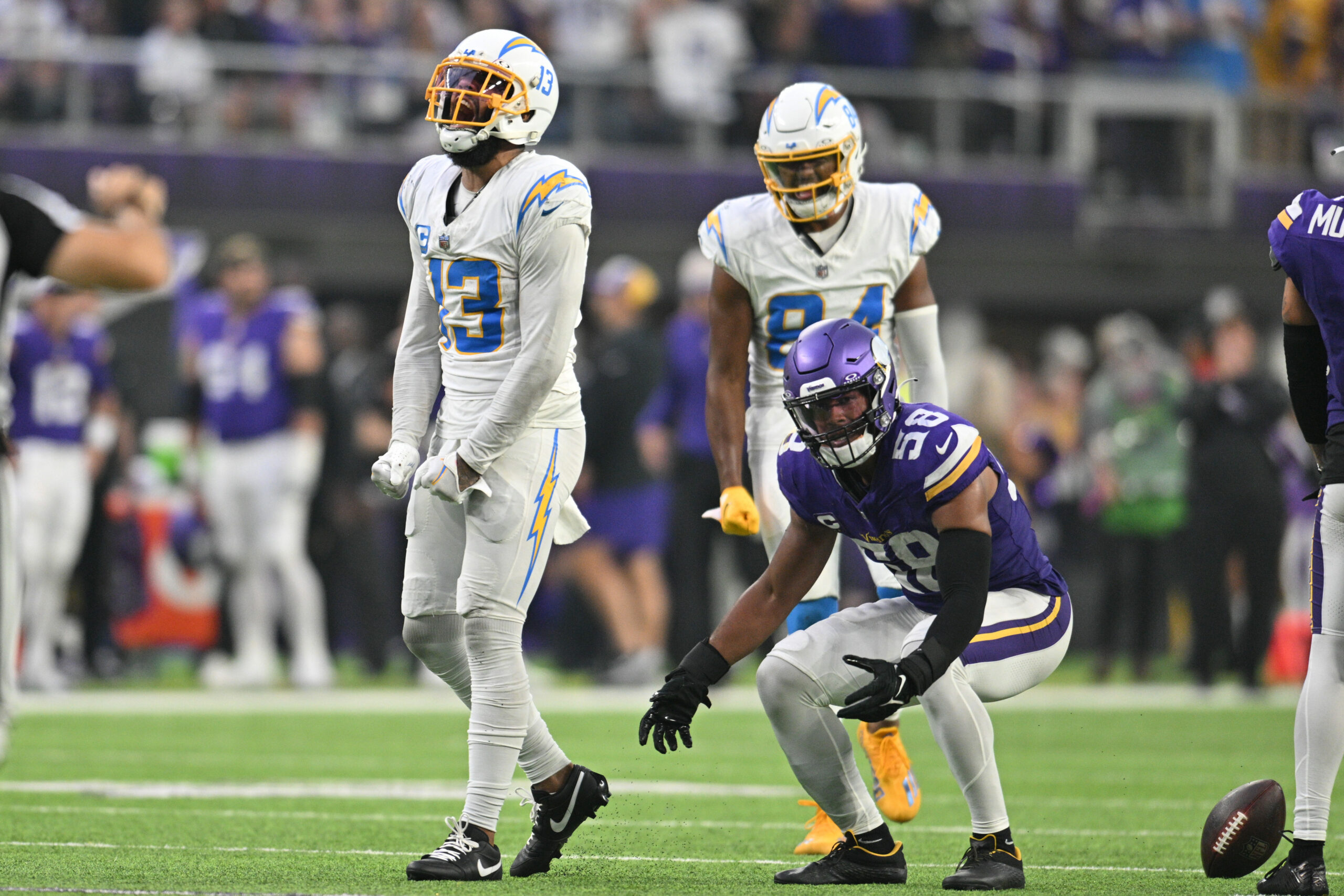 Allen: Go-to Option for Rivers, Herbert
Allen, a third-round pick in the 2013 NFL draft, posted 1,046 receiving yards and eight scores as a rookie, placing second in the AP's Offensive Rookie of the Year. However, injuries took a toll on Allen during the next three seasons, with the wideout playing just 23-of-48 games during that span. The six-foot-two pass catcher finally played an entire season in 2017, taking off for 102 receptions, 1,393 yards, and six touchdowns while winning Comeback Player of the Year and earning his first Pro Bowl nod. Allen continued to operate as quarterback Phillip Rivers' top option for the next two seasons, tallying 201 receptions and 2,395 yards from 2018-2019. 
The Chargers moved on from Rivers after the 2019 season while drafting Oregon Ducks star Justin Herbert with the sixth pick in the 2020 NFL draft. Herbert won the Offensive Rookie of the Year that season, with Allen recording 992 receiving yards and tying his career-high with eight touchdowns. Like Rivers, the first-round gunslinger continues to pepper Allen with targets, including a ludicrous 157 in 2021. Allen converted the heavy target share into 106 receptions, 1,136 yards, and six scores. The 30-year-old played just ten games last season while earning just 752 receiving yards, but is already nearly another 1,000-yard receiving season in 2023. 
For More Football News:
Follow me on Twitter at @alec_musa. You can also reach out to me via email at musaalec@gmail.com. To read more of our articles and keep up to date on the latest college and NFL news, click here!