Let's be honest, this hasn't been the year all of us Irish Faithful have been hoping for. However, the past few weeks have shown us that we aren't the absolute dumpster fire the nation thought we were after the first two weeks. The Notre Dame Fighting Irish are indeed, well, fighting after all. The title hopes have probably left South Bend, but that doesn't mean an entire season should be abandoned. The recent murmurs have been that Notre Dame has the number 1 strength of remaining schedule in NCAAF. What does that tell Notre Dame fans? This will be a chance to redeem ourselves. Again, not for a shot at the playoffs – but for recruits, transfers, and the entire nation to show why we still deserve a spot in the conversation. Alright, Mr. Freeman – it's time to bring your culture to life.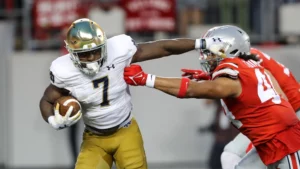 One of the biggest keys to our recent success has been the ground game. Audric Estimae has been an absolute beast, and Chris Tyree (and the occasional Logan Diggs) have been effective complements. It's no surprise that the ground game has led to two straight wins, as it sets the tone for the game. It doesn't take a football guru to realize that it also opens up the passing game. And sure enough, it has, even for a second-string QB like Pyne. If we can get a solid 4-5 yards per carry, there's no doubt in my mind we can walk away victorious. Notre Dame definitely has the talent to do so in the backfield, it's more so an Offensive Line problem. They've been shaky all year. Thus, ultimately, it really comes down to Tommy Rees and his strategic play-calling against the Defense. Not so simple, after all. But doable, that's for sure… Even if the run isn't generating an overwhelming amount of Offense, at least it'll keep our play-calling true. Because if we need to rely on Drew Pyne to throw Notre Dame to victory – ugh, doesn't look good. 
Then Utilize the Notre Dame Pass
As noted above, if we can run the ball, there shouldn't be any glaring issues in the passing game either. Nor would it matter as much, either. Sure, Drew Pyne is no Bryce Young or CJ Stroud – but he is serviceable. Hell, even before Buchner went down, many were calling for him to be number one in the first place! Ok, let's stop there. What we've seen from Pyne is just about all you can expect from a backup. And hey, he's winning games. From my perspective as a fan, I think even a little more trust can be put in 10's hands. Drew Pyne probably won't toss 300+ with 4+ TDs, but he can lead us to victory – he's done it. All I'm asking for are some short to mid-level routes, play execution, and limiting the turnovers. It's what the Irish have done so far, and it's worked. There's the old adage of certain QBs being a "game manager" – that's what Drew Pyne is. It's more-so about how he manages the game. If he's out there fumbling and throwing picks, making bad decisions – you can guess what'll happen. But, if he can execute, and do what is expected of him (along with an effective run game) – the Irish will be fine.
Stop Jaren Hall (At Least One Dimension)
Here comes the elephant in the room. Uh-oh. Notre Dame is facing a top-tier QB. That's never a good sign. But, ironically, from what we saw in Week 1 in arguably the nation's best – we can actually hold the elite from game-changing performances. And that's exactly what we'll need here. The key phrase is "at least one dimension" – as Hall can do it with his arm and legs. My vote is to stop him on the ground. If he runs all over us, not only will it tire out the Defense and crush morale – but it'll cause us to over-prepare for the run, and open up the passing attack. Stop one or the other. Either go all out in coverage and force him to run, or place a couple of spies and hope our CB's can win the one-on-ones. There's no way around it, the dude is pretty dangerous. And I'm not going to pretend that I'm Bill Bellichick. But, let's remember, Marcus Freeman is a defensive guy. Although our Defense has been nowhere near where we'd like it to be, it also hasn't been atrocious. The D-line needs a lot of push-back, and the CBs need to be sticky. If the Irish can, at least, limit Jaren Hall – they'll at least have a fighting chance.
Feed the Beast
I don't care how the Irish do it, but the ball needs to get into Michael Mayer's hands. Sure, I'm not voting for Tight End reverses – but I would hanker on short routes, mid routes, and whatever it takes to target this man. We all know it – he's a stud. I'm not going to pretend it's a secret. Hell, the whole nation knows it. So I'll acknowledge that there probably are a lot of double teams, or placing their best defender on 87. But, on the other end of the token, what do good Offenses do? They find a way. There's also a proven formula I've seen throughout the season. Get Michael Mayer the ball, and the Irish win. It's not that simple, but it sure does help out. Utilize his frame. Create some matchups using motion. Despite his lack of speed and elusiveness, Mayer has a surprising YAC ability. But furthermore, when he's able to get the ball, the Defense keys in on him even more, which opens up the Offense for Styles, Tyree, and even Davis & Salerno to cook. Focus on Mayer, and so will the Defense.
Play With Heart… And Notre Dame Pride
Most importantly, what the Fighting Irish have shown the past few games, is heart. And it's no wonder it's amounted into wins. And I'm not just talking cliches, either – I'm talking about action. What I mean is gang tackling. I'm talking about getting the extra yard, even when you're wrapped up. It's things like that that show how badly you really want to win. Credit should be due to the less hot-seated Marcus Freeman there. He's building a culture, a culture that didn't quite translate immediately, but things are starting to change. This sense of heart, and/or pride, is starting to show. Sure, Tommy Rees got a lot of flack for his candid-camera screaming. Honestly, I loved it. Guys need to be fired up – at least with the way that they were playing. It showed Notre Dame still cares. I've written it a million times now – that it's obvious that we're not going to win a title this year, but there's still so much we're playing for. Recruits. Transfers. Reputation. Pride.
Let's not forget the weight that comes with playing for the Notre Dame Fighting Irish. It's a tradition of excellence. That doesn't always mean a number-one ranking and National Championship. Sometimes that just means winning this game. Winning this drive. Winning this play. There's a reason why the gang taps the banner, to remind them to "Play Like a Champion Today" – and if they don't… The transfer portal is that way. Marcus Freeman seems to be brewing up a culture that embraces this motto, and we fans are starting to get a glimpse of it. And it feels good…
Conclusion
Chances are, the Fighting Irish might fall to 2-3 with a loss. In fact, the chances are actually pretty high. But that's one thing about us Irish fans – we always have hope. And, it's for good reason, too – that's the same pride & tradition we hope for the players to play with. Much like the matchup against Ohio State in Week 1, ultra-rational fans were simply hoping for a non-blowout, to keep it close. But now, as Notre Dame proceeds forward on this upward trend, the stakes are a bit higher now. Can the Irish really contend? Is Marcus Freeman really up to something? Will Tommy Rees continue to adjust? There's a lot of questions that can be answered on Saturday. 
Hopefully, they'll us Irish fans will see the answers we're all hoping for. Win or lose, play like a champion. That's the Irish way.
For More Great Football Content
Follow us on Twitter at @GridironHeroics for more great content. We appreciate you taking time to read our articles. To interact more with our community and keep up to date on the latest in Football news, JOIN OUR FREE FACEBOOK GROUP by CLICKING HERE
Checkout our latest podcast!
[powerpress_playlist limit=1]