In honor of Native American Heritage Month, Los Angeles Charger Keenan Allen, will be honored.
Keenan Allen's Native American Heritage
Keenan Allen is a citizen of the Lumbee tribe of North Carolina.
Allen remembers his grandfather of Lumbee descent, Billy Ransom, very fondly. Keenan would watch hours of NASCAR and football with him. Billy Ransom loved watching his grandson play on the gridiron on TV.  Allen dedicated the game on November 19th, 2017 to his grandfather one day after Ransom passed away.
Keenan Allen knew Billy was proud of him that day, playing his heart out against the Buffalo Bills. He nearly beat his career best with 12 passes for 159 yards and 2 touchdowns. When asked, Allen said he remembers his grandfather's charisma and ever-present good mood the most.
Keenan is is grateful for being of Native American descent, and the rich heritage and contributions that come along with that honor. He has tattooed the word Lumbee on his left arm. Beware – if you google Allen's tats, Justin Herbert's spindly little arms come up often for some reason.
Allen enjoys being a role model to young Native American youth, and is committed to leading by example. And role model, he is. John Lowery, chairman of the Lumbee tribe, praises Keenan saying the Lumbee people are talented, and that they are proud of Allen and his career. Lowery appreciates that Keenan Allen is providing inspiration to Lumbee children to follow their dreams. Many young people have expressed their desire to follow in his footsteps.
Keenan Allen's early life
Keenan Alexander Allen was born in 1992 to Dorie Maynard-Lang and Keith Allen in Greensboro, North Carolina where he grew up and attended school.
Keenan grew up with a large, loving extended family. He was so connected to family he switched from his initial commitment from the University of Alabama to Berkeley so he could play with his brother, Zach Maynard. Allen's cousin, Maurice Harris, was also a Golden Bear.
Maurice Harris would end up going into the NFL with Allen too!
Keenan Allen goes to the NFL
Allen has been a Charger his entire 10-year NFL career. This speaks to both his longevity and the respect his team has for him.
Unfortunately, Keenan has been plagued with injury throughout his career. He missed the NFL combine due to a torn PCL. He was labeled as one of the best wide receivers leading up to the 2013 NFL draft, but due to that injury dropped to 76th overall. The GM of the Chargers had his eye on Allen since 2011, and chose him despite having depth at the wide receiver position.
Allen had a season-ending kidney injury in November of 2015, and came back in 2016 for the first half of the first game where he tore his ACL and was out all season. Allen would win the Comeback Player of the Year award in 2017. He was 4th in the league for possessions, with 102. He also had 1,393 receiving yards making him 3rd in the league that year.
Keenan has been nominated for the Pro Bowl five years in a row, most recently in 2021. A lagging hamstring injury has kept him off the field for all but two games in the 2022 season, although he may play in week 11. Let's hope he can get back on the gridiron soon, his teammates need him.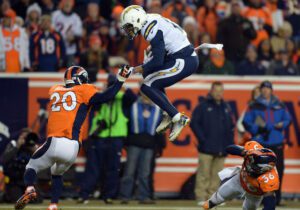 Keenan Allen off the field
Allen doesn't create too many news stories on his off time – except for when he calls people out on twitter.
He married his wife, Ciandra Martin, in June of 2022. The couple had been engaged for five years prior. And they said you wouldn't get a ring if he didn't marry you in the first year or two –  guess they're wrong ladies! Their daughters Kamari and Kaliyah were flower girls, and their son Kado was the ring bearer.
Keenan Allen is winning on and off the field and we love to see it. A true inspiration for Native American youth!
Other Native American Heritage Month articles can be found here and here.