The Kansas City Chiefs had a tougher-than-expected game against the Houston Texans. The Kansas City Chiefs came out and looked a little flat on offense and defense. The game was close throughout and they were able to grind out a win against a frisky Houston team who played the Cowboys down to the wire. That Houston team has played hard all year and is trying to go into the off-season with some momentum.
Offensive efficiency:
This team's offensive efficiency has got to start at the feet of Patrick Mahomes he was historically great on Sunday. He had a historically high completion percentage, With his post-game remarks, he talked about how he took more underneath passes and wasn't forcing things. He ran when he needed to and his throws were all on target.
Juju keeps showing week after week why he is so valuable to this team he caught all ten of his targets and you can see his chemistry with Mahomes growing. There is one thing that makes me nervous is how many hits he takes. He just takes a few hits every game that makes you wince. However, he keeps getting up and is so tough and strong and such a valuable part of this team.
Jerick McKinnon has been electric these past two weeks he has four touchdowns in those two weeks and we have seen how versatile of a player he is in the run game and the passing game and how good he passes protecting. But he is a massive asset as we move closer to the postseason and he would be RB1 going into the playoffs.
Chiefs Defense: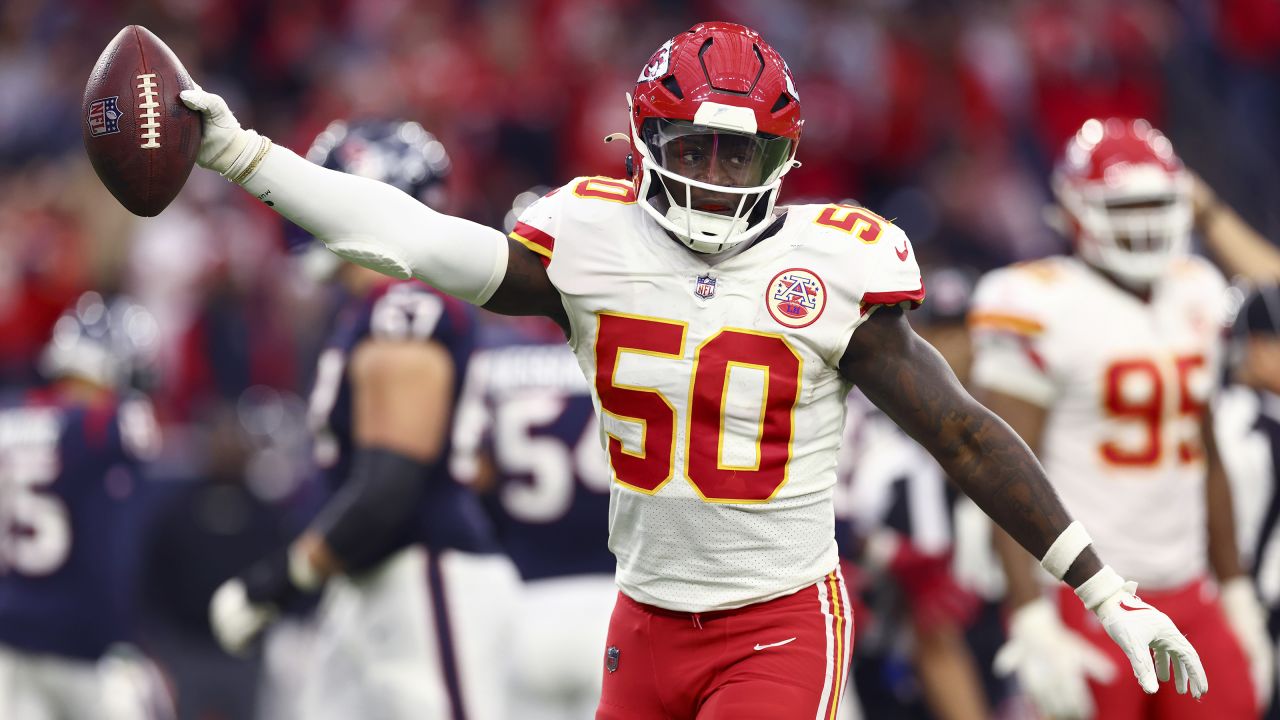 The Kansas City Chiefs' defense by the numbers had a pretty solid game all around nothing overwhelming on the ground or in the air. But there were some moments where the defense just looked like a few mental lapses. But they came up big in really important moments which is a great quality to have in defense.
With the Kansas City Chiefs' young corners, we have seen Williams and Watson in a bit of a rotation depending on the matchup and the situation. There have been two constants Trent McDuffie and L'Jarius Sneed they have anchored themselves into the two starting roles and we see all the talent Sneed and McDuffie have and they could be a lockdown duo going into the future.
The Kansas City Chiefs defensive line had a bit of a down game. this unit seemingly goes the way Chris Jones goes. He was battling an illness this game and you saw the result of this with Jones having a down game. Jones didn't even have a tackle against Houston but we saw Dunlap have a few batted passes he played great and he could be critical down the stretch.
Questionable Calls:
I think complaining about calls and officiating is a losing battle. But lord almighty this was a terribly officiated game. Mahomes has been punched in the face no flag Pacheco had his helmet ripped off no flag. There were also some very questionable flags thrown against the Kansas City Chiefs.
McKinnon was flagged for a blindside block just a small problem. McKinnon was standing in front of the guy he was blocking and they were looking at each other during the block I don't understand it. There was an illegal contact penalty on Thornhill when a Texans receiver ran straight into him and knocked him over and the Kansas City Chiefs safety got the flag thrown on him.
The Head ref also picked up about five flags during the last few drives and there were a few times he would stare at the jumbotron to make double-check to see if his crew made the right call. Cheffers and his crew should not ref another game for the Kansas City Chiefs. The Chiefs have over 20% of their flags this season on the two games he has called.
Personnel Decisions:
The Kansas City Chiefs got out of the game with a win and no major injuries. Kadarius Toney came back from a hamstring injury and he only had one target and he had two punt returns. but I think he will get more involved as the weeks go by and they just want to ease him back in from a hamstring. The Kansas City Chiefs want to play it safe with his soft tissue injury especially knowing how dynamic he can be.
Noah Grey continues to show up and make plays whenever he is asked to do so. With how much attention Kelce is getting you to see the growth of Grey and see him make plays and continue to develop as a playmaker and a valued asset on this team.
Skyy Moore's usage has me a little perplexed over the past few weeks we saw him show up and do really well against the division rival Chargers but he keeps his head down and works. we see him used in little ways. But I wonder if they are holding him back from an explosion in the playoffs and are keeping him as a secret weapon. We have heard Mahomes and Kelce talk about how talented he is and how hard he works.
Moving Forward:
The Kansas City Chiefs have a tough game ahead with a really strong Seahawks team coming to town. The Chiefs need to focus on details again this week and play a fully complete game. But this game will be a great challenge for the Kansas City Chiefs' young defense especially the young corners with DK Metcalf coming to town but this group has the ability and this game will be a good measuring stick for the defense and the offense is going up against one of the best young corners in Tariq Woolen. This will be another great challenge for the offense.
For More Great Football Content
Follow us on Twitter at @GridironHeroics for more great content. We appreciate you taking time to read our articles. To interact more with our community and keep up to date on the latest in Football news, JOIN OUR FREE FACEBOOK GROUP by CLICKING HERE
Checkout our latest podcast!
[powerpress_playlist limit=1]