The Kansas City Chiefs closed out the regular season with a truly dominating win against the division-rival Las Vegas Raiders. The Chiefs needed to close out the season with a complete and balanced game to have momentum going into the postseason. They had a few inconsistent games before this week. This week was by no means perfect but the Kansas City Chiefs looked good from start to finish.
Offensive Playmaking:
The Kansas City Chiefs offense came out firing in this game. They were very efficient with running and passing which is important balance that is needed for them to make a playoff run. Mahomes played. great game of mistake-free football he had an amazing throw downfield to Watson. One downside was Mahomes and MVS are still having trouble connecting on downfield passes. He was safe with the ball and he looked more willing to take the check down and be patient and not force any throws and he looked to be in complete control.
The Kansas City Chiefs had an almost perfect split between rushes and passes if you take away the kneel-downs at the end of the game. This is the balance we will see more of in the playoffs if other teams drop eight into coverage. The Kansas City Chiefs need to be able and willing to run the ball when the opportunity presents itself. Having a consistent run game will be a huge asset in the playoffs as the ability to take some pressure off of the passing game.
The Kansas City Chiefs have one of the more underrated running back tandems in the NFL Pacheco and McKinnon. Pacheco is running hard all game and no matter how hard he gets the pops right back up and runs back to the huddle he is just so fun to watch. McKinnon is an amazing pass-catching back and is always on the same page with Mahomes. One of his most underrated aspects is his pass blocking he is an amazing protector for Mahomes when he is asked to stay in and block.
Defensive Playmaking: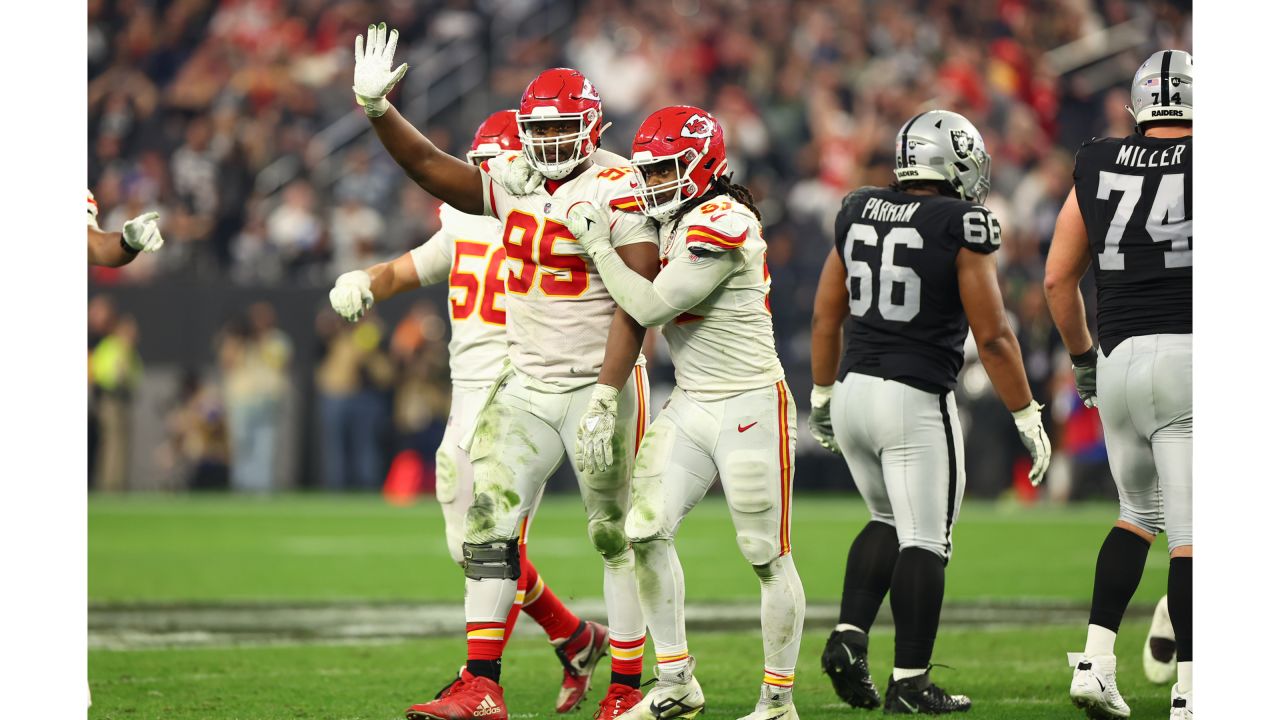 This Kansas City Chiefs defensive line has really started to come alive in the past few games. We have seen the rookie Karlaftis has caught his stride and has six sacks in the last seven games. One of the more underrated aspects of the defensive line is the amount of batted passes this defensive line has produced thy have the two league leaders in Dunlap and Karlaftis. There is also the monster wearing number 95 in the middle of the Chiefs' defensive line in Chris Jones who is playing like a defensive player of the year candidate wrecking the middle of the opposing team's offensive line.
The Kansas City Chiefs have shown faith in their young corners and trusted in their development and growth as players. That growth has not always been super pretty this season but you are seeing the growth and confidence in each one of the young corners and McDuffie looks like he could be a lockdown corner in the future and not to mention Sneed who has played at an all-pro level this season and the Chiefs are rotating in Watson or Williams at the third corner depending on the matchup.
The Chiefs' safety play has improved a lot over the last few weeks, especially with tackling and coverage downfield. Reid was tasked with covering Waller which is a tough task for any safety and looked really good and had great coverage to prevent Waller from hauling in a touchdown. Thornhill has been much better in the back half of the season and he has been a great tackler for the past few weeks which is an underrated aspect of his game.
Personnel Decisions:
The Kansas City Chiefs on defense in the past have been fairly hesitant to travel their corners with opposing teams' number one receiver we have seen that change over the past few weeks. The Chiefs have let Sneed travel with the number one receiver for the past few weeks and it has worked out very well for them and I think it will be shown more in the postseason to keep the Chiefs in more favorable matchups on the outside.
Kadarius Toney has been electric already in his short time with the team he continues to make plays. He has been an amazing addition to this team because of his rare levels of athleticism and his ability to get on the same page with Mahomes so quickly and he has been used more since he has been back. He continues to grow and improve with every passing week with this team.
In this game, we saw a much more frequent use of multi-tight end sets for the Kansas City Chiefs. The deep shot to Watson early on in the game was out of a multi-tight end set and this creates a lot of matchup problems for other teams this formation and set could be a huge asset for this team in the postseason. Another aspect is the Chiefs haven't used this a whole lot in the past few weeks and I could see them using that personnel group a lot in the postseason.
Moving Forward:
This Kansas City Chiefs team has had a few weeks of letting other teams hang around and make games they should win too close but going into the postseason they needed a dominant win. They came out firing and put the raiders away early. They played good smart mistake-free football and because of that they now get the bye week to get healthy and get ready mentally for the playoffs. This team still is not perfect but they had a good win played smart and didn't take any major injuries and should be at full strength next week for their first playoff game at Arrowhead.
For More Great Football Content
Follow us on Twitter at @GridironHeroics for more great content. We appreciate you taking time to read our articles. To interact more with our community and keep up to date on the latest in Football news, JOIN OUR FREE FACEBOOK GROUP by CLICKING HERE
Checkout our latest podcast!
[powerpress_playlist limit=1]