The Jaguars are trimming the fat. One week after the team was compelled to waive five names for the first round of cuts, more talent has departed Jacksonville. On Monday, seven players were let go, satisfying the NFL's requirement to reduce the playing staff to 80 by 4pm ET on Tuesday. The seven players waived are as follows:
Jeremiah Leadbetter, EDGE

Wyatt Ray, LB

Marvin Hall, WR

Beau Benzschawel, IOL

Lujuan Winningham, WR

Grayson Gunter, TE

Shabari Davis, CB
That they cut two more than necessary tells you that Doug Pederson & Trent Baalke know none of these guys would make the final 53. Instead of keeping them around another week, they were afforded time to potentially find a new home. Here are some takeaways from the latest round of Jaguars roster moves:
Laviska Shenault Gets Some Breathing Room?
And then there were nine. With the Jaguars cutting Lujuan Winningham and Marvin Hall on Monday, the wide receiver group is beginning to take shape. With Marvin Jones, Zay Jones and Christian Kirk presumably entrenched as starters, there were a host of candidates vying to back them up. Considering his special teams prowess, you can assume Jamal Agnew is a lock to make the roster. That probably leaves enough room for two more pass catchers to make the roster.
Despite underwhelming last year, Laviska Shenault looks set to get one more year to prove his worth. The 2020 2nd round pick failed to find the endzone in 2021, and didn't exactly shine against the Steelers. But he does possess some big play ability. And with a bespoke playbook he could be the king of asset the adventurous Doug Pederson likes to use.
Winningham was a surprise cut considering the promise he showed in camp and OTA's. He's certainly outperformed fellow UDFA Kevin Austin, who remains on the roster. Marvin Hall brought some production to the positon group too and has also been let go. That leaves Laquon Treadwell leading the fight for the final roster spot, ahead of Austin, Tim Jones and Jeff Cotton.
Offensive Line Taking Shape
On the face of it, cutting a journeyman offensive lineman may not seem significant. After all, Beau Benzschawel was only signed by the Jaguars three weeks ago. But his release is further acknowledgement that they have found something in Luke Fortner. The 3rd round rookie has been deployed as the starting center all offseason, and barely put a foot wrong.
The trickle-down effect to that is obvious. Last year's starting center Tyler Shatley can battle Ben Bartch for the left guard spot. And as competition on the interior of the line improves, those at the bottom of the roster pay the price. Benzschawel was brought in due to his guard/center versatility. The Jags consider themselves now deep enough to move on from him.
Tight End Room Still Crowded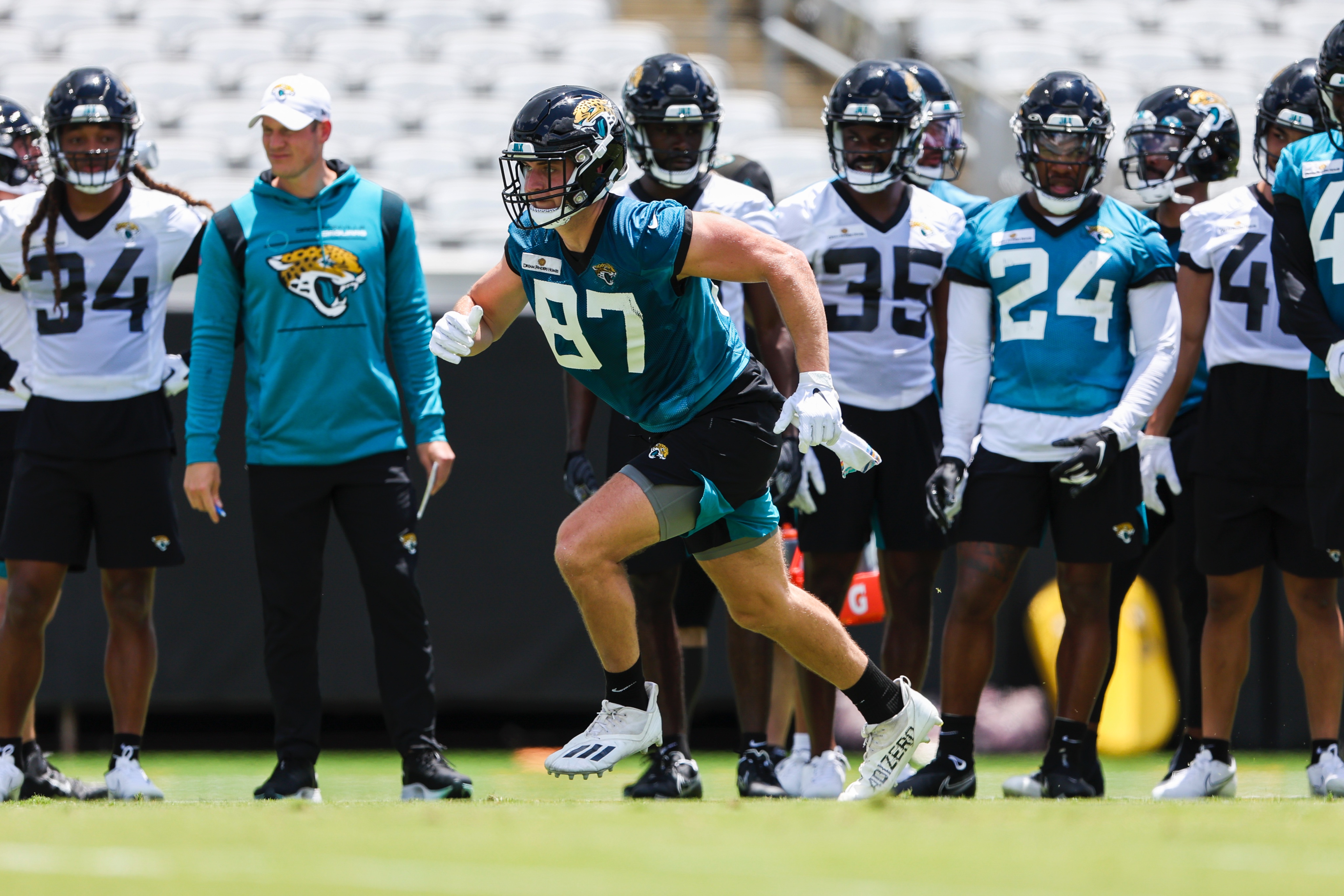 Doug Pederson loves his tight ends! With the offense the Super Bowl-winning head coach is bringing over from Philly, expect four tight ends to be kept on this roster. Considering Grayson Gunter didn't have one target, let alone one catch in preseason, his departure is unsurprising.
With five names left, it looks like one more tight end might be let go before next week. Evan Engram and Dan Arnold are locks. And Chris Manhertz looks to have solidified his role as the blocking tight end in the unit. That leaves Luke Farrell and Gerrit Prince battling it out for the final spot…
Last year's fifth round pick, Luke Farrell had a strong outing in the Hall of Fame Game against the Raiders. He led the team with 43 yards off three catches. Since then, he fumbled the ball against The Browns, and wasn't targeted against The Steelers. Prince, a UDFA rookie from UAB, has turned heads in camp. His preseason has seen a similar amount of total work as Farrell. But the veteran offers a more balanced game than Prince, who is predominantly a seam tight end. It will be a close fight, but I predict Prince will lose out – and likely be a practice squad addition should he clear waivers.
No Ray Of Sunshine
What a week it has been for Wyatt Ray. Waived a week ago, the three-year veteran was re-signed to the roster on Thursday after Jacksonville cut Malcolm Brown. Four days later, he's gone again!
Being cut twice in seven days isn't so much an insult as an indictment of life on the roster bubble. There are hundreds of Wyatt Ray's across the league, valued by teams even if ultimately they don't have the talent to crack the roster. It's a life of moving from city to city, hotel room to hotel room, trying to achieve their dreams. Would it be a surprise if Ray is back in teal before training camp is over? Probably not. But a spot on the practice squad is likely the best outcome for the AFC South expert.
The Jaguars' roster now stands at 78. They have until August 30th before they have to whittle it down by another 25 names. This week is going to be BRUTAL.