The Tennessee Vols could be the SEC team to watch in 2022. Unsurprisingly, Georgia is heavily favored in the Eastern Division. But, it's only August and fall camp has been good to the Vols.
SEC Team to Watch: Veteran Vols Returning to Dominate in 2022
Every day is a competition. Players compete against each other and themselves. The end goal is always a starting role, and Josh Heupel doesn't hand those spots out based on media projections and fanfare. Luckily, the Vols came to camp ready to do the hard work to earn play action this season.
The Vols are returning some All-SEC caliber talent on offense. Expectations for improvement on defense are high. After the first day of open camp Heupel said, "Some of the things you see out on the practice field-efficiency, the ability to take coaching, the ability for players to coach each other. Some of the intangible things that we spent so much time on. Those things showed up. They showed up today in a really big way."
Of course, the aim is for those things to consistently show up every day on every play. For the Vols, a breakout season could be in the cards-especially if the Vols' veteran talent can deliver again in 2022. Per GoVols247, 10 returning Vols could be their biggest secret to success.
Returning on Defense: Safety
Up first, Trevon Flowers. Flowers is one of few defensive veterans for the Vols, and one of the only defensive vets on the back end. He finished 2021 with 82 tackles and two interceptions, and will likely be a leader in stops and takeaways for 2022. Optimizing Flowers' performance is a must for 2022, given the uncertainty surrounding other positions in the secondary.
Returning Defense: Defensive Tackle
Another defensive veteran, Omari Thomas is ready for his breakout year. At 6'4″ and 320 lbs. Thomas is poised to be a defensive difference maker this season. Already a standout for the Vols, Thomas could become one of the most commanding forces in the league at DT.
Returning Defense: Defensive End
Defensive end Byron Young is another veteran Vol capable of leading the team to a strong finish this year. Young isn't expected to play every snap this fall but he's a favorite to lead the team in sacks. Young collected 5.5 sacks and 11.5 tackles for loss in 2021, and he's excellent in pass-rush situations. For 2022, Tennessee needs Young to improve as a swipe-and-drive pass rusher to really bolster the Vols' defensive game.
Returning Defense: Linebacker
At linebacker the Vols' will return 2021's powerhouse, Jeremy Banks. With 128 total tackles last season-11.5 of those behind the line of scrimmage-and 5.5 sacks, Banks has a keen awareness of where the opposing offense wants to be. Defined as a "player-coach type" by GoVols247, Banks has an opportunity to lead the defense for a better-than-expected finish in 2022.
Returning Offense: Wide Receivers
You already know 2022 will return star wide receiver Cedric Tillman, Tennessee's best outside player. Indisputably one of the Vols' most critical assets, Tillman has the talent to lead the SEC in catches, receiving yards, and TD's this season. He also has the ability to guide the rest of the Vols' wide receiver groups, instructing younger players for future success at Tennessee.
At wide receiver, Jalin Hyatt should rule in the slot after having an "incredible offseason" in Coach Heupel's words. The coaching staff expects Hyatt to have a breakout year, and why shouldn't he? Regardless of whether or not Bru McCoy is granted eligibility, putting Hyatt on-field with Hendon Hooker and Cedric Tillman is a no brainer.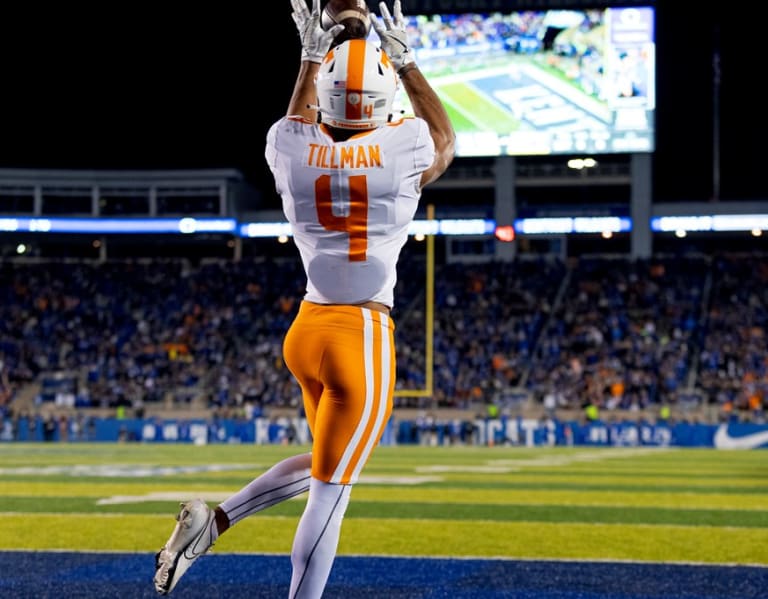 Returning Offense: O-Line Veterans
On the offensive line, Darnell Wright is one of four returning starters. He will likely continue to dominate at right tackle this season. As one of the best blockers in the SEC, Wright is crucial to a successful season for the Vols. Consistency is key and Darnell Wright delivers.
Second on the offensive line is returning center, Cooper Mays. After spending the last year developing in Heupel's system, Mays understands the tempo and has proven his adjustment to a new scheme. Mays also has an established relationship with QB Hendon Hooker. If the two most important pieces of the offensive puzzle are the QB and the Center, then the Vols are in capable hands this year.
Returning Offense: Running Back
Returning running back Jabari Small may be battling depth in the back field but he's slated to surpass 1000 running yards in 2022. With talent like Jaylen Wright behind him, Small could almost singlehandedly make up for the Vols' lack of depth this season.
Returning Offense: Quarterback
Last but not least, the Vols will return the SEC East's top quarterback, Hendon Hooker, in 2022. For Hooker, 2021 saw a 36-touchdown season after managing over 3500 yards of total offense. Hooker is a proven facilitator of Heupel's tempo-based scheme. As long as he remains healthy and is provided some balance by the defense, the Vols could upend big-time opponents like Florida or Pittsburgh.
Is Tennessee the SEC Team to Watch?
Tennessee had a strong offense in 2021. This will continue to be the case in 2022, with the Vols boasting one of the top offensive rosters in the league assuming they remain healthy.
Defensively, Tennessee struggled in 2021 especially on third downs. The defense for 2022 returns talent but they are also working to fill the gaps left by the departure of players like Alontae Taylor and Theo Jackson.
For Tennessee to exceed expectations, developing the defense is critical (not to mention time-sensitive).
The Road to Redemption
Tennessee's leadership expects great things, a principle more motivating than simply believing great things are possible. But, the Vols are something of an underdog in the SEC given their recent struggles the most notable of those being on the defensive side of the ball.
Heupel's second year with the Vols sees a team and a coaching staff that has worked to adapt and grow together. Last season's 7-6 finish wasn't what Vols fans hoped for, but it was marked improvement from the team's final season of the Jeremy Pruitt era. With the talent returning for the Vols this season on the field and the sidelines, Tennessee is well positioned for the future.
The Vols are facing a little bit of an uphill climb. A breakout season would be music to Vol Nation's ears, but the SEC is a tough spot to be in a rebuilding era. It's too early to assume the Vols are a viable contender for an SEC Championship. It's also too early to count them out.
The only certainty for now is that the Vols are the SEC team to watch in 2022.
For More Great Football Content
Follow us on Twitter at @GridironHeroics for more great content. We appreciate you taking time to read our articles. To interact more with our community and keep up to date on the latest in Football news, JOIN OUR FREE FACEBOOK GROUP by CLICKING HERE
Checkout our latest podcast!
[powerpress_playlist limit=1]