With Auburn football just sixteen days away, The Tigers are bracing themselves for some bad news. Sixth-year senior Nick Brahms, a four-year starter at center, may be forced to hang up his cleats.
It was reported on Auburn Live's latest call-in show that Brahms has been suffering from chronic knee pain this offseason. The veteran leader of the offensive line underwent a knee procedure at the end of last season, causing him to miss Auburn's bowl game. And more recently, Justin Hokanson of On3 Sports revealed he had a further operation in June:
our subscribers read this information last night on The Corner

after an additional knee procedure in June, Auburn center Nick Brahms is working really hard to stay healthy, but his status for the opener and beyond is in question

more info (On3+) 🔗 https://t.co/P8cpuhSip5 pic.twitter.com/HCwAIM1cwO

— Justin Hokanson (@_JHokanson) August 15, 2022
Concerns were first raised in Fall camp, when Brahms was noticeably absent. Brandon Council and Tate Johnson have been taking reps at the pivot in his stead. The Tigers' offensive line has been a particular area of focus in both camp and on the recruiting trail. This is a unit that came in for some criticism in 2021, and hopes were high for improvement this season.
With Harsin and his staff rotating others at center, it's fair to assume that Brahms won't be ready for the start of the season. Beyond that, it's difficult to say with any clarity. Brahms was excited to return for his final year of eligibility, and is considered one of college football's top centers. He was recently named to the Rimington Trophy watchlist, the highest accolade at his position. It is unsurprising to learn that a man of his character has been playing through pain for some time. But as we have seen with LSU quarterback Myles Brennan recently, careers can sadly end rather abruptly.
Nick Brahms: A True Tiger
Nick Brahms is as much a part of AU as Aubie the Tiger. Recruited by former o-line coach Herb Hand back in 2017, Brahms was a four-star prospect out of Navarre, Florida. He had a whopping THIRTY-FIVE scholarship offers, with Auburn beating out a host of powerhouse programs for his signature. After redshirting his first year on The Plains, Brahms began to contribute as a freshman in 2018. Halfway through the season he became the starter at center, and has never relinquished the role since.
Brahms has been recognised for his excellence both on and off the field as a Tiger. He's been named to the aforementioned Rimington Award watchlist for three straight years. The Wuerffel Award has added him to their watchlist the past two seasons – given to the college football player "who best combines exemplary community service with athletic and academic achievement." And he's been named onto All-SEC teams by various outlets since he was a junior. To top it off, he's been on the SEC Academic Roll of Honor every year he's been a starter at Jordan-Hare.
In essence, Nick Brahms is an accomplished, intelligent and dedicated student-athlete who bleeds orange and blue. He's represented Auburn with distinction the past five years, and it would be heartbreaking to see him walk away. I'm sure I speak for all corners of Tiger Nation when I say that – if he does decide his football career is over – he will never be forgotten.
Where Does This Leave The Offensive Line?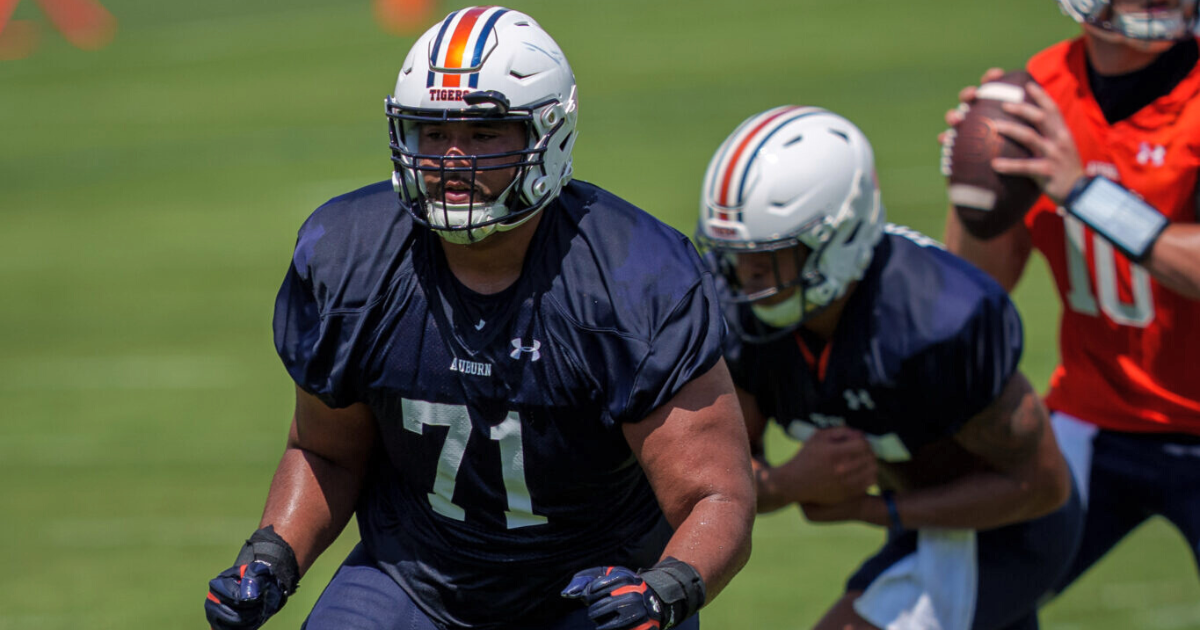 Despite the experience and leadership that he brought to this unit, The Tigers should be okay if Brahms does depart. There are a whopping NINE senior offensive linemen on this roster – five of them projected to start. That longevity alone should bring better o-line play in 2022. With most of these guys entering their fifth year, there should be improved cohesion heading into the new season.
Ironically, Brahms' dominance at center means that his teammates have little experience snapping the ball. Council & Johnson are getting reps in camp, but doing it in a live SEC game is another matter. If you're looking for a positive in this regard, Brandon Council did start two games at center for Akron before heading to AU as a grad transfer in 2020. That might give him the edge in the race to cover for Brahms as he mulls his future. But that then leaves a hole at left guard. Whichever way you cut it, news of Brahms' problematic knee brings more questions for this coaching staff.
But we're not there yet. God willing, Nick Brahms will overcome this latest setback and be able to suit up on Saturdays once more. The 300lb behemoth received his masters in business administration last May, and is destined for greatness whatever he chooses to do in the future. Let's just hope the next chapter isn't for another few months yet. WDE!
For More Great Football Content
Follow us on Twitter at @GridironHeroics for more great content. We appreciate you taking time to read our articles. To interact more with our community and keep up to date on the latest in Football news, JOIN OUR FREE FACEBOOK GROUP by CLICKING HERE
Checkout our latest podcast!
[powerpress_playlist limit=1]