If you look at any major sportsbook, you probably won't see Detroit Lions second overall pick Aidan Hutchinson leading the race for defensive rookie of the year. In fact, he probably won't be in second either. Though the fact of the matter is, he should be. There have been incredible performances so far this season from numerous defensive rookies, but in a draft class loaded with talent Aidan Hutchinson stands alone.
Hutch Dominating His Position:
Aidan Hutchinson has had a meteoric rise to success in the NFL. The hometown kid from Dearborn, Michigan, playing for his hometown Detroit Lions. Immediately, his actions on and off the field proved that he was the perfect fit for this new Detroit Lions regime led by Dan Campbell and Brad Holmes. HBO's Hard Knocks gave us a little more insight into that with Hutchinson's comedic personality endearing him into the hearts of fans, who then got to see him fight every practice rep like his life depended on it.
His high motor and work on the practice field translated to the NFL almost immediately too. Week one, facing the toughest offensive line in football, Hutchinson was double teamed more than any edge in the NFC, completely shut down by the Philadelphia Eagles, but managing to play 90% of defensive snaps. Hutchinson was visibly upset after the performance, but Dan Campbell maintained a positive outlook on the rookie saying, "Each week he gets a little bit better." Campbell was proven correct in week two, where Hutchinson dominated the Washington Commanders, recording three sacks and two tackles for loss.
From that performance on, Hutchinson took the league by storm, showing up not just on the stat sheet, but all over the internet. With momentum on his side, Hutchinson thrived against every team the Lions faced, especially as the team's defense recovered from injuries. Now, just after week twelve, Hutchinson has recorded five and a half sacks, twenty pressures, thirty tackles, and ten quarterback hits, all categories he leads amongst rookies.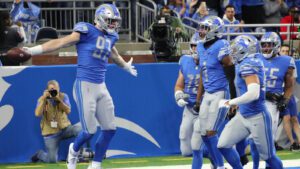 So, Where Does Hutch Stand in the Defensive Rookie of the Year Race?:
As previously mentioned, Hutchison looks to be third in the running for the Defensive Rookie of the Year award. If his season has been so dominant, why isn't he in first?
Well, New York Jets rookie, Sauce Gardner, has also been on a tear to start his young career. Not only has he been one of the best rookies in the league, but one of the best players. Recording two interceptions, only 175 air yards allowed, and holding quarterbacks to only a 56.5 rating when throwing to him is unbelievable for any player let alone a rookie. The rookie corner has been able to shut down receivers all season long, whilst also playing almost 100% of defensive snaps throughout all eleven games.
Hutchinson's other bump in the road comes in the form of Seattle Seahawks cornerback Tariq Woolen. The fifth-round rookie out of University of Texas-San Antonio, has taken the league by storm, making teams regret letting him fall so far. With five interceptions on the year, including a pick-six against the Lions, Woolen has been a versatile threat for the Seahawks secondary. Also playing almost 100% of snaps every week this year, Woolen has only allowed 213 air yards, and a passer rating of 55.8. Another absolutely game changing player.
Why Hutchinson Tops them All:
Now, I know I just detailed all the best traits of the rookies ahead of Hutchinson in the race, but their highlights are mainly statistical. Hutchinson shines not just on the stat sheet, but on film too. Hutchinson is consistently adjusting, learning after every single rep, and becoming a better football player because of it. A great example of this comes from week ten, against the Chicago Bears.
Hutchinson was double teamed most of the game and over-pursuing Justin Fields in the backfield for most of the first half. Each rep, Hutchinson would start lining up further and further outside, to set the edge and prevent Field from escaping to his side. From this Hutchinson was able to record a tackle for loss on the scrambling Fields. That isn't the highlight though as Hutchinson then faced a screen pass. Instead of over-pursuing the running Fields, Hutchinson identifies his blockers in motion and sits right between the running back and Fields. This causes Fields to overthrow the ball right into the arms of Lions corner, Jeff Okudah, who ran it back for a touchdown
He is not just the best rookie in terms of skill, but in terms of how fast he is developing. Statistically, Hutchinson has also been dominant, leading rookies in multiple categories already mentioned. It isn't just Detroiters who think this highly of Hutchinson though, as he is sixth amongst all defensive ends in ProBowl voting so far. Clearly, Hutchinson has been one of the best defenders in the league this year, culminating in ProBowl votes and a NFC Defensive Player of the Week award in week nine. Whether he tops all rookies at the end of the year or not, Hutchinson will be a dominant force in the NFL for years to come.
https://twitter.com/Lions/status/1597768374427127808?s=20&t=mqunld6hSUoqm7vcwQr1nQ