In honor of Hispanic Heritage Month, current or former Hispanic players will be highlighted starting with Tom Fears.
First was Fears' specialty. He was the first person from Mexico drafted into the NFL. He was also the first Hispanic Hall of Famer – inducted in 1970. Fears also was the first Mexican head coach in the NFL. He is often differentiated as the first Mexican-born head coach. Tom Flores is often given the acalade of first Mexican Head Coach for unclear reasons.
Player career highlights:
Obviously, Fears is known as a record setter. He was drafted into the NFL in 1947 as a wide-receiver, also referred to as a split end. He played for the Los Angeles Rams for his 9 year career. Keeping in mind that the forward pass was less common in the 1940's and 50's, Tom Fears' stats were shocking. In 1950, he caught 84 passes with a total of 1,116 yards.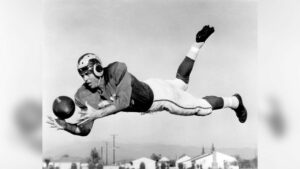 Notably, Fears'  caught 18 passes in a single game in 1950. This record remained unbroken until 2000, 50 years later,  when Terrell Owens caught 20 passes in one game.
Coaching career:
Next, In 1967, Tom Fears was the head coach for the New Orleans saints. He remained head coach for 2 years. Prior to his stint as head coach he was an assistant coach for the Los Angeles Rams, Green Bay Packers, and Atlanta Falcons for 8 years.
After coaching the Saints, Fears spent the rest of his working career in NFL and other footballl league related positions. He was also a succesful entrepreneur. He owned businesses in real-estate, agriculture, and hospitality.
Retirement:
Shortly after retiring, Fears' fought a 6 year battle with Alzheimers' that ended up taking his life in 2000 at 77 years old.
When Fears passed, he was survived by his wife of 48 years, 6 children, 6 grandchildren, and an older brother. 
As noted, Tom Fears left behind a beautiful legacy as a family man, coach, and Hall of Famer. He can and should serve as an inspiration to us all.
For More Great Football Content
Follow us on Twitter at @GridironHeroics for more great content. We appreciate you taking time to read our articles. To interact more with our community and keep up to date on the latest in Football news, JOIN OUR FREE FACEBOOK GROUP by CLICKING HERE
Checkout our latest podcast!