Heisman Watch and National Players of the Week – Week 10
Heisman Watch
The Leaders:
Max Duggan, TCU, Quarterback, Senior.

Max Duggan slides against Texas Tech. (Photo by TCU Athletics)

I'm surprised here too, but Stroud and Hooker's troubles are Duggan's blessing. Duggan was 12 of 23 for 195 yards and two touchdowns in the win over Texas Tech. Duggan and the rest of those in the Heisman Watch are benefiting from the tough games Hendon Hooker and C.J. Stroud had over the weekend. Duggan is 161 of 244 for 2,407 yards and 24 touchdowns passing and 76 carries for 282 yards and four touchdowns rushing in the Cinderella season TCU is having.

Blake Corum, Michigan, Running Back, Junior.

Blake Corum fights his way toward the end zone. (Photo by Michigan Athletics)

Corum's steady play as well as others in front of him slipping up this week contribute to his rise. Corum had 22 carries for 109 yards and a touchdown in the 52-17 win over Rutgers. Corum has 199 carries for 1,187 yards and 17 total touchdowns for the Wolverines on the season. He's the best running back in college football.

Stetson Bennett, Georgia, Quarterback, Senior.

Bennett looks to throw. (Photo by AP Photo/John Bazemore)

This is the game I and Georgia fans were waiting for from Stetson Bennett. This is why even last week he was still in the race for the Heisman. Bennett was 17 of 25 for 257 yards and three total touchdowns. On the season Bennett is 198 of 292 for 2,606 yards and 17 total touchdowns. He and the Dawgs will need 250+ yards and at least three touchdowns every game from here on out for his Heisman hopes to stay alive.

Bo Nix, Oregon, Quarterback, Senior.

Ducks celebrate a touchdown. (Photo by Oregon Athletics)

Nix was 20 of 24 for 274 yards and four total touchdowns for the Ducks in their win over Colorado. Nix is 200 of 273 for 2,495 yards and 22 touchdowns in the air with 69 carries for 457 yards and 13 touchdowns on the ground for Oregon this season. Nix's team's winning streak and his 35 touchdowns accounted for help him a lot, yet that Georgia loss will continue to hold him back a little until a big win in this final month of football vaults him over it.

C.J. Stroud, Ohio State, Quarterback, Junior.

Stroud rushes the football. (David Banks-USA TODAY Sports)

I know Stroud couldn't do anything about 50 mile per hour winds and dropped passes. What matters most to him is his team won. Not his personal output. But it can't be ignored either. Having less than 160 yards of total offense and no touchdowns is going to hurt Heisman chances, even in a win and even if played in a hurricane. The good news for Stroud is he has plenty of opportunities to vault back to the top.
In the Race:
Hendon Hooker, Tennessee, Quarterback, Senior.

Tennessee quarterback Hendon Hooker (5) is sacked by Georgia defensive linemen Tramel Walthour (90) and Nazir Stackhouse (78) during the first half of an NCAA college football game Saturday, Nov. 5, 2022 in Athens, Ga. (AP Photo/John Bazemore)

Hooker had a rough game with less than 200 passing yards and no touchdowns in the loss to Georgia. The good news is he is 179 of 252 for 2,533 yards and 25 total touchdowns on the season. The bad news is the only strong opponent left to play against is South Carolina, in between Missouri and Vanderbilt, and very likely to appearance on conference championship weekend.

Drake Maye, North Carolina, Quarterback, Freshman.

Drake Maye, the best freshman in America. (Photo by UNC Athletics)

Maye was 26 of 37 for 293 yards and two touchdowns passing with 16 carries for 74 yards and one touchdown rushing. On the season the freshman phenom is 222 of 312 for 2,964 yards and 31 touchdowns in the air with 114 carries for 513 yards and four touchdowns on the ground. Maye is only the third Tar Heel to ever eclipse 30 touchdowns passing. It's amazing to see such consistency from a true freshman.

Caleb Williams, USC, Quarterback, Sophomore.

Southern California quarterback Caleb Williams throws a pass against California during the first quarter of an NCAA college football game Saturday, Nov. 5, 2022, in Los Angeles. (AP Photo/John McCoy)

Williams was 26 of 41 for 360 yards and four touchdowns passing with seven carries for 38 yards and a touchdown rushing in the 41-35 win over Cal. On the season Williams is 204 of 316 for 2,742 yards and 28 touchdowns (and only one interception) in the air with 72 carries for 287 yards and four touchdowns on the ground. Williams' biggest detriment is playing on the West Coast at times most people in the east have gone to bed. A big advantage he has USC's upcoming games against Notre Dame, UCLA, and potentially a Pac-12 Championship Game will give him plenty of time to shine when lots of eyes are watching.

Dorian Thompson-Robinson, UCLA, Quarterback, Senior.

Dorian Thompson-Robinson celebrates a touchdown. (Photo by UCLA Athletics)

DTR was 13 of 20 for 169 yards and two touchdowns passing with 10 carries for 120 yards and two touchdowns rushing in the 50-36 win over Arizona State. On the season he is 180 of 251 for 2,140 yards and 19 touchdowns in the air with 73 carries for 439 yards and seven touchdowns on the ground. Dorian Thompson-Robinson faces the same challenges of cross town rival Caleb Williams, and their clash in their rivalry game coming up looks to settle a lot of questions about teams out west. This Battle of Los Angeles will be a fun one for certain.

Bijan Robinson, Texas, Running Back, Junior.

Bijan Robinson celebrates the Texas win. (Photo by Texas Athletics)

I had written Robinson off but he's in position to make a good late season push with Texas still to play TCU (potentially twice). In the 34-27 win over Kansas State Robinson had 32 touches for 243 yards and a touchdown. On the season he has 211 touches for 1,443 yards and 14 touchdowns. As Texas battles toward a Big 12 Championship, if Robinson remains consistent he will have potential to get into this race late in a big way.
Farewell
Bryce Young, Alabama, Quarterback, Junior.

The Alabama locker room. (Photo by Alabama Athletics)

Bryce Young and Alabama are having a seasons most teams would be okay with but that's why Alabama and Bryce Young aren't most teams. Young is 171 of 272 for 2,234 yards and 22 total touchdowns. Without a meltdown by LSU in the SEC West, Young just simply won't have the opportunities to get back into the front of the pack. Archie Griffin's record is safe for another year or two.
National Players of the Week
National Player of the Week:
Tanner Mordecai, SMU, Quarterback, Senior.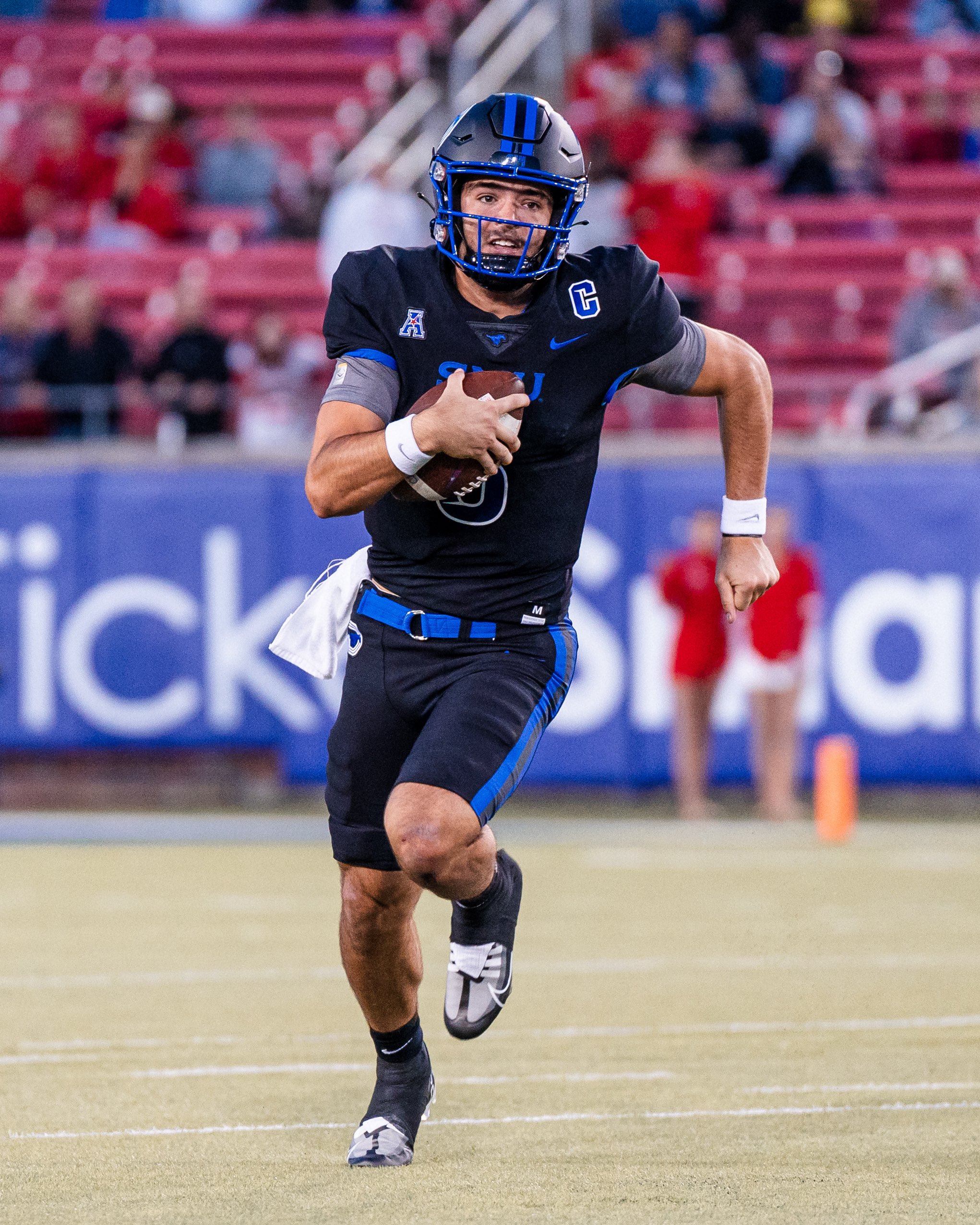 Tanner Mordecai was 28 of 37 for 379 yards and NINE touchdowns passing with eight carries for 54 yards and a touchdown rushing in SMU's historic 77-63 win over Houston. Despite so little defense being played in this historic game, 10 touchdowns is 10 touchdowns. If that doesn't make you the best player in the country for that game nothing will.
National Offensive Player of the Week:
Edward Saydee, Temple, Running Back, Sophomore.
Edward Saydee had 28 touches for 334 yards and three touchdowns (24 rushes for 265 yards and three touchdowns, and four catches for 65 yards) in Temple's 54-28 win over USF. I couldn't find his picture and the USF defense couldn't find him either. But Saydee found the end zone as he ran all over the Bulls.
National Defensive Player of the Week:
Benjamin Morrison, Notre Dame, Cornerback, Freshman.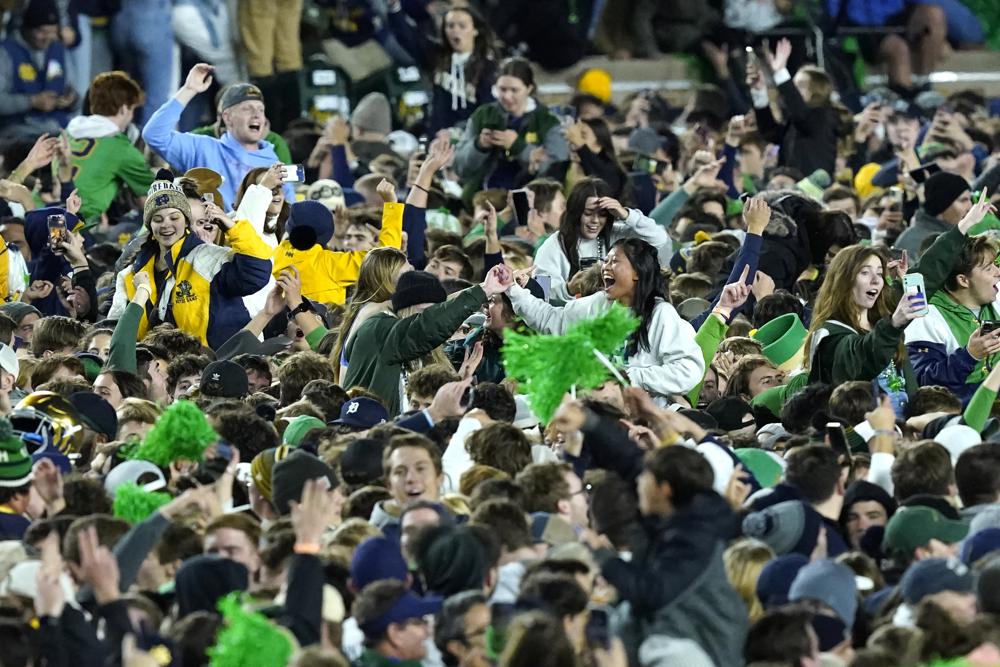 Morrison had seven tackles and a pass defended against Clemson. He also had two interceptions one of which he returned 96 yards for a touchdown. Morrison was crucial in the Irish's upset of the Tigers, and just as crucial to the weekly improvement we've seen in Notre Dame as this season has gone on. Even with three losses they've made some noise and will still be heard before the year is over.
National Special Teams' Player of the Week:
Derius Davis, TCU, Wide Receiver, Senior.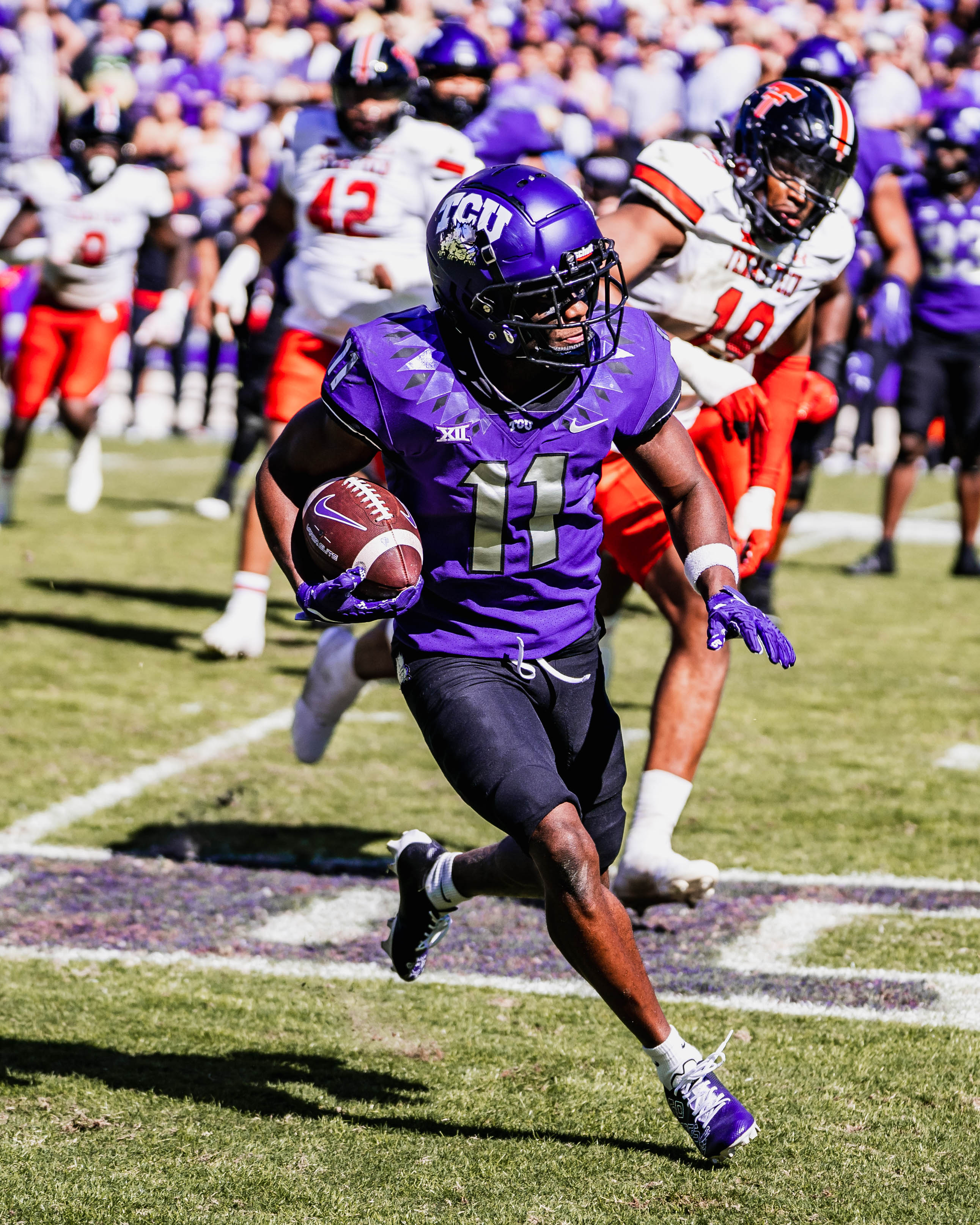 Davis had a sensational day for the Horned Frogs. He had three catches for 36 yards and touchdown receiving to go along with his six returns for 128 yards and another touchdown for undefeated TCU. Gaining over 150 yards and two touchdowns for your team is always good, but even better when the majority of it is in the lost art of special teams' play.
Honorable Mention of the Week:
Jaren Hall, BYU, Quarterback, Junior.
He was 29 of 42 for 377 yards and three touchdowns passing and had 12 carries for 82 yards and a touchdown rushing. That's 459 yards and four touchdowns. Hall is 218 of 330 for 2,622 yards and 25 touchdowns passing with 70 carries for 264 yards and 1 touchdown rushing. Hall's good season doesn't match his Cougars 5-5 record. BYU fans better enjoy what will likely be the last three games of his career in Provo.
Austin Reed, Western Kentucky, Quarterback, Senior.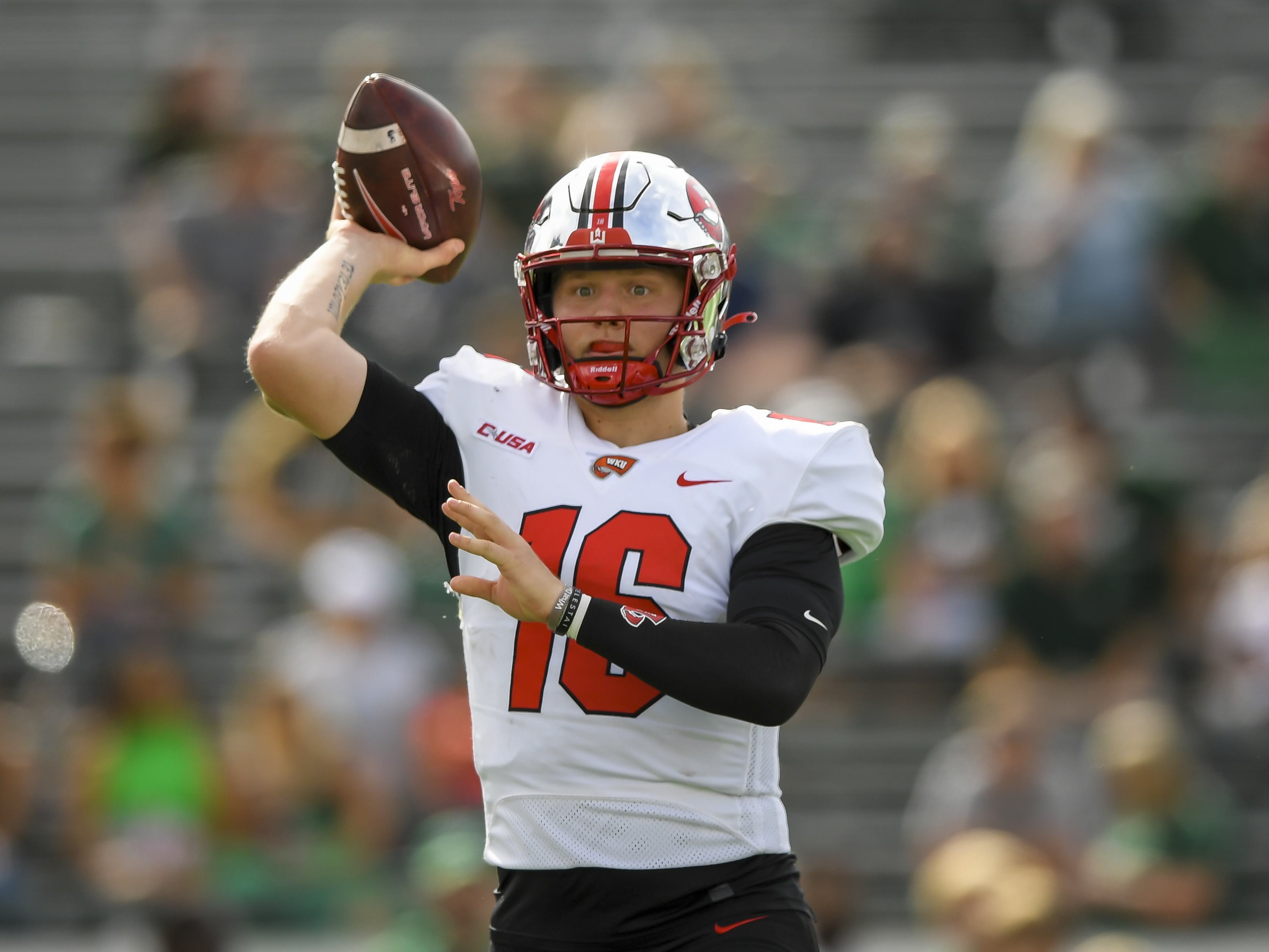 Austin Reed was 23 of 38 for 409 yards and six touchdowns. On the year Reed is 276 of 406 for 3,171 yards and 34 total touchdowns. Say system quarterback all you want, the man still has to make the throws and six touchdowns in a game is never nothing.
Puka Nacua, BYU, Wide Receiver, Junior.
Nacua had 14 catches for 157 yards and two touchdowns. On the year he has 59 touches for 696 yards and nine touchdowns for BYU. The biggest catch of the year for him and BYU was the one pictured above that he had that turned out to be the deciding factor late in the fourth quarter on the Smurf Turf.
Thanks for reading! Give me a follow on Twitter and Facebook!
Check out every week of the Heisman Watch so far this season!
0. Heisman Watch and National Players of the Week – Week 0
1. Heisman Watch and National Players of the Week – Week 1
2. Heisman Watch and National Players of the Week – Week 2
3. Heisman Watch and National Players of the Week – Week 3
4. Heisman Watch and National Players of the Week – Week 4
5. Heisman Watch and National Players of the Week – Week 5
6. Heisman Watch and National Players of the Week – Week 6
7. Heisman Watch and National Players of the Week – Week 7
8. Heisman Watch and National Players of the Week – Week 8
9. Heisman Watch and National Players of the Week – Week 9