Last season the Gophers' were predominantly a running team, led by senior Mohamed Ibrahim. Now Minnesota's running back group is by no means weak for the coming season, they only lost their best back and bolstered their group by bringing in Western Michigan transfer Sean Tyler. The thing is that the Gophers' receiving core is looking to be very good for 2023. Minnesota has brought back six receivers and got two in the transfer portal and another three in their 2023 recruiting class.
Who's Returning
Minnesota is bringing back six wide receivers for 2023. Of the returning receivers are Jackson, Brockington, Wright, Redding, Kaliakmanis, and Autmen-Bell (whose medical redshirt has been approved). Minnesota has a good veteran group returning for 2023. Let's also not forget that tight-end Brevyn Spann-Ford is coming back for his final season with Minnesota.
Also up in the air for return is Michael Brown-Stephens. Brown-Stephens was not at the Pinstripe Bowl in the Gophers' 28-20 win over Syracuse and hasn't been with the team since. There is nothing official yet, by either Minnesota or Brown-Stephens, but it seems like he won't be coming back as of right now. Last season Daniel Jackson lead the team with 557 yards receiving, followed by Wright (280 yards), Autman-Bell (214 yards), and Brockington (203 yards). No one had a breakout year but again Minnesota ended the year with the 16th-best-rushing offense in the nation.
Transfer Portal And Recruiting
In the transfer portal, the Gophers seem to have struck gold landing Corey Crooms (Western Michigan) and Elijah Spencer (Charlotte). Both are likely to get starting jobs as of right now. Each has quite the resume having made their all-conference teams in one of the last two seasons as well as being the leading receiver on their teams in 2022. Crooms and Spencer will be highly valued additions to the Gophers' passing attack for the upcoming season.
In the recruiting class, Minnesota landed Kenric Lanier (three-star/enrolled), T.J. McWilliams (three-star/ enrolled), and Donielle Hayes (three-star/signed). Don't expect much from the recruits of 2023 given the transfers coming in and who the Gophers still have on their roster.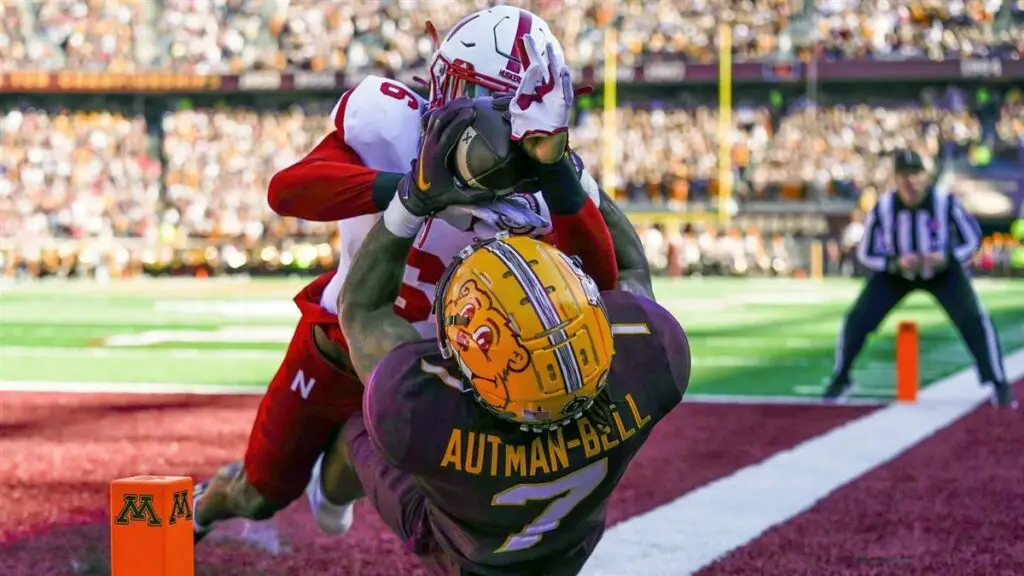 What To Expect From This Group
The Gophers' receiving core will have questions for the majority of its returning receivers. Some will need to step up, while Autman-Bell will need to show he can still play at the same level coming off his ACL tear.  Daniel Jackson will be fine after stepping up last season in the absence of Autman-Bell. Dylan Wright on the other hand has struggled to play well with someone who has a high ceiling as he does. Brockington also started to get some playing time late in the season and has showcased some potential as well.
Along with those who are returning is the anticipation of Crooms and Spencer who are expected to make an instant impact with Minnesota. Athan Kaliakmanis is also set to be the starter next year and is expected to be an upgrade over Morgan (who had a great career with the Gophers). With an experienced upgrade at quarterback, the Gophers should be able to have a very effective passing game in 2023.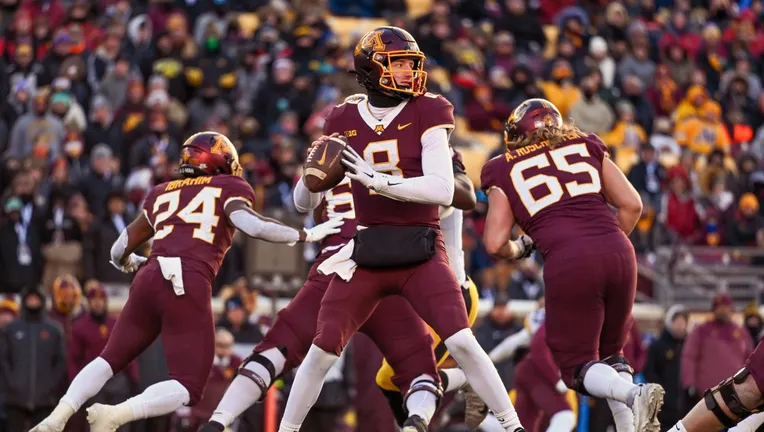 Summary
The Gophers are far from anyone's mind when talking about a good passing attack. This season could have them return to something like 2019 when they had two 1,000-yard receivers. With Athan all set to return as the team's starter, Minnesota is in good standing to have that level of production from their receivers, whether its Jackson, Autman-Bell, Crooms or Spencer, all of whom have 1,000-yard production potential. If Fleck can gear the offense to have more of a passing game, then this team should have a very balanced offensive attack next season.
Enjoyed what you read; you can find more of my articles here. Follow me on Twitter @caleb_stene99.
For More Great Football Content
Follow us on Twitter at @GridironHeroics for more great content. We appreciate you taking time to read our articles. To interact more with our community and keep up to date on the latest in Football news, JOIN OUR FREE FACEBOOK GROUP by CLICKING HERE
Checkout our latest podcast!
[powerpress_playlist limit=1]