Charles White died on Wednesday, January 11th, 2023, at age 64, of cancer. He is survived by his ex-wife Judianne White-Basch, five children: Nicole White, Julian White, Ashton White, Tara White and Sophia White, and granddaughter Giovanna Hemmen.
He will also be remembered fondly by extended family, such as the men in the photo above, who are all related (except for one family friend). All nine family members played college ball, and three, including Charles White, signed with the NFL.
Where it all began
Charles White was born in Los Angeles, California, on January 22nd, 1958. He attended San Fernando High school and was a talented multi-sport athlete there. Relatives James Gordon and Russell White describe everyone being born into "humble beginnings," knowing from an early age that sports were their way out, a means to an end. Charles White was a motivation to many family members as the first to do it – all but one wore his number when they played.
College years
Charles White became a USC Trojan in 1976. Saying he was a great running back feels like a bit of an understatement. Charles is the 2nd of four players to be named the Rose Bowl MVP twice in 1978 and 1979. White also scooped up the Heisman trophy his senior year, 1979,  before he entered the NFL draft.
Going professional
White was selected in the 1st round, 27th pick overall, in 1980 by the Cleveland Browns.
Charles struggled in Cleveland and was released after four disappointing years. White admitted he was dealing with an addiction that affected his athletic performance. It appears reuniting with his college coach, John Robinson, playing for the LA rams in 1985, boosted his career. He played for four seasons there. He was a one-time pro-bowler and won the NFL Comeback Player of the Year award in his "impossible year" in 1987, where people called his stats into question, attributing them to it being a strike year. He retired after the 1988 season.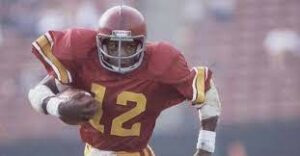 Off-field extracurriculars
Charles White had his personal demons – we all do. White was exposed to snow for the first time in college and it wasn't the cold kind outside. He didn't elaborate on how much he used during college, but it was out of control by the time he entered the NFL.
Much of his life story is elaborated on by his surviving ex-wife. They began dating in USC and later married and started a family during the height of his addiction. Judi came from a nice area in LA and fell in love with her "bad boy," Charles. She says she went through hell for him and gave up her life for him (do not take notes, young ladies), loving him through the hard times. She remembers many nights he would leave and she didn't know if he would get arrested, drive back high, or worse. He forgot his daughter's first birthday, leaving Judi and some of his teammates at the birthday party. He also drained the bank account regularly, and finances were complex, even if he made quite a bit in the league.
White wasn't a fan favorite in the Brown's locker room when he was there, creating conflict with other players. Charles was also frequently in and out of rehab during his time at Cleveland. Rehab worked – Charles was substance-free for three years in Cleveland. Although he found snow-free, he didn't enjoy playing football. 1985 was the "lost year" when addiction completely took over. The NFL money in his bank account for the first time a year funded his habit again, and he couldn't resist. 1986 was Charles's golden year – he was nicknamed "Whizzer White" for all his drug tests, and he was thriving.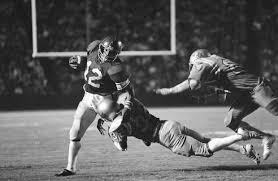 By his final season, Charles got the craving back again. In August of 1987, he was getting high in an abandoned warehouse when he became paranoid. He grabbed a trash can lid, running the streets at noon, convinced someone was trying to kill him. Luckily it wasn't the cops that detained him – although he had permanent scars on his wrists from the handcuffs that fateful day as he attempted to fight arrest. He describes these scars as "beauty marks." Charles was a dichotomy during this time – he broke records on the field, but he also likely would have won the "most substances used" award in the NFL. He was nicknamed "superman" for his ability to do more than most people have ever seen. At the same time, he loved his children and being a father. Either way, Judi loved him unconditionally.
Despite being a "superman" off the field more than he was on, he remained a motivation for his younger family. However, this did not manifest in the form of "uplifting" his family struggling in rough neighborhoods in LA – he kept his money and his problems primarily to himself. This is understandable, considering he could barely keep his wife's light bills on with his children in the home.  It's unfortunate his demons had such a stronghold.
Life after football
There is limited information on this stage of White's life. He was the running back coach at USC starting in 1993 for five years and then pursued a career in computer consulting. He and Judi called it quits on their marriage. Charles also had tax debt problems in 2008 that required him to sell his Heisman. Selling football memorabilia is typically a warning sign.
White's behavior was described as "erratic" for many years. His ex-wife came back into his life to help him when his condition continued to get worse. She described Charles as "unmanageable" behind the scenes. Everyone attributed his problems to drugs, but Judi explains it might have been because of traumatic brain injury; they didn't know. Traumatic brain injury can often lead to substance abuse, so it can be challenging to separate the two.  The symptoms associated with TBIs can be very debilitating, and self-medicating with substances is a common method, particularly with so many access to healthcare barriers for many Americans.
It is not unusual that family often does not understand the behavior a former player is exhibiting – assuming it is a moral problem or poor choices made by the individual. Unfortunately, this is often the warning sign of a person whose brain is deteriorating from traumatic brain injury. The former player is often just as confused as his loved ones – they often experience incredible emotional difficulties associated with experiencing but not understanding their own body betraying them. This is an example of why it is so critical that there is widespread awareness about the symptoms related to TBIs.  More information on the long-term effects of TBIs and resources for family members of the former player can be found here. Judi White-Basch is also encouraging any other families impacted by dementia to reach out to her at jwhiteusc@edu.
The unfortunate ending
As of the summer of 2022, Charles White had been living in an assisted-care facility for two years. Charles was diagnosed with dementia attributed to his football career in 2012 at the incredibly young age of 52. Not a rarity for former NFL football players, unfortunately. White would wander the halls of the facility, not understanding his dementia diagnosis, meandering around the facility for hours daily donned in head-to-toe USC gear. He still remembered his contributions on the football field for USC fondly. He knew he hurt USC with his poor behavior over the years, withdrawing as an outcast. His dying wish of sorts was to reunite with USC, something that USC seemed open to in 2022, unfortunately it didn't seem that this occurred in any meaningful way.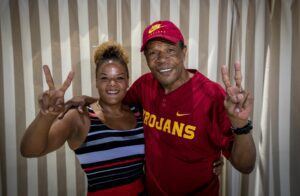 Charles White left an imprint on the sports world, and people are honoring his contributions to this world with meaningful tributes. Some of these tributes can be found here. Charles White was a victim of traumatic brain injury related to his time in the game, and we must remember the aging former members who sacrificed their bodies and mind to make football what it is today. The importance of the concussion protocol has never been more apparent – let's keep the league accountable. Something Charles White deserved but didn't have. RIP, Charles White; you will be remembered fondly by the football community.
For More Great Football Content
Follow us on Twitter at @GridironHeroics for more great content. We appreciate you taking time to read our articles. To interact more with our community and keep up to date on the latest in Football news, JOIN OUR FREE FACEBOOK GROUP by CLICKING HERE
Checkout our latest podcast!
[powerpress_playlist limit=1]