Former Chiefs debate Eric Bieniemy's legacy
The Kansas City Chiefs went to three Super Bowls with Eric Bieniemy as their offensive coordinator. They won two of them, including the most recent Super Bowl. Bieniemy recently took a new job with the Washington Commanders. Former Chiefs players got into a heated debate about his legacy.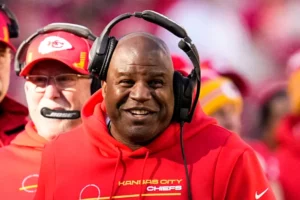 Bieniemy took over for Matt Nagy when he became the Chicago Bears head coach. The success Bieniemy had with Patrick Mahomes would make almost any assistant coach jealous. However, because of Nagy's failure in Chicago, head coach Andy Reid and Mahomes prestige, NFL executives appear reluctant to hire Bieniemy as a head coach until he proves himself elsewhere. He'll have that chance with the Commanders.
A former player gives an honest opinion on Bieniemy
LeSean McCoy was a running back for the Chiefs during the 2019 season when they won the Super Bowl. He also played against them in the next season's Super Bowl, when the Tampa Bay Buccaneers defense thrashed Bieniemy's offense, keeping them under ten points, to give Tom Brady his seventh NFL championship.
McCoy posted a video on Twitter of him on FS1's Speak, asking why people think Bieniemy would be a great head coach. McCoy wished Bieniemy success in Washington but said that fans don't understand what players do about how the offensive coordinator coaches in the locker room:
"I've been in the rooms where he's coaching, and he has nothing to do with the pass game at all," McCoy said." When the plays are designed, that's Andy Reid."
I wish him WELL but Washington don't let the chiefs SUCCESS or coaching titles fool y'all… the traits or skills you need to be a good coordinator I haven't seen or WITNESSED it … pic.twitter.com/Qtaes1irnx

— LeSean Shady Mccoy (@CutonDime25) February 21, 2023
Former Chiefs respond
New Orleans Saints safety Tyrann Mathieu, who was with the Chiefs from 2019-21, disagreed with McCoy's opinion. He posted a strongly worded message of his own on Twitter to McCoy:
Man you fucked up with it. https://t.co/r6SOTfFpre

— Tyrann Mathieu (@Mathieu_Era) February 21, 2023
Former Chiefs unning back Jamaal Charles, who played with the team before Bieniemy became an offensive coordinator, also gave his opinion:
I have to disagree with you Shady. Bieniemy Coach me 4 years I learned so many thing for EB and I still keep in contact with him a great husband and father. He deserves to be a head coach. https://t.co/P5Tym1BBd4

— Jamaal Charles (@jamaalcharles) February 21, 2023
Tyreek Hill, who played wide receiver with Bieniemy as his offensive coordinator for four seasons, fired back at McCoy on Twitter:
Shady mad Eb told him tuck that ball 😂

— Ty Hill (@cheetah) February 21, 2023
For More Great Football Content
Follow us on Twitter at @GridironHeroics for more great content. We appreciate you taking time to read our articles. To interact more with our community and keep up to date on the latest in Football news, JOIN OUR FREE FACEBOOK GROUP by CLICKING HERE
Checkout our latest podcast!
[powerpress_playlist limit=1]